BWW Review: A Pleasing TUCK EVERLASTING Charms at TheatreWorks Silicon Valley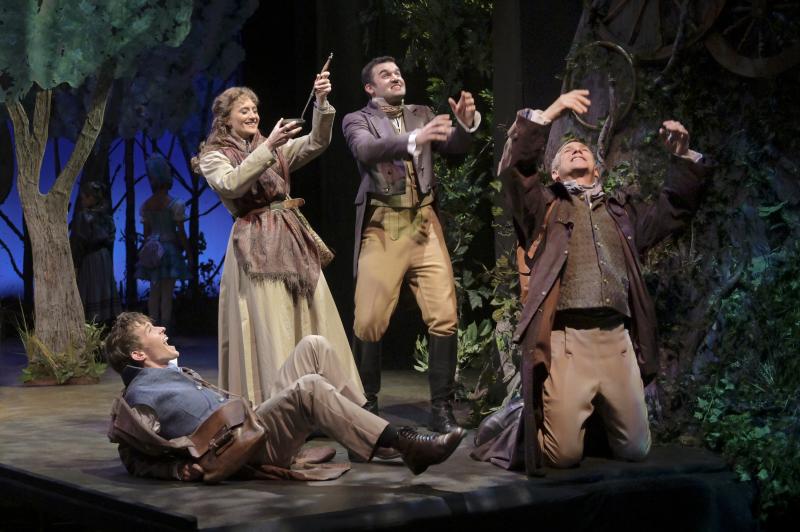 It has taken Tuck Everlasting a while to make it to the Bay Area after it's very brief Broadway run in 2016, known to some as "that Hamilton season." With a performance count in only double digits, there was no national tour in the works. We can, therefore, be grateful to TheatreWorks Silicon Valley for finally bringing this charming and old-fashioned (in the best way) musical to a local stage.
For the unfamiliar, Tuck Everlasting thoughtfully explores questions of family, love, and the relative merits of living forever. The latter condition was unwittingly bestowed on Mae and Angus Tuck and their sons Jesse and Miles (and their cat) when they innocently drank from an innocuous-seeming spring in a secluded grove. Once they realize the change in their lives - or more appropriately, the lack of change - the Tucks reconcile to their fate, tragically so for Miles, and resolve to withdraw from the world. Almost a century later, enter Winifred Foster, a well-to-do girl from a stifling family, who disturbs their peace and brings unwanted attention upon them.
The 1975 novel by Natalie Babbitt has long been considered a classic of children's literature and it has been adapted to film twice. The first was a low-budget independent effort in 1981 that hewed close to the novel. A better-known version was produced by the Disney machine in 2002 with Sissy Spacek and William Hurt as the Tuck family elders and Ben Kingsley as the disturbing Man in the Yellow Suit.
The new musical's score by Chris Miller and Nathan Tysen and book by Claudia Shear and former Bay Area resident Tim Federle do a fine job of setting the scenes and introducing these and other characters.
Winnie (Natalie Schroeder, alternating with Katie Maupin) is bored being "Good Girl, Winnie Foster" and urges her mother (Teressa Foss) and grandmother (Lucinda Hitchcock Cone) to "Join the Parade" of the fair that is just planting its tentpole in Treegap, New Hampshire. The three generations of women are still in the first year of mourning the death of Winnie's father, so fairs are not an option for Mother, but no options are no fair to Winnie, who bolts to the woods adjacent to their home. There she meets young Jesse Tuck (Eddie Gray) about to take a sip from a spring and...
While Disney aged Winnie up to her mid-teens to more fully exploit the blossoming of a romance with Jesse, the musical Winnie is much closer to the novel's precocious tween. Her interest in Jesse is more of a friendship, a "Partner in Crime" at the "Top of the World" as their songs go, while it is clear he sees potential a few years down the road if she can wait until she is "Seventeen."
In other film-to-stage comparisons, the musical's book focuses less on Winnie's family dysfunction and more on the Tucks, where it belongs. Mae (Kristine Reese) and Angus (Jonathan Rhys Williams) are given welcome stage time. Their sweet backstory is played out in "My Most Beautiful Day," and their interactions offer a wry centennial-esque twist on how to keep a marriage fresh.
Elder son Miles (Travis Leland) is less sanguine with their lot, and the loss that fuels his bitterness is touchingly explored in "Time," where Leland's glorious tenor wrings every possible drop of heartbreak from the piece.
Local law enforcement, Constable Joe (Colin Thomson) and his apprentice deputy and son Hugo (David Crane), barely present in the film, are upgraded and now move the plot forward in humorous jumps through "Hugo's First Case" and "You Can't Trust a Man."
In what feels like the sole misstep of the book writers, the Man in the Yellow Suit (Michael Gene Sullivan) seems devolved from menacing stranger to greedy bumbler, which does not serve the climax well. His two songs, "Everything's Golden" and "Story of the Man in the Yellow Suit," are more suited, no pun intended, to an animated Disney villain, and there's nothing that the supremely skilled Sullivan, of the San Francisco Mime Troupe, or director Robert Kelley can do to rectify that.
The rest of the production, however, is cohesive and cleverly presented. The boat scene where Angus and Winnie debate the merits of immortality in "The Wheel" is beautifully staged with a circle of cast members gently rocking and guiding their skiff via a clever system of ropes. Another very pleasing sequence, in a bit of a nod to Agnes DeMille ballets of yore, is the montage of passing years marked by only music and dance, lovingly choreographed by Alex Perez.
The superbly talented acting ensemble, including GIANA GAMBARDELLA, Marissa Rudd, and youngsters Sydney Walker Freeman and Jake Miller sharing the role of Thomas Tuck, work as a well-practiced team, stepping into spotlight moments, creating new characters on the fly, and then blending into background scenes with ease, all the while beautifully singing the score under William Liberatore's expert guidance. The relatively compact Lucie Stern Community Theatre stage is rendered lushly verdant and multilayered with inventively versatile scenic design by Joe Ragey, and the other production elements blend well to support his work.
It's a production where the whole is certainly equal to the sum of its parts and Tuck Everlasting could emerge as a pleasing alternative to splashier or too familiar seasonal holiday fare.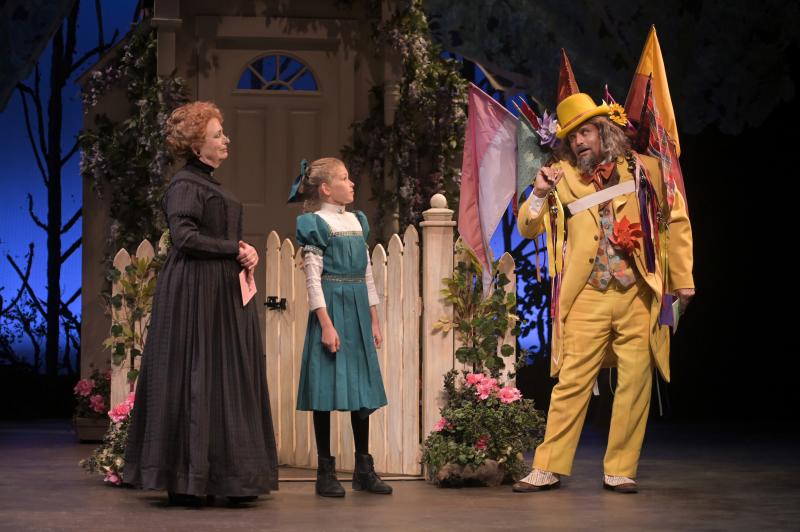 Tuck Everlasting runs through December 30, 2018
Lucie Stern Theatre, 1305 Middlefield Road, Palo Alto, CA, 94301
Tickets: theatreworks.org or 650.463.1960
Photos: Kevin Berne
Related Articles View More San Francisco

Stories

Shows
Robert Sokol is the editor-publisher of BAYSTAGES, the creative director at VIA MEDIA, serves on the executive committee of the American Theatre Critics Association (ATCA), (read more...)