Review: Nathan Gunn's FLYING SOLO Soars at San Diego Repertory Theatre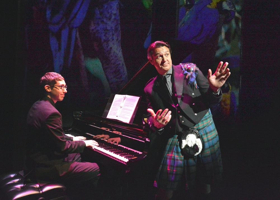 It's the throne that first catches your eye when you walk into the theatre at the San Diego Repertory Theatre to see Nathan Gunn FLYING SOLO. It technically represents a chair from a family home, but with the Scottish plaids draped over it, and the red velvet cushion on the seat it's hard not to imagine this being the seat of some Scottish Laird passed down through the ages from father to son.
Considering this story is about Nathan Gunn's life and journey into opera, and directed by pianist and musical biographer Hershey Felder, it makes sense that this story about fathers, sons, family, and music has a touch or the dramatic flair even down to the furniture. So a throne as the key element seems less dramatic and really just more indicative of the type of show the audience is going to see.
The show follows Gunn's life and journey in music from when he is first introduced to opera, through his schooling, having a family of his own, and through it all trying to make his father proud. It is a family friendly piece, with moments of humor and tenderness, but really we're all here for the singing.
There is a reason Gunn is one of the world's best baritones- his voice is superb. No matter the song his voice is gorgeous, with a warm and rich tone complimented by his characterization. His energy and precision ring out as clearly as the emotion behind the words. He is comfortable on stage and though his acting is good when he's speaking, he really comes alive when he is singing.
Gunn brings humor and a charismatic personality to stage as he tells his tale. From singing with his Dad accompanied by a ukulele, or his desire to impress his Met Opera mentor Renata Scotto by singing the duet of Plácido Domingo and John Denver (side note: how did this random duet even come about?), including the vast difference in voices and performance styles. He uses every opportunity to make the audience laugh or tug at their heartstrings.
Some standout performances are Figaro's aria from THE BARBER OF SEVILLE, Billy Bigelow's "Soliloquy" from CAROUSEL, and my favorite, "C'est Moi" from CAMELOT. With his vocal excellence and grandiose pomposity this Lancelot would steal any girl from King Arthur or from the audience.
Gunn even finds a worthy duet partner in this show, as he sings along with himself performing the Met telecast of THE MAGIC FLUTE from 2006 as it is projected on the walls of the set. Kudos to projection designer Brian McMullen, lighting designer Richard Norwood, video designer Christopher Ash, and sound design by Erik Carstensen for keeping all of the moving parts of this scene and the entire show cohesive and complimentary to one another.
Gunn is accompanied by his excellent pianist Michael Bagby, who though he is in the corner of the stage, serves as a splendid participant when pulled into Gunn's storytelling.
Written and directed by Hershey Felder he makes sure everything keeps moving along while weaving the story and the music together to create a piece where the music and the man can really take the spotlight. It's a sweet story, full of tradition and love, so there is no real major drama to work through to sustain dramatic tension as hard as they try to develop some.
For a man who has made his career in casts of operas over the years, FLYING SOLO is carried entirely on Gunn's shoulders and voice and it a highly enjoyable journey with vocals that soar.
FLYING SOLO is playing through June 10th at the San Diego repertory Theatre. For ticket information and show times go to www.sdrep.org
Photo credit: From left: Michael Bagby, Nathan Gunn Photo credit Ed Krieger