BWW Review: LA JOLLA MUSIC SOCIETY SUMMERFEST CARNIVAL! at the Conrad Prebys Concert Hall
"Carnival," the opening concert in Cho-Liang Lin's last season as music director of the La Jolla Music Society's Summerfest, was an unusual jumble of works. Bartók's Contrasts for clarinet, piano and violin was written for jazz clarinetist Benny Goodman. It is based on Hungarian and Romanian folk dance and, though composed 80 years ago, includes bitonality that still imparts an edgy "modern" flavor. Villa-Lobos's Bachianas Brasileiras suites for eight cellos and soprano were written to honor Bach with Brazilian-influenced melodies and rhythms. And Saint-Saëns wrote Carnival of the Animals, a work for 11 instruments, on a lark. He refused to publish it during his lifetime, thinking it would detract from his reputation as a "serious" composer.
This potpourri of styles, purposes and instrumentations looks strange on the same program. But excellent musicians, clearing enjoying themselves, made it work well indeed.
Bartok's Contrasts, written for clarinetist Benny Goodman, is an unusual mix all by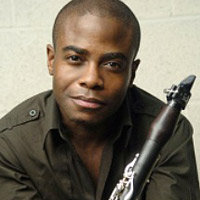 itself. The first movement might cause conservative listeners to flee as violin and clarinet compete in different keys with rhythms not always easy to follow. The second movement is in one of Bartok's mysterious "night music" moods, and the final third was heavily influenced by 20th Century swing styles. Anthony McGill, principle clarinetist for the New York Philharmonic, violinist Paul Huang and pianist Shai Wosner supplied an appropriately jazzy interpretation in a witty virtuosic romp that might have made Benny Goodman a touch jealous.
For the two Bachianas Brasileiras suites on the program, Lin not only had to book eight good cellists, he also had to decide where they would sit. First chair was easy. Lynn Harrell has been a respected cellist and educator for about half a century. But should he share the stand with a promising young player who would benefit from the experience, or the cellist with the next most impressive resume? The mutually appreciative looks and smiles of the octet members as they played indicated the issue had been successfully resolved.
Though intonation was occasionally imperfect, the octet gave a spirited account of
Bachianas Brasileiras No. 1, making more of its Latin rhythms than many classically trained musicians tend to do. The fifth of the Bachianas Brasileiras suites followed. It adds a vocal line on top of the eight cellos, and soprano Lyubov Petrova supplied the concert's most beautiful moments with controlled power as needed and high notes of gorgeous clarity. It was a dramatic and affecting performance.
For an encore, Harrell and company chose "Por Una Cabeza" by Argentinian tango legend Carlos Gardel. It's probably best known as the tango in a memorable dance scene with Al Pacino in the film Scent of a Women. While it was a delicious encore, a flock of cellos will never be my favorite for tango orchestration.
Carnival of the Animals has become so associated with children's concerts that it seemed a questionable closing piece. Wrong again! Actor Mark Pinter delivered the short poems written (for an adult audience) by Peter Schickele, aka P.D.Q. Bach. Pinter elicited each of Schickele's intended laughs, and the playing captured Saint-Saëns' musical imitation of animals, skeletons and aquariums as well as any I've heard in concert or on a recording.
The entire evening was thoroughly enjoyable, and a fitting first farewell to violinist"Jimmy" Lin, Summerfest's creative and effective music director for nearly 20 years. This season includes many more performances, plus open rehearsals and master workshops. Concerts include everything from solo pianists to fair-sized orchestras. For a schedule of the events remaining visit here.
Photo of eight cellos, Ron Bierman, all others courtesy of La Jolla Music Society