BWW Review: DR. JOHN IN SAN DIEGO at Embarcadero Marina
A worse-for-wear Dr. John walked slowly to the piano with the help of two canes. He was no quicker while leaving the stage at the end of the set. But for over an hour in between, he and his sextet kept up an infectious funky beat, and his voice and piano playing erased half a century of his 76 years. Listeners felt an irresistible urge to tap feet, sway rhythmically, and sometimes laugh at the lyrics of songs such as "How Come My Dog Don't Bark (When You Come 'Round)?" sung in Dr. John's inimitable raspy growl. Contrary to the title of his biggest hit, it was "Right Place, Right Time."
San Diego's Euphoria Brass Band octet set an appropriately festive mood before the main act with a New Orleans brass-band sound, spiced by R&B tinged saxes. As they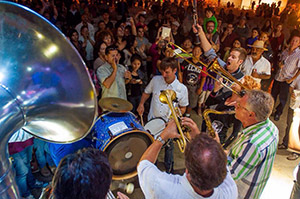 left the stage before a brief intermission, they second-lined with a good chunk of the crowd, wailing to a finish on the large lawn where people socialize and buy food and beverages before the concert.
In strange program-handout oversites, Euphoria band members were listed, the musicians backing Dr. John weren't, and Dr. John was described as a guitarist rather than a pianist. He does play both, but usually piano, his only instrument on this night.
The concert was part of the San Diego Symphony's "Bayside Summer Nights" series at the Embarcadero on the waterfront. During my recent interview with Symphony CEO Martha Gilmer she told me a substantial investment in the series is playing an important role in plans for reaching a larger audience. This season that means performers such as Tony Bennett, Wynonna Judd and Leslie Odom, Jr.
But for me, the most important change has been a huge improvement in audio-visual equipment. The outdoor concerts previously had the sound of an AM table-radio playing in another room at home. Especially for those choosing ultra-casual seating on the grass, only the cannons of Tchaikovsky's 1812 Overture could attract attention above neighboring conversations. No more. Bass guitarist Roland Guerin and drummer Herlin Riley were rocking the outdoor venue as if it were an intimate night club, while video closeups of soloists and their instruments were sharp and clear on a new stadium-size display above the stage.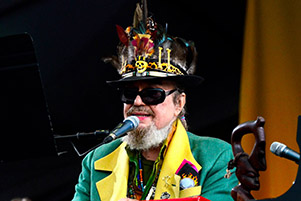 The set included mandatory appearances of "Right Place, Wrong Time" and "Such a Night," among many other tunes. Although Dr. John sang and played piano on each, most of the solo heavy-lifting went to organ and keyboard player Joe Ashlar, trumpeter Leon Brown and lead guitarist Eric Struthers. Ashlar played with spectacular bouncing energy. Brown can do old-fashioned New Orleans gut-bucket trumpet, but mixes in more contemporary sounds and the mysterious, dark-glasses stage-presence of a MiLes Davis. Eric Struthers adds to the group's eclectic and eccentric style with virtuosic blues and rock-phrased electric guitar.
Dr. John might have gotten the most enthusiastic reaction of the evening had he included a change-of-pace solo in the New Orleans Professor Longhair style he does so well. But the relentless swampy gris-gris groove was never less than captivating.
A cool evening on San Diego's waterfront with food, liquid refreshment and top-notch entertainment. What's not to like? The Symphony's summer series continues through September 3rd. For a calendar and ticket information visit SD SYMPHONY.