Review: Pioneer Theatre Company's SWEENEY TODD is Sweeping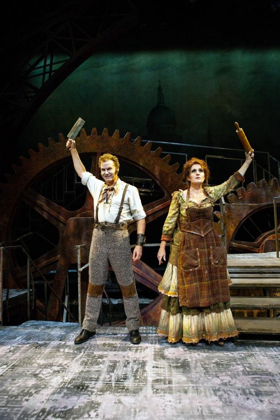 Pioneer Theatre Company's sweeping production of SWEENEY TODD: THE DEMON BARBER OF FLEET STREET is unsettling and yet fulfilling. It is a magnificent achievement with Broadway-level performances, direction and design.
SWEENEY TODD: THE DEMON BARBER OF FLEET STREET (music and lyrics by Stephen Sondheim, book by Hugh Wheeler) is based on Christopher Bond's play adaptation of the Victorian tale. The famous musical recounts the revenge of barber Sweeney Todd whose family has been taken from him by the local judge. He concocts a scheme with his partner in crime, Mrs. Lovett, to slit the throats of unsuspecting patrons and turn them into meat pies. But will his retribution provide him the respite he's seeking?
Kevin Earley, who played Defarge in the Broadway production of A TALE OF TWO CITIES, plays Sweeney Todd with rich vocals, a sour scowl, and the weight of the world on his shoulders. He is a man the audience can feel sorry for, despite his dark deeds.
Anne Tolpegin, who was the Mrs. Lovett standby for Carolee Carmello in the recent acclaimed off-Broadway production of the show, is an enthralling Mrs. Lovett. With a sardonic sense of humor and the ability to precisely maneuver Sondheim's complex music and lyrics, she is truly excellent in the role.
Also joining the cast from the off-Broadway production is BYU alum DeLaney Westfall, who reprises her role of Johanna with sweet, off-kilter success. Jonathan Shew is a good match as her earnest suitor, Anthony.
Blake Stadnik as Tobias is mesmerizing from his first comedic number to his touching loyalty to Mrs. Lovett to his final, unraveled moments. His performance is exceptional and haunting.
Accolades are also deserved by Joe Dellger as Judge Turpin, James Donegan as Adolfo Pirelli, Laura Hall as Beggar Woman, Eric Santagata as The Beadle, and the entire ensemble for their memorable solo and chorus work.
Karen Azenburg's direction is theatrical with an epic scope but also narrowed into the humanity of the characters. The musical staging is as gripping as the performances, and it fits George Maxwell's brooding set design perfectly. The large moving gears and metal beams add a dreary spectacle, and Paul Miller's lighting design utilizes nuanced light and shadow with minimal color to further set the scene. The instances of shadow play are a brilliant combination of the direction, set, and lighting that add a masterful creative element. Brenda Van Der Wiel's marvelous costume designs are lush and detailed, and they evolve with the story as it reaches fever pitch at the close of the cautionary tale.
SWEENEY TODD plays through November 10, 2018. For tickets, call the box office at 801-581-6961 or visit www.pioneertheatre.org.
Photo Credit: L-R Kevin Earley (Sweeney Todd) and Anne Tolpegin (Mrs. Lovett)