BWW Review: Enthusiastic Response to STRAIGHT -- and Playwrights at Utah Rep's Opening Night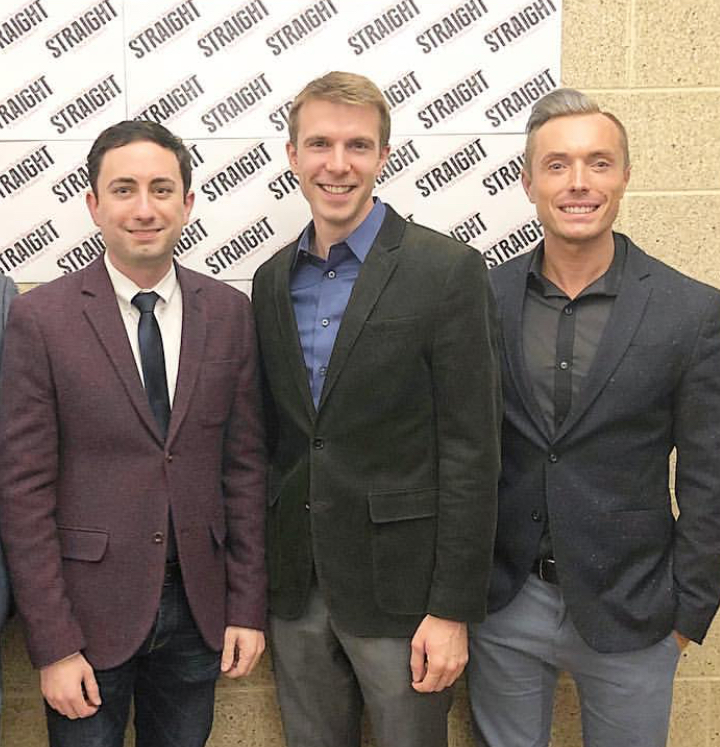 An overcapacity audience enthusiastically greeted Scott Elmegreen and Drew Fornarola, the award-winning playwrights of the off-Broadway hit STRAIGHT, at Utah Repertory Theater Company's regional premiere production in Salt Lake City.
"Having the authors join us for opening night was tremendous," said Johnny Hebda, Utah Rep Development Director/Founder, who masterminded the event. "And theatergoers were able to enjoy a post-performance talkback with the authors to discuss the challenging issues presented in STRAIGHT, along with leaders of local LGBT community groups."
Participating in the talkback were Andrew Hayes, student staff member at the University of Utah's LGBT Resource Center; Jimmy Lee Utah Pride Center Youth Program Manager; and Mindy B. Young, Equality Utah's Development Director.
Opening-weekend response to the production was passionate.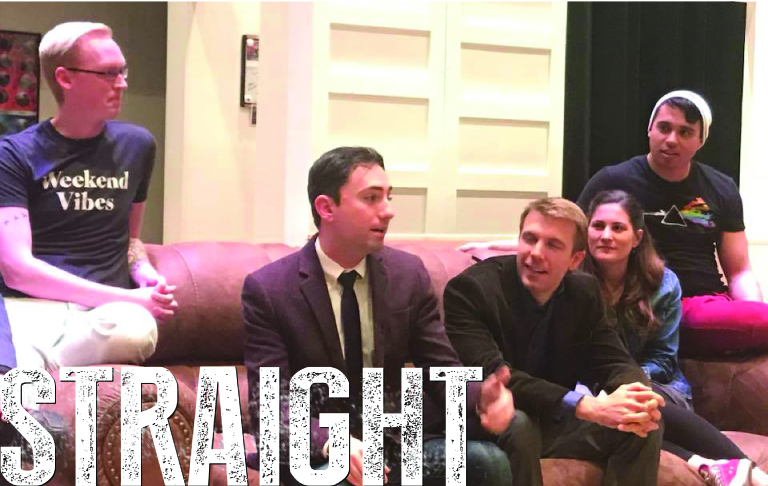 "Fantastic!," said Courtney Moser/Petunia Pap Smear. "Everyone needs to see this. Stellar performances by everyone. Keep up the good work."
"Utah Rep has brought a thoughtful and powerful piece to Utah audiences," wrote reviewer Tara Nicole Haas of Utah Theatre Bloggers. "The three actors truly brought the writing to life. I was fully invested in STRAIGHT from start to finish."
"Thought provoking and challenging," said Megan Gutierrez, director of Utah Theater Lovers.
"It was great!," said Timothy Langan. "The actors did an amazing job and made it very REAL! Everyone I went with enjoyed it and said they would recommend it. It was intense and gritty at times, and you were drawn in and felt for everything each of the characters were going through. It was a very raw (in only the best way) presentation about the struggle people go through to be who they are AND accept who they are."

"Thank you so much to Utah Rep and the Sorenson Unity Center for presenting our play, and thank you to the audience for your support of new, live theater," Elmegreen said. "We hope audiences enjoy it, and we're honored to be a part of Utah Rep's season!"
"I love watching audiences watch this play," said Fornarola. "Most rewarding to me have been emails and social media posts, especially from young people, saying that they recognize themselves in these characters. A 14-year-old boy wrote me a beautiful email about what the play meant to him."
Fornarola ("Claudio Quest," "Molly Shannon's Tilly the Trickster") and Elmegreen (Jerry Seinfeld-directed "Colin Quinn: Long Story Short," PBS Kids' "The Magic School Bus" theater adaptation) conducted their "Developing New Plays" Master Class the following morning. The master class event was free and open to the public as a Utah Rep community gift. In development is the playwrights' "Tiananmen," an original rock musical that follows the story of the 1989 Tiananmen Square protests in Beijing, which was recently featured at 54 Below with Telly Leung, Ruthie Ann Miles and Karl Josef Co, Jaygee Macapugay and Orville Mendoza.
"Straight" runs March 9-25 at the Sorenson Unity Center in Salt Lake City. Tickets can be purchased at utahrep.org/tickets.
BIOS
Scott Elmegreen is a Brooklyn-based playwright, composer and author. His play "Straight" was a New York Times Critics' Pick for its "smart, bracing" writing; it premiered off-Broadway and has been translated into four languages for productions around the world. His music and orchestrations have premiered on Broadway and HBO in the Drama Desk and Emmy Award-nominated" Colin Quinn: Long Story Short," directed by Jerry Seinfeld, as well as in numerous national tours, off-Broadway and off-off-Broadway shows. He wrote the book, music and lyrics for theatrical adaptations of PBS Kids' "The Magic School Bus" (Bay Area Children's Theatre premiere; national tours in the United States and China), the New York Times Bestselling series "Ivy Bean" ("A wry, rollicking show with infectious spirit and a breathless energy that thoroughly enchants"-New York Times; BACT premiere; The Atlantic Theater Company, off-Broadway; national tour), and the New York Times Bestselling "Ladybug Girl and Bumblebee Boy" picture books (BACT premiere; national tour). Other shows include "Vote (for Me!): A Musical Debate" (Roy Arias Stages, off-Broadway; London Theatre Workshop; The TimesCenter), "College the Musical" (New York Musical Festival Award, Best Lyrics), "Thucydides" (Samuel French Play Festival Winner) and "Awesome Allie, First Kid Astronaut" (Vital Theatre, off-Broadway; planetarium premiere at the Cradle of Aviation Museum, spring 2018). He is a graduate of Princeton University. www.scottelmegreen.com
Drew Fornarola is a playwright, songwriter and producer from New York. He is currently developing a stage musical for DreamWorks. Film: "VeggieTales Noah's Ark" (DreamWorks, 2015), starring Wayne Brady. Theater: "Straight" (2016 New York Times Critics' Pick), "Claudio Quest" (winner of six 2015 New York Musical Festival Awards for Excellence); "Molly Shannon's Tilly the Trickster" (Atlantic Theater Company, collaboration with the "Saturday Night Live" star Molly Shannon), "Thucydides" (Winner of Samuel French Play Festival, Samuel French), "Vote (for Me!): A Musical Debate" (London Theatre Workshop, Roy Arias Theater off-Broadway), "College the Musical" (MTVu Award); and two musicals for children. Awards: NYMF Award for Excellence in Lyrics, John Wallowitch Award for Songwriting, 2018 Ovation Award nominee, finalist for the 2014 Kleban Award and 2009 Richard Rodgers Award, and five-time Manhattan Association of Cabarets and Clubs Award nominee as a cabaret artist. Concerts: Lincoln Center, 54 Below, Broadway au Carre (Paris), London Theatre Workshop (London), Bar Fedora at Au Lac (Los Angeles), among others. Drew is the co-creator and host of the critically acclaimed "Madame Mathieu's Soirée," an avant-garde variety show in the West Village. In Development: Highlights from "Tiananmen" premiered in a concert at 54 Below starring Tony Award-winner Ruthie Ann Miles and Telly Leung ("Glee") Education: B.A. Princeton University, J.D. Fordham, Alumnus BMI Musical Theatre Workshop. www.drewfornarola.com
TALKBACK PHOTOS BY MEGAN GUTIERREZ/UTAH THEATER LOVERS