Review: ELF THE MUSICAL Brings Christmas Cheer to the Eccles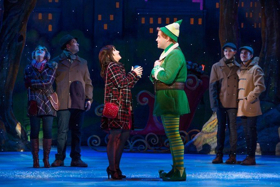 The national tour of ELF THE MUSICAL, with its delightful story and score, brings Christmas cheer to the Eccles Theater.
ELF THE MUSICAL (book by Thomas Meehan and Bob Martin, music by Matthew Sklar, lyrics by Chad Beguelin), is a Broadway show based on the perennial favorite film and in turn recently adapted as a stop-motion animated special--ELF: BUDDY'S MUSICAL CHRISTMAS. It tells the story of Buddy, who was raised by elves at the North Pole but never quite fit in, despite his enthusiasm for the Christmas holiday. When Buddy learns he is a human, he travels to New York City to meet his birth father, Walter Hobbs--a businessman who has forgotten the importance of family.
Sam Hartley as Buddy is warm, funny, and likeable--a leading man the audience enjoys rooting for.
Mia Gerachis as Buddy's love interest, Jovie, is at once sensitive and sardonic with a killer belt--just the right combination for the character.
Additional enjoyable performances include Mark Fishback as Santa, John Adkison as Walter, Marie Lemon as Emily, Quentin Booth II as Michael, BYU alum Heather Jefferies as Deb, Redell DeBose as the Store Manager, and Joel Stigliano as Mr. Greenway.
The choreography by Connor Gallagher (recreated by Nancy Renee Braun) is utterly fantastic. Always in service of the story, it is contemporary, festive, and executed superbly by the ensemble.
At the reviewed performance, a number of technical snafus involving the fly system and other elements made for a less-than-smooth experience. However, by the close of the show, the issues had all been worked out.
The set, designed by Christine Peters, consists mostly of painted drops, but they are detailed, layered, and always visually interesting. The lighting design by Paul Miller and costume design by Gregg Barnes complement the scenic design and story well with a thoughtful and effective color palette.
ELF THE MUSICAL is the perfect show to ring in the holiday season with your family.
ELF THE MUSICAL plays the Eccles Theater for a limited engagement through Sunday, November 26, 2017. For tickets, call ArtTix at 801-355-ARTS (2787) or visit www.artsaltlake.org.
Photo Credit: L-R Mia Gerachis (Jovie) and Sam Hartley (Buddy)