Award-Winning Playwrights of STRAIGHT to Celebrate Utah Rep's Regional Premiere of Their Off-Broadway Hit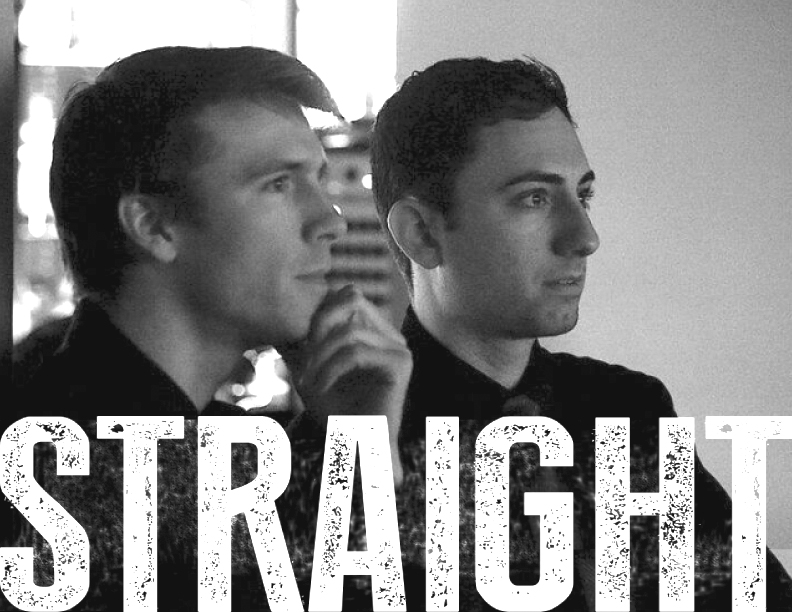 Being able to converse directly with playwrights after a show's performance "enriches and deepens the experience by providing another level of insight and meaning to the message being conveyed," says Utah Theater Lovers' Founder Megan Gutierrez.
Scott Elmegreen and Drew Fornarola, the award-winning playwrights of the off-Broadway hit STRAIGHT, will join Utah Repertory Theater Company's opening night of the regional premiere production in Salt Lake City.
Fornarola ("Claudio Quest," "Molly Shannon's Tilly the Trickster") and Elmegreen (Jerry Seinfeld-directed "Colin Quinn: Long Story Short," PBS Kids' "The Magic School Bus" theater adaptation) will participate in a post-performance panel discussion at the opening night Friday, March 9, 7:30 p.m. performance and conduct their "Developing New Plays" Master Class the following Saturday, March 10, 1-3 p.m. The master class event is free and open to the public as a Utah Rep community gift.
"Thank you so much to Utah Rep and the Sorenson Unity Center for presenting our play, and thank you to the audience for your support of new, live theater," Elmegreen said. "We hope audiences enjoy it, and we're honored to be a part of Utah Rep's season!"
In "Developing New Plays, " the playwrights discuss the development of new works, and the class applies the lessons through a series of practical exercises. The Master Class will have acting, writing and directing components, and is generally excellent for students focusing in any of those disciplines. Additional insights will be offered to theater appreciators who want a better understanding of how new works advance from the kernel of an idea to a fully realized show.
STRAIGHT runs March 9-25 at the Sorenson Unity Center in Salt Lake City. Tickets can be purchased at utahrep.org/tickets.
"I love watching audiences watch this play," said Fornarola. "Most rewarding to me have been emails and social media posts, especially from young people, saying that they recognize themselves in these characters. A 14-year-old boy wrote me a beautiful email about what the play meant to him."
"The most gratifying thing about the play's response, for me, is the number of critics and audience members who have written and said that the play 'gets it right' -- even when the actions of our characters might surprise or upset them," said Elmegreen.
Additional intriguing observations from the playwrights (and the Utah Rep creative team members) about this production of STRAIGHT can be found at http://utahrep.org/category/insights/straight-insights/.
Fornarola and Elmegreen are available for select media interviews, and quotes from the Insights blog post can be used in any production-related coverage.
"A 'Boys in the Band' for today's generation," STRAIGHT is funny, sad, sexy and surprising, and considers the morally complex issue of a generation that prides itself on the pretense of acceptance.
Out Magazine labeled STRAIGHT as "a must-see. It's not very often that I leave a theater emotionally raw. STRAIGHT is a charged and powerful play."
A New York Times Critics' Pick for its "smart, bracing" writing, STRAIGHT has "clever wisecracks and thought-provoking observations on sexual identity," according to the review. The Huffington Post wrote, "'Hamilton' isn't the only theatrical revolution going on in New York. Another smaller revolution unfolds every night during a one-act, off-Broadway play called STRAIGHT -- about a revolution of expectations. One's own. One's friends'. And society's."
Utah Rep's staging of STRAIGHT was initially rejected for production at Salt Lake City's Sorenson Unity Center, which prompted a national debate on theater censorship and public offerings at state-owned theaters. (/salt-lake-city/article/BWW-Feature-FIRST-AMMENDMENT-RIGHTS-DIVIDE-SALT-LAKE-THEATER-COMPANY-UTAH-REP-AND-CITY-ADMINISTRATORS-20171003)
BIOS
Scott Elmegreen is a Brooklyn-based playwright, composer and author. His play" Straight" was a New York Times Critics' Pick for its "smart, bracing" writing; it premiered off-Broadway and has been translated into four languages for productions around the world. His music and orchestrations have premiered on Broadway and HBO in the Drama Desk and Emmy Award-nominated" Colin Quinn: Long Story Short," directed by Jerry Seinfeld, as well as in numerous national tours, off-Broadway and off-off-Broadway shows. He wrote the book, music and lyrics for theatrical adaptations of PBS Kids' "The Magic School Bus" (Bay Area Children's Theatre premiere; national tours in the United States and China), the New York Times Bestselling series "Ivy Bean" ("A wry, rollicking show with infectious spirit and a breathless energy that thoroughly enchants"-New York Times; BACT premiere; The Atlantic Theater Company, off-Broadway; national tour), and the New York Times Bestselling "Ladybug Girl and Bumblebee Boy" picture books (BACT premiere; national tour). Other shows include "Vote (for Me!): A Musical Debate" (Roy Arias Stages, off-Broadway; London Theatre Workshop; The TimesCenter), "College the Musical" (New York Musical Festival Award, Best Lyrics), "Thucydides" (Samuel French Play Festival Winner) and "Awesome Allie, First Kid Astronaut" (Vital Theatre, off-Broadway; planetarium premiere at the Cradle of Aviation Museum, spring 2018). He is a graduate of Princeton University. www.scottelmegreen.com
Drew Fornarola is a playwright, songwriter and producer from New York. He is currently developing a stage musical for DreamWorks. Film: "VeggieTales Noah's Ark" (DreamWorks, 2015), starring Wayne Brady. Theater: "Straight" (2016 New York Times Critics' Pick), "Claudio Quest" (winner of six 2015 New York Musical Festival Awards for Excellence); "Molly Shannon's Tilly the Trickster" (Atlantic Theater Company, collaboration with the "Saturday Night Live" star Molly Shannon), "Thucydides" (Winner of Samuel French Play Festival, Samuel French), "Vote (for Me!): A Musical Debate" (London Theatre Workshop, Roy Arias Theater off-Broadway), "College the Musical" (MTVu Award); and two musicals for children. Awards: NYMF Award for Excellence in Lyrics, John Wallowitch Award for Songwriting, 2018 Ovation Award nominee, finalist for the 2014 Kleban Award and 2009 Richard Rodgers Award, and five-time Manhattan Association of Cabarets and Clubs Award nominee as a cabaret artist. Concerts: Lincoln Center, 54 Below, Broadway au Carre (Paris), London Theatre Workshop (London), Bar Fedora at Au Lac (Los Angeles), among others. Drew is the co-creator and host of the critically acclaimed "Madame Mathieu's Soirée," an avant-garde variety show in the West Village. In Development: Highlights from "Tiananmen" premiered in a concert at 54 Below starring Tony Award-winner Ruthie Ann Miles and Telly Leung ("Glee") Education: B.A. Princeton University, J.D. Fordham, Alumnus BMI Musical Theatre Workshop. www.drewfornarola.com