Tickets on Sale Now for Little Radical Theatrics' THE SECRET GARDEN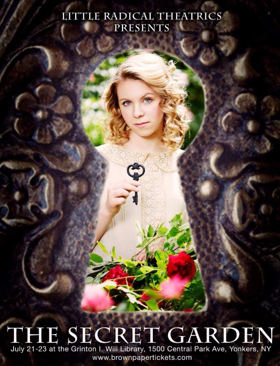 Little Radical Theatrics is officially one month away from opening night of Little Radical Theatrics Summer 2017 production of the TONY Award-winning Broadway Musical "The Secret Garden!" Based on the beloved classic novel by Frances Hodgson Burnett!
The Secret Garden runs July 21st - July 23rd at the Grinton Will Library 1500 Central Park Ave Yonkers, NY.
Directed by Michael Mirra, Musical Direction by Peter Capelle, Choreographed by Erin Amelia.
Starring Ameliarose Allen as Mary Lennox, Alexandra Haines as Lily, Michael Mirra as Archibald Craven, Bryce Edwards as Dickon, James Neufeld as Neville Craven, Stephanie Lourenco Viegas as Martha, Jake Berman as Colin Craven, Michael Adelstein as Captain Albert Lennox, Reanna Adelstein as Rose Lennox, Betsy Silverman-Hochhauseras Mrs. Medlock, James Maguire as Ben Weatherstaff.
Featuring Martina Mehta as The Ayah, Dom Ramos as The Fakir, Ernest Zalamea as Lieutenant Peter Wright, Kenneth Skjeveland as Major Holmes, Lynn Glener as Alice, Lori Passarelli Skjeveland as Claire Holmes, Taylor Quinn as Mrs. Shelley/Mrs. Winthrop, and Josh Judin as Major Shelley.
With Carter Appleyard as Timothy/Ghost Child, Miranda Miller as Servant at Misselthwaite Manor/Ghost Child, Sean Murtha as William/Ghost Child, Valentina Rubio as Betsy/Ghost Child, Justin Sanchez as Servant at Misselthwaite Manor/Ghost Child, and Kira Skjeveland as Jane/Ghost Child.
Performances run July 21st at 8 PM, July 22nd at 2 and 8 PM, July 23rd at 3 PM.
To purchase tickets please visit http://www.brownpapertickets.com/event/2949501 or call 1-800-838-3006.
Tickets in advance are $10 kids under 7; $17 kids 7+/students/seniors; and $20 Regular Admission. Tickets at the door are $12 kids under 7; $20 kids 7+/students/seniors; and $25 Regular Admission. There is a group rate of $15 per person for 8+ tickets to one performance *NOTE SEATING IS ASSIGNED NOT GENERAL ADMISSION*
Do not miss this beautiful musical featuring an incredible multi-generational cast of actors! This is a wonderful show for people of all ages, and a great show for families!
More Hot Stories For You