Photo Flash: SEUSSICAL THE MUSICAL at WBT
WESTCHESTER BROADWAY THEATRE Is Proud To Present The Family Theatre Production of
SEUSSICAL, The Musical Based on The Stories by Dr. Seuss, Music By Lynn Ahrens and Stephen Flaherty, Directed by John Fanelli, Musical Direction by Michele DeAngelis, Choreography by Lexie Frare JUNE 16 thru JULY 31, 2011
Performances on Thursdays (matinee & evening), Saturdays (matinees) and Sundays (matinees & evenings),
include a complete served meal. Adult: $75. Seniors: $67. Kids 16 & under: $52.
Performances on Friday Evenings are Show Only (without dinner): $45
Beverage Service & Gratuities are not included in the ticket price.
Reservations: Call (914)-592-2222. Also at:
www.BroadwayTheatre.com
Tony winners
Lynn Ahrens
and
Stephen Flaherty
("Ragtime", "Once on this Island") have lovingly brought to life all of our favorite Dr Seuss characters in a musical with mass appeal. The show is light and effervescent and draws on pop influences ranging from
The Beach Boys
to Gospel and Salsa to, yes, the theme from "Shaft." SEUSSICAL proves to be an evening of theatre for everyone, of all ages! The powers of friendship, loyalty, family and community are challenged and emerge triumphant in a story that makes you laugh and cry.
Starring Augie Abatecola of Mt. Kisco, as The Cat in the Hat. Christine Gavin of Ossining, will play Mayzie LaBird, Brian Krinsky of East Stroudsburg, PA,
is Horton the Elephant. Fatye Francis of White Plains will portray Wickersham. Mackenzie Larrabee of Ridgefield, CT and Sofia Singer of North Salem will alternate as
Cindy Lou
Who, Lauren Lucksavage of North Massapequa, will be Gertrude McFuzz, and Matt Stout of Dobbs Ferry is Yertle the Turtle/ General Ghengis Khan Schmidtz.
The Cast includes: Brittany Bonamass, Cores Jasmine (Mamaroneck,) Corrao Joe (Thornwood), Micah Cowher (New York), Antonio Dell'Orto (Scarsdale), Alyssa DiPanfilo (Bronxville), Emelia Ducic, Grace Fanelli, Jackson Fanelli and Ryan Fanelli (all of Yorktown Heights), Stephanie Ferreira (Mt. Kisco), Lily Fialkovic (Yonkers), Carina and Gianna Florio (Pleasantville), Jonathan Genovese (Valhalla), Julia Gold (Katonah), Marissa Heintzmann (Pleasantville), Pierson Holliday (Sleepy Hollow), Jennifer Jonas (Goshen), Kenzie Kyle (Ossining), Michele Laino (Dobbs Ferry), Hannah Lewis, Melissa Magaliff (White Plains), Tara Mazur (Ridgefield, CT), Lauren and Kayla Moore (Mt. Kisco), Allison Mucciolo (Mt. Kisco), Sami, Kimmi and Lexi Nauss (Katonah), Gabriella Palminteri, Elena Pascullo (New York), Molly Perrine (Bedford),
Jeff Raab
(Chappaqua), Jenna Rush (Pleasantville), Joey Sanzaro,
Carolyn Savoia
(Ridgefield, CT),
Noah Silverman
(Armonk),
Rebecca Simpson-Wallack
(Briarcliff Manor), Staubi Lexi (Rye), Shannon and Tim Stout (Dobbs Ferry), Hope Sullivan (Valhalla), Kiah Thomas (Port, Chester), Lauren Wagner (Yorktown Heights), Katelyn Williams (Carmel) and Ashley Zeitler (Ossining)
Production staff Includes:Assistant Director: Alyssa Gomez, Associate Conductor: Stephen Ferri, Set Designer: Steve Loftus, Costume Designer:Taylor Martin, Lighting Designer: Bob Durso, Sound Designer: John Hatton, Props Designer: Ki Bird, Production Stage Manager is Colleen Till . WBT Mainstage:
Seussical The Musical 6/16/11 -7/31/11
Altar Boyz 8/4 - 9/18/11
My Fair Lady 9/22/11-11/27/11
Check out our website: www.BroadwayTheatre.com
And the Blog for fun stories, photos and interviews: www.BroadwayTheatreBlog.com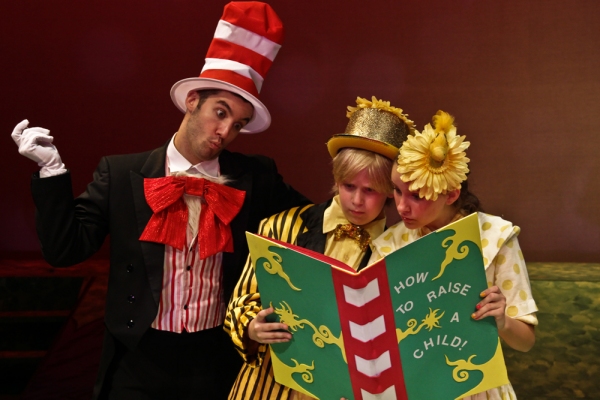 Augie Abatecola, Noah Silverman and Kayla Moore

Brian Krinsky and Lauren Lucksavage

Christine Gavin and cast members of Seussical.