Photos: First Look at Westchester Broadway Theatre's CAN-CAN
The great
Cole Porter
's Can-Can, hits the Westchester Broadway Theatre stage, now through October 7, 2012. Get a first look at the show in the photos below!
Written by Caleb Porter and
Abe Burrows
, the story revolves around the lovely Pistache, who owns the only café that features the sexy and provocative Can-Can. She spars with Aristide Forestier, a self-righteous judge, determined to close all Parisian dance halls. The show features the provocativly delightful Can-Can, the high-energy and physically demanding music hall dance which is a hybrid of the Polka and The Quadrille. First danced in circa 1822, it was outlawed for a number of years as immoral and prohibited by the police! How times have changed!
The dazzling musical features such Porter classics as "I Love Paris," "It's All Right With Me," and "C'est Magnifique". As worded in a 1953 review by the New York Times, Brooks Atkinson applauds Cole Porter's writing talent: "Composer of some of our most immortal melodies, Mr. Porter never comes to the theatre empty-handed. He never writes a score without personality."
Can-Can opened at the Shubert Theatre on Broadway in 1953 and ran for almost 900 performances during a three year span. The cast featured Lilo as Pistache and Peter Cookson as Aristide. Can-Can also was made into a film in 1960 which Frank Sinatra, Shirley MacLaine and Maurice chevalier. The show was also revived on Broadway for a short time in the 1980s. It is the winner of two Tony Awards for Best Featured Actress (Gwen Verdon) and for Choreography.
The WBT production features Glory Crampton as Pistache, Tony Lawson as Aristide, Lauralyn Mcclelland, as Claudine, Patrick Richwood as Boris, Charles West as Hilaire and William McCauley will play Paul. Hercule will be played by Michael Linden, Etienne by Joshua Phan-Gruber and Todd MacIntyre is Theophile.
The multi-talented ensemble features: Bjorn Bolinder,
Karolina Blonski
, Courtney Chilton, Laura Elizabeth Henning, Chloe Hurst, Darrell T. Joe,
Peter Marinos
, Kaitlin Niewoehner, Elliot Reiland ,
Tim Roller
and
Marguerite Willbanks
.
The production is Directed and Choreographed by WBT favorite, Richard Stafford, who had been at the helm for several WBT productions including George M!, Hairspray, Beauty & The Beast, Gypsy and Singin' In The Rain. Jonathan Stahl is the Associate Director/Associate Choreographer. The musical director is Craig Barna, Set Design is by John Farrell, Set coordinator is Steve Loftus, Lighting Design by Andrew Gmoser, Sound Design by Jonathan Hatton, Costume design by Loren Shaw Production Stage Manager is Victor Lukas and the Assistant Stage Manager is Ron Rogell. Properties are by Grumpy's Props. As with all our productions, Lisa Tiso is The Associate Producer.
For tickets, scheduling and more information, visit www.BroadwayTheatre.com.
Photo Credit: John Vecchiolla


Patrick Richwood (as Boris), Lauralynn McClelland (as Claudine) and Charles West (as Hilaire Jussac)

Tony Lawson (asAristide Forestier) and Glory Crampton (as Pistache)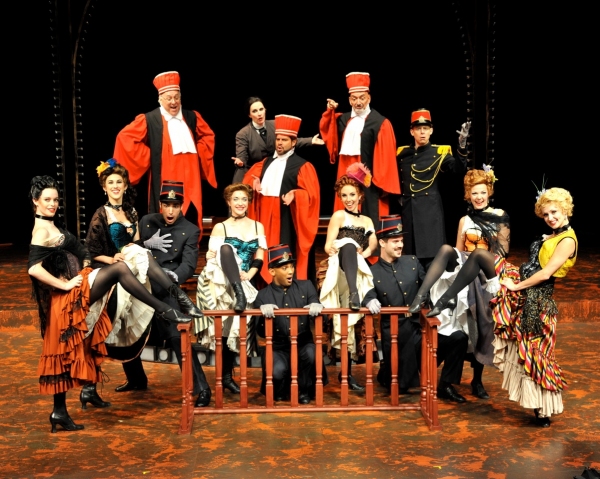 The Cast of CAN-CAN