BWW Review: THE BURN at The Wilbury Theatre Group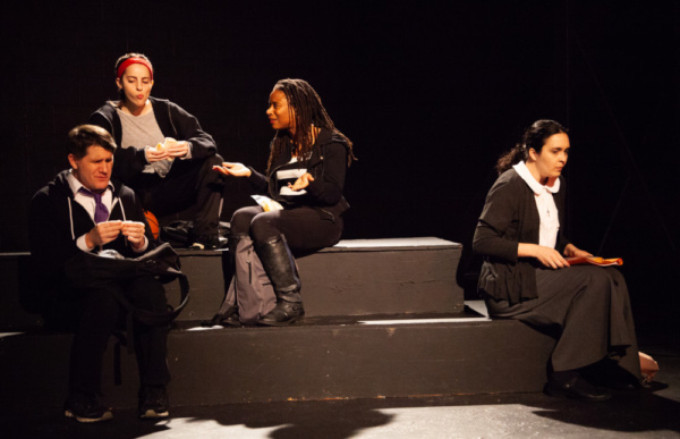 The Wilbury Theatre Group's current production is The Burn, a relatively new work by playwright Philip Dawkins. The Burn examines the destructive power of social media and demonstrates-by setting it in a high school rehearsing Arthur Miller's 1953 play, The Crucible-that the evils of bullying and groupthink are timeless, whether its cyber-bullying, McCarthyism, or 17th-Century Salem with trials.
The Burn was originally commissioned for Chicago's Steppenwolf Theatre's Steppenwolf for Young Adults, and at times it feels like an assignment that could use a bit more work. Although it deftly balances the intense topic with the occasional laugh, and the dialog is rich and the language on point, some of the expository dialog felt out of place and part of the plot felt both disappointingly predictable and yet contrived.
Still, the Wilbury's production, directed by Logan Serabian, is well worth seeing as the performances are fine and the story is well paced.
Daraja Hinds is outstanding as the high school queen bee/mean girl, Tara. Hinds's Tara is that mix of intelligence, attitude and heartlessness that makes certain teen so smack-worthy.
Tara's most frequent target is the devout outsider, Mercedes, played by Sarah Leach. Leach impresses as Mercedes, conveying the character's strength and faith with sincerity.
Brien Lang brings Erik to life as the affable drama teacher who deserves far more appreciation from his class. Shannon Hartman, who plays Tara's best friend and sometimes target, Andi, masterfully found the nuances in her character's affected accent and speech. The third girl in Tara's trio, Shauna, is played by Jeff Hodge, who effectively conjures a waffling mix of conflicted emotions of a teenager.
The minimalist set by Kerri King was visually pleasing, adding just enough touches to convey a high school classroom. The structure of the elements is precise and balanced, while the placement of the student detritus haphazard and chaotic, a fine symbol for what's to come.
The Burn runs until February 3 at the Wilbury Theatre Group's chic and comfortable space at 40 Sonoma Court in Providence, in the heart of the Olneyville's renaissance. For more information, visit www.thewilburygroup.org.
Barb Burke, a writer and a life-long New Englander, loves the arts in all its forms. She also volunteers at living history events.