Photo Flash: A NIGHT WITH JANIS JOPLIN At North Carolina Theatre
North Carolina Theatre is proud to announce the addition of a new show to the 2017-18 season on stage at the Duke Energy Center for the Performing Arts. This season will feature A NIGHT WITH Janis Joplin during an extended run in the A.J. Fletcher Opera Theater, May 4-20, 2018.
"I am thrilled to bring the tremendous energy and joy of this music to our NC Theatre stage," said Elizabeth Doran, North Carolina TheatrePresident and CEO, who produced this show in a pre-Broadway run on the west coast in 2013. "Our production will rock the house with the volcanic, stunning, and iconic persona of Janis Joplin. But by also dazzling you with the power of the African-American blues singers who were her heroes, it will be an absolute jaw-dropper. You will feel uplifted by this unforgettable show - in fact you'll leap out of your seat and dance and sing along!"
Janis Joplin exploded onto the music scene in 1967 and, almost overnight, became the queen of rock and roll. The unmistakable voice, filled with raw emotion and tinged with Southern Comfort, made her a must-see headliner from Monterey to Woodstock. Now, audiences can share an evening with the woman and her musical influences-icons like Aretha Franklin, Etta James, Odetta, Nina Simone and Bessie Smith, who inspired one of rock and roll's greatest legends. Fueled by unforgettable songs including "Me and Bobby McGee," "Piece of My Heart," and "Cry Baby," A NIGHT WITH Janis Joplin was called "riveting" by the New York Times. Beyond a 2014 Tony Award nomination on Broadway, the show also garnered three Los Angeles Drama Critics Circle Awards and two NAACP Theatre Awards.
The Los Angeles Times said of this show, "Neither venue nor attendees may ever be the same. In a cosmic collusion of persona and perception, this electrifying concert musical resurrects the Queen of Rock 'n' Roll with the sort of seismically sensational results normally encountered at stadiums and pop festivals. Eschewing the biographical narrative gyrations of say, Jersey Boys, the premise...is basic, unvarnished and supremely effective...jaws drop...Given the objective, it's a triumph for all concerned. They will rock your world."
A NIGHT WITH Janis Joplin joins an exciting season lineup of NC Theatre-produced shows including Disney's NEWSIES and the classic musical comedy GYPSY, and in association with Broadway Series South the first national tour of BRIGHT STAR, and family favorite THE WIZARD OF OZ.
Season tickets start as low as $172 for all six shows and are now available to purchase online and through the NC Theatre Box Office. For more information, please visit nctheatre.com or call the NC Theatre Box Office at (919) 831-6941 x6944.
Photos by Curtis Brown Photography.

Nattalyee Randall and Paige McNamara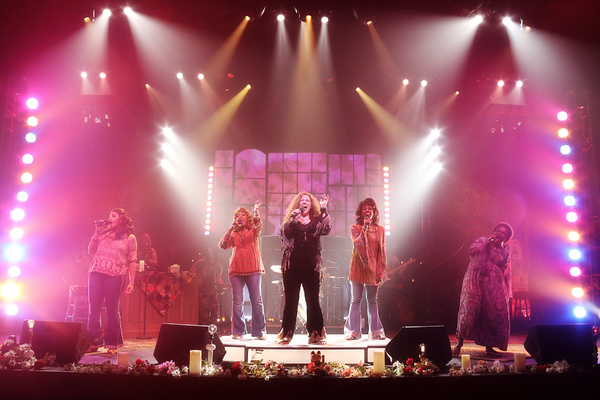 Aurianna Angelique, Jennifer Leigh Warren, Paige McNamara, Nattalyee Randall

Paige McNamara