Cape Fear Regional Theatre To Host Ground-Breaking Playwright Regina Taylor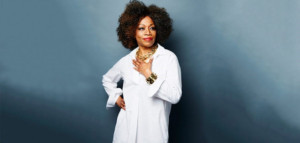 The Gospel musical Crowns is one of the country's most produced musicals about women with courage, faith, and hats filled with joyful gospel music. Crowns is based on the beloved book by North Carolinians Michael Cunningham and Craig Marberry, which Regina Taylor adapted into the stage production.
On Saturday, May 19th there will be a free pre-show conversation with Ms. Taylor in the theatre. The conversation, beginning at 6 pm, will be facilitated by acclaimed North Carolina playwright Mike Wiley (CFRT: Downrange, The Parchman Hour). 
acclaimed North Carolina playwright Mike Wiley (CFRT: Downrange, The Parchman Hour). Ms. Taylor will discuss her career as a ground-breaking artist living an innovative creative life. The performance of Crowns will begin at 7:30 pm. Tickets, are free and reservations are required.
Regina Taylor is a ground-breaker in the world of the arts as an award-winning actress, playwright, and director who works in every medium-theatre, film, and television. She has won two NAACP Image Awards (Best Lead Performance, TV, I'll Fly Away-1995; The Unit-2008) and was the 2nd African American Woman to receive a Golden Globe Award, plus two Emmy nods. Notably she was the First African American Juliet on Broadway in Romeo and Juliet (Belasco Theater, 1987) and was the First African American Lead in Masterpiece Theater's Cora Unshamed. Ms. Taylor was honored as the 2017 Denzel Washington Endowed Chair Fordham University where she directed her play Magnolia. Other television credits include The Unit and Dig. Movies include: Clockers, Courage Under Fire and Lean on Me.
About Crowns at Cape Fear Regional Theatre
There is a hat for every occasion, from flirting to churchgoing to funerals to baptisms. The tradition of hats is traced back to African rituals and slavery to the New Testament and current fashion. When Grandma Shaw introduces young Yolanda to her circle of "Hat Queens," Yolanda learns that she's not as alone in the world as she once felt. This Gospel musical is a show that will stir your soul and inspire you to connect to your roots. Featuring the songs you love: Ain't that Good News, Marching to Zion, Just a Closer Walk with Thee, and Wade in the Water. Directed by Donna Baldwin-Bradby. Crowns runs at Cape Fear Regional Theatre May 17-June 3, 2018. Tickets at www.cfrt.org or 910.323.4233.
Home - Cape Fear Regional Theatre www.cfrt.org CFRT's six-show mainstage season and robust education and outreach programs serve over 42,000 audience members a year from all ages and varying socioeconomic and ethnic backgrounds including nearly 7,000 students from around the region.
About Cape Fear Regional Theatre
Now in it's 56th season, Cape Fear Regional Theatre was organized in 1962 by a small group of local actors and friends who gathered to dream. Together they founded the Fayetteville Little Theatre, which would evolve into one of the finest theatres in the state of North Carolina. With the community's support the founding group was able to purchase a former movie theatre building at 1209 Hay Street. This would become the current three-story complex, which houses a 306-seat main stage. In 1986, the theatre changed its name to Cape Fear Regional Theatre to reflect its growing importance to southeastern North Carolina. CFRT receives support from the Arts Council of Fayetteville/Cumberland County, The North Carolina Arts Council, and The Shubert Foundation. Season sponsors include Fayetteville Auto Mall and Addison Ridge.