NUVEM Comes to Teatro da Trindade in December
Performances run 8 December to 29 January.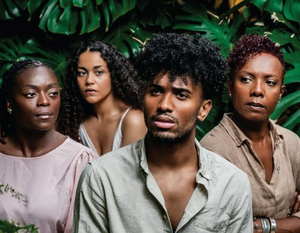 Uma erupção vulcânica na Islândia paralisa todo o espaço aéreo europeu. Numa ilha do Atlântico, o estranho desaparecimento de um famoso artista causa inquietação. Um terreno baldio começa a causar desconforto pelo seu intenso cheiro. O mercado da arte flutua. A tentativa de escrita de uma biografia torna-se numa obsessão. As relações dentro de uma família são postas em causa. Nesta sucessão de acontecimentos, aparentemente desligados entre si, quatro pessoas reencontram-se e descobrem que tudo é nuvem.
"Nuvem" foi o texto vencedor da 4ª Edição Prémio Miguel Rovisco - Novos Textos Teatrais. O prémio, promovido pelo Teatro da Trindade INATEL e atribuído anualmente, foi criado como incentivo à escrita de textos originais em língua portuguesa, na área do Teatro.