Photo Flash: Imago Theatre's THE BLACK LIZARD to Return, 10/4
Imago Theatre's critically acclaimed production of THE BLACK LIZARD, directed by Jerry Mouawad, returns to open the Imago's season in October. The English-language premiere of Yukio Mishima's play will remount Oct. 4 through Nov. 4 at Imago Theatre, 17 SE 8th Avenue. Check out photos from the spring production below!
Since 2009, Jerry Mouawad has staged five silent productions Apis, Cuban Missile Tango, Tick Tack Type, Stage Left Lost and Zugzwang. Now he is breaking his silence with the English Language World Premiere of one of Japan's most popular plays, Yukio Mishima's The Black Lizard. The production contains nudity and is recommended for adults.
From 1950, until his dramatic suicide in 1970, while attempting to foment a right-wing coup d'etat, Yukio Mishima dominated Japanese letters-as novelist and playwright. Mishima was equally adept at writing psychological parlor-room drama and bombastic kabuki-filled with music, dance, and stage magic. The Black Lizard (1961) is a hybrid of these two styles. Black Lizard is the pseudonym of Japan's most notorious woman gang leader, and she specializes in jewelry theft and murder. These disparate crimes have one object-to fuel her obsession with obtaining and possessing the impossible-beauty that will never be lost or fade away. The play takes the form of a battle of wits between Black Lizard and brilliant private detective, Kogorô Akechi, Japan's Sherlock Holmes. Black Lizard attempts to steal the biggest diamond in Japan, Akechi strives to protect the jewel and capture the criminal. Until the end we don't know who will prevail. The play has been a perennial favorite in Japan-many leading actresses and female impersonators have taken a turn at playing Black Lizard including Mizutani Yaeko, Miwa Akihiro (also in the film version), Bandô Tamasaburô, and Matsuzaka Keiko.
The Black Lizard delves deeply into the psyche of the heroine, who embodies many of Mishima's own pathologies, but at the same time the play is a campy, sexy, and hilarious romp through Japan in the 1960s. Characters take on multiple identities and don disguises with a frequency seen only in kabuki, and settings range from posh hotel suites, to Tokyo Tower, to a ship at sea. As in kabuki, leading characters are given long monologues to reveal their innermost feelings, and in Jerry Mouawad's direction these are presented in "chamber" style with influences from Richard Foreman. Imago's The Black Lizard will be a verbally sophisticated, physically energetic, and visually sumptuous play-attempting to bring a contemporary fusion of kabuki and melodrama to Portland audiences.
Tickets are $15 to $30 available by calling Imago at 503.231.9581 or online at ticketswest.com or 503.224.8499. Shows are Thursdays at 7:30, Fridays & Saturdays at 8:00 and Sunday at 2:00.
For more about the show, visit www.imagotheatre.com.
Photo credit: Sumi Wu


Lauren Mitchell, Thien-Kim Bui and Megan Skye Hale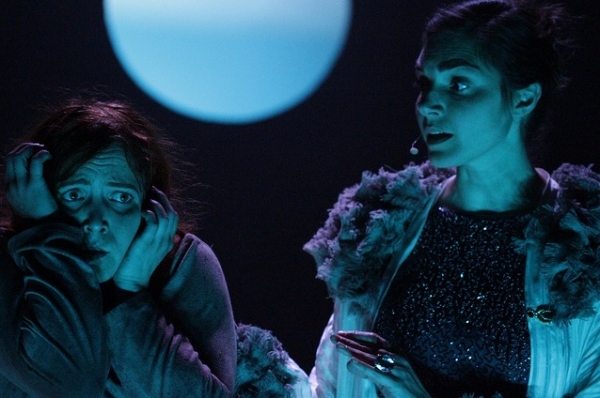 Samantha Joy Luhn and Anne Sorce

Samantha Joy Luhn

Anne Sorce

Lauren Mitchell, Thien-Kim Bui and Megan Skye Hale

Anne Sorce

Matt DiBiasio and Vu Pham

Samantha Joy Luhn and Anne Sorce

Featured BroadwayWorld Events
Check out these concerts...

More Hot Stories For You