Oregon Jewish Museum Hosts An Historic Evening With Anne Frank's Stepsister, Eva Schloss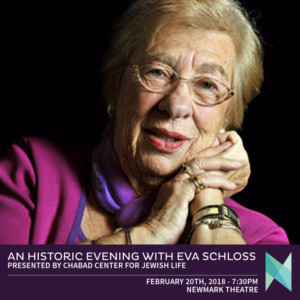 Enter the world of Anne Frank as told by Eva Schloss, her stepsister and childhood friend. When Germany annexed Austria in 1938, many Jewish families fled Austria to avoid persecution. Among the emigrants was Eva Geiringer, who with her mother, brother and father moved to Belgium and then to Holland, where one of her neighbors was Anne Frank. At the age of eight, Eva became friends with Anne, playing hopscotch and drinking lemonade together.
Ultimately, both girls and their families were deported to the Auschwitz concentration camp. Later the girls would become stepsisters. While Anne Frank did not survive Auschwitz, Eva survived her concentration camp experience and made her way to England, where she married Zvi Schloss and raised three daughters.
Her sensational story is difficult to imagine, yet it reminds us that life is precious and fragile. Since 1985, Eva Schloss has devoted herself to holocaust education and global peace. She has recounted her wartime experiences in more than one thousand speaking engagements. She has written two books and has had a play written about her life. In 1999 Eva signed the Anne Frank Peace Declaration along with United Nations Secretary General Kofi Annan and the niece of Raul Wallenberg, a legendary figure who rescued thousands of Jews in Budapest.
"The vision is to create a moment for our community when nearly 1,000 participants gather in the Newmark Theatre to hear, see and come as close to this important story as we will ever be able to," says Rabbi Motti Wilhelm of Chabad of Oregon.
"Today's students will be the last to personally encounter and ask questions of a Holocaust survivor, let alone one as prominent as Anne Frank's sister," says Rabbi Motti Wilhelm. "In that spirit, the event committee has committed to finding a sponsor to enable us to discount group tickets for students for up to 100 students at $15 a ticket."
The programs are presented by the Chabad Center for Jewish Life in partnership with Oregon Jewish Museum and Center for Holocaust Education, Portland State University's Harold Schnitzer Family Program in Judaic Studies and the Jewish Student Union at Willamette University.
"Oregon Jewish Museum and Center for Holocaust Education is dedicated to sustaining the memory of the Holocaust," says OJMCHE Executive Director Judy Margles." Listening to the living memories of survivors is critical to our mission. As we arrive at the 73rd year since Anne Frank's death in Bergen-Belsen, we are fortunate for the opportunity to hear from a survivor who has a direct connection to Anne and her family."
Eva Schloss joins many courageous individuals who work tirelessly to end the violence and bigotry that continue to plague our world. Eva's story reminds us that the creative spirit is stronger than fear, that the power of good is immeasurable, and that love makes a difference.
About the Oregon Jewish Museum and Center for Holocaust Education : Founded in 1990, the mission of the Oregon Jewish Museum and Center for Holocaust Education is to interpret the Oregon Jewish experience, explore the lessons of the Holocaust and foster intercultural conversations. The Oregon Jewish Museum and Center for Holocaust Education, the Pacific Northwest's only Jewish museum, offers programs, exhibits, films, lectures, and concerts cover a wide range of topics relating to Jewish art, culture and heritage which stimulate dialogue about identity, culture, and assimilation. Education programs embrace the Jewish experience and explore the lessons of the Holocaust. The organization is the steward of the Oregon Holocaust Memorial, located in Washington Park, and of the Archives and Artifact Collection documenting the Oregon Jewish experience. http://www.ojmche.org
Related Articles View More Portland

Stories

Shows
More Hot Stories For You