BWW Review: THE KING AND I Is Gorgeous, But Falls a Little Flat, at Keller Auditorium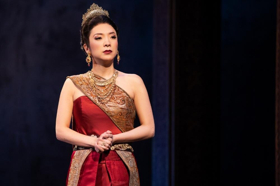 The national tour of THE KING AND I has all of the makings of a perfect classic musical production -- lavish sets, gorgeous costumes, excellent performances, and, of course, great music. But despite having the right ingredients, it doesn't quite rise to its full emotional potential.
Rogers and Hammerstein's THE KING AND I, set in 1862, tells the story of Anna Leonowens, a Welsh widow who, along with her son, travels to Siam to teach the King's many children (and many wives) English and the ways of the west. It's a story of cultures clashing, of overcoming personal biases, and of love.
The national tour portrays the first two of those themes exceptionally well. The clashes between Anna, a feminist before the word existed, and the King, who doesn't see women as good for much more than child-bearing, provide most of the show's best moments, along with its humor. Equally strong are the parts where the King struggles to reconcile his traditional views with his desire to be seen as progressive.
It's the love part that this production doesn't quite get right. The characters circle around one another, but remain in their own worlds. I enjoyed the individual performances of both Angela A. Baumgardner (Anna) and Pedro Ka'awaloa (the King), but the dance lesson you wait the whole show for never becomes anything more than a spirited polka. The same goes for Paulina Yeung and Dongwoo Kang, who play the secret lovers Tuptim and Lun Tha. Their songs are gorgeous (Yeung has an incredible operatic voice that I bet could fill the Keller without a microphone), but the chemistry between them is missing.
The emotion is not missing from Deanna Choi's Lady Thiang. A Portland native, Choi is responsible for the most moving parts of the show -- not just when she sings "Something Wonderful," an anthem to love despite human fallibility, but also during the biting cultural critique "Western People Funny."
Overall, I did enjoy THE KING AND I -- the sets, the costumes, the music, etc., etc., etc. But, for the most part, my enjoyment was purely academic. I didn't get an emotional thrill.
THE KING AND I runs through January 13. More details and tickets here.