Review: FARNDALE AVENUE...MURDER AT CHECKMATE MANOR is Delightfully Terrible and Hilariously Funny, at Bag&Baggage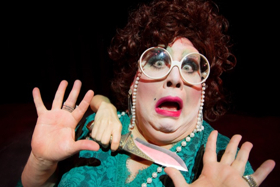 When's the last time a play (or movie, or even a comedy show) had you laughing out loud until your stomach hurt...for 2 hours? I'm having a hard time thinking of any at all. Comedies may have their moments, but very rarely do they keep you laughing long after the curtain goes down. But this one does. It plays at Bag&Baggage through the end of the month and even if you live in Gresham, it's worth the drive out to Hillsbottom, er, Hillsboro.
To give you an idea of what we're dealing with here, the full title of the play is THE FARNDALE AVENUE HOUSING ESTATE TOWNSWOMEN'S GUILD DRAMATIC SOCIETY'S PRODUCTION OF MURDER AT CHECKMATE MANOR. It's about four English housewives who decide to put on a murder mystery at their community theatre. There's only one small problem: they're abysmal actors. Abysmal. They can't remember their lines, they have no sense of timing, and every once in a while they just skip six pages of the script. To make things worse, the bumbling stage manager has to step in because one of the Farndale ladies managed to sew her fingers together(!), the sound and lighting technician can't get anything right, and somehow the dog ran off with the stairs.
Oh, and in the Bag&Baggage production, the townswomen are played by men in drag. It's part Monty Python, part Absolutely Fabulous, and one of the funniest shows I've ever seen.
This may all sound pretty cheesy. And it is. Totally cheesy, way over the top, and completely ridiculous. But thanks to Scott Palmer's spot-on direction and the extreme "thespionic" talents of Patrick Spike, Norman Wilson, Jeremy Sloan, and Tyler Buswell, MURDER AT CHECKMATE MANOR is belly-laugh funny. You hardly have a chance to catch your breath.
I can't say enough about the caliber of acting in this show. My favorite part was from the very beginning when Mrs. Phoebe Reece (Patrick Spike) came out to greet the audience right up to when the actors took their final bows.
This is comedy done right. Go see it.
MURDER AT CHECKMATE MANOR runs through October 31. Details and tickets here.