Off-Broadway Hit SKELETON CREW Comes to People's Light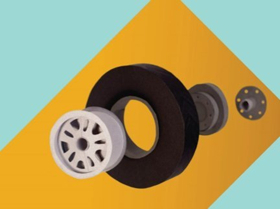 People's Light presents the wildly successful off-Broadway hit Skeleton Crew, a powerful story of love and loyalty by New Play Frontiers writer Dominique Morisseau. This funny, incisive, and "deeply American" (The New York Times) play that "theatergoers won't want to miss" (Huffington Post) centers on a group of Detroit autoworkers as they confront the eroding manufacturing industry. Steve H. Broadnax III, who directed the theatre's critically-acclaimed staging of The Mountaintop in 2016, returns for the production. Skeleton Crew opens on June 13 and has already extended to July 15 on the Steinbright Stage at People's Light.
Skeleton Crew takes place in the breakroom of a sheet metal stamping plant that produces thousands of car parts a day. The four characters in the play-three workers and their foreman, all African-American-rely on one another to rise above rumors of layoffs and foreclosures. But when the economic ax finally falls, their time-tested bonds threaten to break.
Skeleton Crew serves as the third and final installment in playwright Morisseau's Detroit Project, a trilogy set in her hometown that includes Detroit '67 and Paradise Blue. Since its world premiere in 2016, Skeleton Crew has become one of the most-produced plays in the country.
Steve H. Broadnax III served as Associate Director for the original Off-Broadway production (directed by Ruben Santiago-Hudson), and subsequently directed the play himself twice more. In a 2017 interview with the Louisville, KY radio program Strange Fruit, Broadnax said, "I believe this play is about family, and the sacrifices we make for our family-our blood family, our work family, our chosen family."
In Skeleton Crew, the family created by the autoworkers is shaped, for better or worse, by the larger environment. "Dominique always does write in two worlds-the macro world and the micro world," Broadnax says. "The soul of the factory is in this breakroom, where these four people sit at the center of this story. But we also get a sense of the macro world of Detroit, and the pressure that greater organism has on the heart and soul of this factory."
Producing Director Zak Berkman builds on Broadnax's point, noting how Skeleton Crew exposes a national problem by examining a local one. "Dominique's specific attention to the history of Detroit, and to the struggles of its workers, exposes the impact of decisions made far away from Michigan," Berkman says. "It's similar to how one of Dominique's inspirations, the great August Wilson, examined national issues of race, class, and social justice through plays set in Pittsburgh."
Berkman says that he connected to Skeleton Crew the moment he read it. "Dominique shared an early draft of the play with me around the time she began her New Play Frontiers residency at People's Light," he remembers. "Her deep love for these characters gripped me from the start, and we immediately asked to produce the play.
"In the end, we had to hold off until it completed its extended run Off-Broadway, but it's been well worth the wait."
Veteran company member Melanye Finister (The Diary of Anne Frank, Project Dawn) heads the cast as Faye, the most experienced of the three autoworkers, who discovers she must choose between self-preservation and allegiance to her colleagues. Patrese D. McClain, who received a Barrymore Award and wowed audiences in 2016 as the irreverent maid Camae in The Mountaintop, returns to play co-worker and single mom Shanita. Two artists new to People's Light complete the cast, Brian Marable as the conflicted foreman Reggie, and Joshua E. Nelson as the restless, hustling line worker, Dez.
Director Steve H. Broadnax III (The Mountaintop) makes his second Malvern appearance, as does set designer Tony Cisek (The Mountaintop). Long-time resident artist Marla Jurglanis (Romeo & Juliet: A Requiem, Morning's at Seven) creates costumes. Three additional designers make their People's Light debut with this production: Kathy Perkins (Lighting), Curtis Craig (Sound), and Jeromy Hopgood (Video). Company member Audrey M. Brown (Project Dawn, The Matchmaker) stage manages and resident artist Gina Pisasale serves as dramaturg.

BIOS
Dominique Morisseau Playwright
Author of The Detroit Project (A 3-Play Cycle): Skeleton Crew (Atlantic Theater Company), Paradise Blue (Signature Theatre), and Detroit '67 (Public Theater, Classical Theatre of Harlem and NBT). Additional plays include: Pipeline (Lincoln Center Theatre), Sunset Baby (LAByrinth Theatre); Blood at the Root (National Black Theatre), Follow Me To Nellie's (Premiere Stages) and Ain't Too Proud -The Life and Times of The Temptations (Berkeley Rep). She most recently served as Co-Producer on the Showtime series "Shameless." Awards Include: Spirit of Detroit Award, PoNY Fellowship, Sky-Cooper Prize, TEER Trailblazer Award, Steinberg Playwright Award, Audelco Awards, NBFT August Wilson Playwriting Award, Edward M. Kennedy Prize for Drama, OBIE Award, Ford Foundation Art of Change Fellowship, and being named one of Variety's Women of Impact for 2017-18.
Steve H. Broadnax III Director
People's Light: The Mountaintop. Theatre Includes: Actors' Theatre of Louisville, Hattiloo Theatre, Ensemble Studio Theatre Company, Chautauqua Theatre Company, Apollo Theatre NYC, Classical Theatre of Harlem, Atlantic Theatre NYC, Detroit Public Theatre, Baltimore Center Stage, The Black Theatre Troupe in Phoenix, AZ, Arkansas Repertory Theatre, Moore Theatre in Seattle, Market Theatre in Johannesburg, The Edinburgh Fringe Festival in Scotland, National Arts Festival in South Africa, and The Adelaide Arts Festival Australia. The Hip Hop Project, an award-winning, full-length, original play directed, choreographed, and conceived by Steve, has toured nationally and was showcased at the Kennedy Center American College Theater Festival in Washington, D.C. Other writings include the award-winning American Taboo, and Camouflage (Eugene O'Neill semi-finalist). Training: Conservatory of Fine Arts Webster University (BFA), Penn State University (MFA). Steve is currently a Professor of Theatre and Head of MFA Acting at Penn State University.
Melanye Finister Faye
Company Member since 1991. People's Light: The Diary of Anne Frank, Project Dawn, The Matchmaker, All My Sons, Fences, The Winter's Tale, Seven Guitars, The Return of Don Quixote, Six Characters in Search of an Author, Something You Did, Fabulation, and The Member of the Wedding. Theatre Includes: Wilma Theater, Arden Theatre Company, Flashpoint Theatre Company, InterAct Theatre Company, Philadelphia Theatre Company, Venture Theatre, Temple Theaters and Walnut Street Theatre. Training: BFA, Carnegie Mellon University. Melanye is an artist and resident company member at People's Light, a member of Wilma Hothouse, and a board member at PlayPenn.
Brian Marable Reggie
People's Light debut. Theatre Includes: Superior Donuts (Purple Rose Theater), Detroit '67 (Baltimore Center Stage), Skeleton Crew (The Old Globe, Detroit Public Theater), and most recently Jesus Hopped the A Train at his own space, The Clubhouse Theater in Detroit. Training: Wayne State University, Cass Tech Performing Arts Department. Brian is a native Detroiter and is excited and honored to be making his People's Light debut with this amazing piece of literature.
Patrese D. McClain Shanita
People's Light: The Mountaintop (Barrymore Award for Outstanding Leading Actress). Theatre Includes: Cocked (Victory Gardens); Things You Shouldn't Say Past Midnight (Windy City Playhouse); White Guy On The Bus (Northlight, Jeff Nomination for Outstanding Supporting Actress 2015); Tartuffe, Misanthrope, Spunk (Court Theatre, Jeff Nomination for Outstanding Supporting Actress for Spunk 2011). Regional: Two Trains Running (Geva Theatre Center); Crumbs From The Table Of Joy (Mustard Seed), Romeo and Juliet, Pericles, For Colored Girls, No Child... (Black Rep, St. Louis Circle Theatre Award for Best Actress for No Child... 2013). Film/Television Includes: NBC Chicago Fire, USA Sirens, ABC Detroit 1-8-7. Training: MFA Pennsylvania State University, BFA Howard University. Website: www.patresedmcclain.com.
Joshua E. Nelson Dez
People's Light debut. Theatre Includes: Off-Broadway: Loneliness of the Long Distance Runner (Atlantic Theater Company). Regional: The Convert (The Wilma Theater), HERO (Discovery Theater), The Mostly True Adventures of Homer P. Figg (The John F. Kennedy Center's TYA), The Legend of Buster Neal (African American Continuum Theater Company), Bud, Not Buddy (Adventure Theater), U.G.L.Y. (The John F. Kennedy Center's Page2Stage Festival), MFA Playwrighting Festival and Young Directors Festival; Sanctified (Lincoln Theater). Training: BFA from Howard University's Theater Arts Department; attended the Philadelphia H.S. for Creative and Performing Arts.
TICKET INFORMATION
Skeleton Crew previews begin on Wednesday, June 13 at 7:30pm and run through Friday, June 15. The play opens on Saturday, June 16 at 8pm and has already been extended to run through July 15.
Standard single tickets start at $39. For tickets, call the Box Office at 610.644.3500. Special discounts are available for groups of 10 or more. For more information or to purchase group tickets, call 610.647.1900 x111 or email benedict@peopleslight.org.
$29 Community Night tickets are available for the Wednesday, Thursday, and Friday preview performances on June 13, 14, and 15 at 7:30pm.
8-play subscriptions are now available for the 2018/2019 Season and start at $196. Productions include Such Things as Vampires (September 20 - October 31, 2018), Cinderella: A Musical Panto (November 14, 2018 - January 6, 2019), Sweat (January 16 - February 10, 2019), Nina Simone: Four Women (February 27 - March 31, 2019), For Peter Pan on Her 70th Birthday (April 10 - May 12, 2019), Endgame (May 15 - June 9, 2019), Mud Row (June 26 - July 28, 2019), and Our Town (July 31 - August 25, 2019). Visit peopleslight.org or call 610-644-3500 to order.
Actors, prices, productions, performance dates and times are subject to change. Additional service charges will apply. Contact the Box Office for more details.