Special Engagement Show Announced for KISS AND TELL at Hale Theatre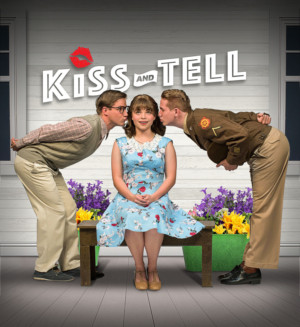 Hale Centre Theatre in Gilbert presents the hit romantic comedy Kiss and Tell. Playing Monday and Tuesday nights from September 12th through November 14th. This hilarious Broadway and Hollywood smash, features a family feud that begins when two teenage best friends, Corliss and Mildred, come up with a scheme to sell kisses at a USO bazaar. Endearing love plots and madcap mistaken identities evolve from there, including the secret marriage of Mildred to a young Air Force officer and a prospective visit from the stork. Their bickering parents precipitate more problems than they're able to solve, including a lawsuit and countersuit.
Called a "riotous romp" as well as a "fresh, funny and completely beguiling comedy" by critics, Kiss and Tell will be performed at Hale Theatre on Monday and Tuesday nights. The play was written by F. Hugh Herbert and successfully ran on Broadway for 956 performances over the course of about three years. A popular movie of the same name starring Shirley Temple was followed by a sequel, also starring Ms. Temple, in the 1940s after World War II.
In Hale's production of Kiss and Tell, Meg Farnsworth will debut as the Corliss Archer, the role Shirley Temple played in the movie. Her best friend in the production, Mildred Pringle, also appears in her debut performance, played by Lizzy Jensen. Hale Theatre veterans Mark Kleinman, Kale Burr, Alan DeWitt, Matthew Cary, Tom Endicott, Justin Howell, Ami Porter, Laura Soldan, and Dilcia, Yvonne Yanez are also in the cast, which is rounded out by Benjamin Harris, Mary Beth Hollman, and Jonah Romanoff. The ariZoni Award-winning Cambrian james is the director.
Tickets for Kiss and Tell are available at Hale's box office or online. Call the Hale box office at 480-497-1181 or visit Hale's website at www.HaleTheatreArizona.com for details and to buy tickets.
A gem of a theatre, Hale is located at 50 West Page Avenue in Gilbert's Heritage District, across the street from the Gilbert Water Tower Park. Several restaurants and ample free parking are located nearby.
Be sure to attend Hale Theatre for the entire 2017-2018 season. The famous musical Meet Me in St. Louis opens in October. The Hale's holiday classic and family favorite A Christmas Carol performs in December. 2018 kicks off the new year with the hilarious comedy See How They Run, which plays through early February. Life Could Be a Dream, a jukebox musical romp, will be performed from mid-January through mid-April.
The Broadway smash hit musical No, No, Nanette begins in mid-February and plays through the end of March. The Importance of Being Earnest, the hilarious satire on Victorian manners by Oscar Wilde, appears from April 5th through May 12th, 2018. Big Fish, an entertaining big fish story set to music, is next from mid-May through the end of June. Sister Act, the uproarious musical comedy about a disco queen who takes refuge in a convent, concludes Hale's 14th season. Sister Act plays at from July 6th through August 18th, 2018.
More Hot Stories For You