Celebrate The Holidays At Hale Centre Theatre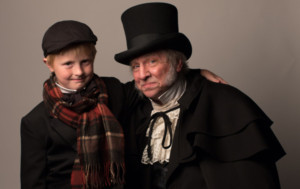 The holidays are that special time of year when our hearts are full of joy and we're happy to share the Christmas spirit with friends and family. To help you celebrate the joy of the season, Hale Centre Theatre of Gilbert presents its holiday classic A Christmas Carol for the 15th consecutive year. Acclaimed as "the best Christmas show in the Valley," this year's 51 performances feature two stellar casts of veteran actors and singers. It is a spectacular, heart-warming version of Charles Dickens' classic tale of redemption magically brought to life on the Hale stage. The production is rich with traditional carols, stunning costumes and memorable characters guaranteed to enrich the holiday season for you and your family. Award-winning David Hale Dietlein again directs the production and promises theatre-goers a delightful holiday a treat.
The show is an enchanting musical telling of Dickens' classic tale of three Christmas ghosts who visit the miserly taskmaster Ebenezer Scrooge. The spirits show Scrooge the error of his tyrannical ways, transforming his life from a "Bah humbug" sourpuss into a philanthropic gentleman. It's a message of hope and renewal that holds a special place in our hearts each holiday season. Hale's spectacular production is a visual and musical delight, bursting with spirited singers, dancers and actors, soaring music, special effects, exotic costumes and sets that will thrill audiences of all ages.
In keeping with the season, two casts for A Christmas Carol are designated "Red" and "Green." The Red Cast stars Cory McCloskey, the friendly meteorologist on FOX 10 Arizona Morning, as old Ebeneezer Scrooge whose favorite expression is, of course, "Bah humbug." For many years before entering the weather business, Cory made his living in theater, film, and television. He performed on stages in New York, Philadelphia, Washington, and Baltimore, in roles as diverse as Josephine in Sugar, the Scarecrow in The Wizard of Oz, and young Michael Hudson on NBC's Another World. Cory is also a standup comedian.
The Green Cast features Mark Kleinman, reprising his role as Scrooge for a sixth time. An ariZoni award winner, Mark has performed extensively in operatic, musical theater and dramatic repertory around the world. He has performed previously in Hale productions of Joseph and the Amazing Technicolor Dreamcoat, Kiss and Tell, You Can't Take It With You, The Drowsy Chaperone, Me and My Girl, M. Fair Lady, and South Pacific for which he won the ariZoni award for Best Actor.
The multi-talented and multiple ariZoni Award winner Cambrian James choreographs the show, and ariZoni Award winner Lincoln Wright, also an in-demand concert pianist across the Valley, returns as music director to Hale's holiday classic for a sixth time.
The Hale family tradition of presenting A Christmas Carol began with Ruth and Nathan Hale, who opened their first Hale theater in Glendale, California. In 1965 the Hales and the Dietleins staged their first production of the holiday musical, establishing a legacy that flourishes to this day. Director David Dietlein has received numerous awards for his artistic achievements and has directed every production of A Christmas Carol since the Gilbert theatre opened in 2003.
The Hale's production of A Christmas Carol runs from November 30th through December 23rd. Performances are at 5:00 PM and 8:00 PM, with matinee performances on select days at 11:00 AM and 2:00 PM. Tickets range from $24 to $40 for adults depending on date. Tickets are already selling quickly, so be sure to purchase yours today. This is a memorable way for your family or group to celebrate the holiday season.
To purchase tickets call the Hale Centre Theatre's box office at 480-497-1181 or by visiting the theatre's website at www.HaleTheatreArizona.com. Please note that Group, Season Tickets, and FlexPASS rates are valid only from November 30th through December 14th and must be booked through the box office.
A gem of a theater, the Hale is located at 50 West Page Avenue in Gilbert's Heritage District, across the street from the Gilbert Water Tower Park. Several restaurants and ample free parking are located nearby.
Be sure not to miss next year's shows at Hale, starting with the hilarious See How They Run, which plays through February 10th. Life Could Be a Dream, a jukebox musical romp, will be performed from mid-January through mid-April on Mondays and Tuesdays only. The Broadway smash hit musical No, No, Nanette begins in mid-February and plays through the end of March. The Importance of Being Earnest, the hilarious satire on Victorian manners by Oscar Wilde, appears from April 5th through May 12th, 2018. Big Fish, an entertaining big fish story set to music, is next from mid-May through the end of June. Sister Act, the uproarious musical comedy about a disco queen who takes refuge in a convent from her mobster boyfriend, concludes Hale's 15th season. Sister Act plays at Hale from July 6th through August 18th, 2018.
More Hot Stories For You