Review: Sedona International Film Festival Presents CHILD, DISRUPTED ~ Another Alarm Bell About The Toll of Technology On Child Development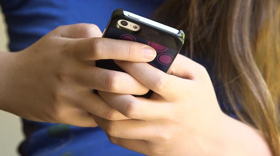 "As a society, are we in danger of raising a generation of children disrupted by the overuse of technology?"
CHILD, DISRUPTED, a compelling and rightfully disturbing 26-minute documentary, produced by Krista Riihimaki, addresses this question with an unequivocal affirmative.
Riihimaki, the founder of White Poppy Media, is a Montessori educator who has committed herself to understanding more about the implications of the use of technology on child development.
Substantial research has been conducted to document both the positive and negative effects of technology on our ability to communicate, calculate, and conceive. However, when it comes to questions about the implications for critically important functions in the development of a child's mind and behaviors ~ such as inquisitiveness, critical thinking, engagement, and socialization ~ the verdict of researchers is alarming.
CHILD, DISRUPTED is an intelligent foray into the issue, informed by experts in neuroscience, psychology, occupational therapy, sociology, and addiction. Images of Children at Play contrast dramatically with those of children disconnected from the invaluable experience of boredom, locked into their smart-phones, and turning to the Internet for relationship.
Riihimaki's film is a valuable contribution to a critically important national conversation about the damage we may be doing to our children and how we reconcile the developmental advantages of new technology with its disadvantages. Her 26 minutes of reel should be required viewing for parents and educators.
The documentary is one of the features at this year's Sedona International Film Festival.
Photo credit to White Poppy Media
Sedona International Film Festival ~ https://sedonafilmfestival.com/ ~ 928-282-1177
Saturday, February 23rd through Sunday, March 3rd
Purchase passes at https://sedonafilmfestival.org/purchase-passes/
Multiple venues: Mary D. Fisher Theatre, 2030 W. Highway 89A; Harkins Theatres, 2081 W. Highway 89A; Sedona Performing Arts Center, 995 Upper Red Rock Loop Road