Globe LIVE, 9 Works Theatrical Bring Back A CHRISTMAS CAROL, 12/7-27
Manila, Philippines--In upholding the Christmas tradition, the Philippines is without peer among nations. Let the world tend to its business while local radio begins the celebration with a Yuletide playlist--on the first of September.
Ours is a culture known for co-opting the "ber" months. Talk about milking it and making the most of a good thing. Filipinos are sentimental that way.
If it's too early for anyone to catch the groove, leave it to the ubiquitous decor on people's homes and in every shopping mall to shift the mood of the wayward scrooge. Conversion is hardly an issue.
In the interest of enhancing our unusual love affair with the season, another tradition is slowly joining the fold, manifesting in spectacular fashion through a collaborative production by Globe LIVE and 9 Works Theatrical: Alan Menken and Lynn Ahrens' "A Christmas Carol, The Musical," based on the novel by Charles Dickens.
The unique partnership of Globe LIVE and 9 Works produced the same musical last season with hopes of starting a theater holiday buzz and providing an exceptional alternative for audiences at Christmas time.
As Globe's Head for Creative Marketing and Multimedia Services, Joe Caliro envisioned a scenario where people could go to the theater in December--even on Christmas evening and beyond. Good heavens, what manner of insolence is this?
It's actually not that unusual, considering that theaters in major cities of the world don't close shop in the middle of December. In fact, it's part of an ongoing New York tradition, which Caliro is certain should happen in the Philippines.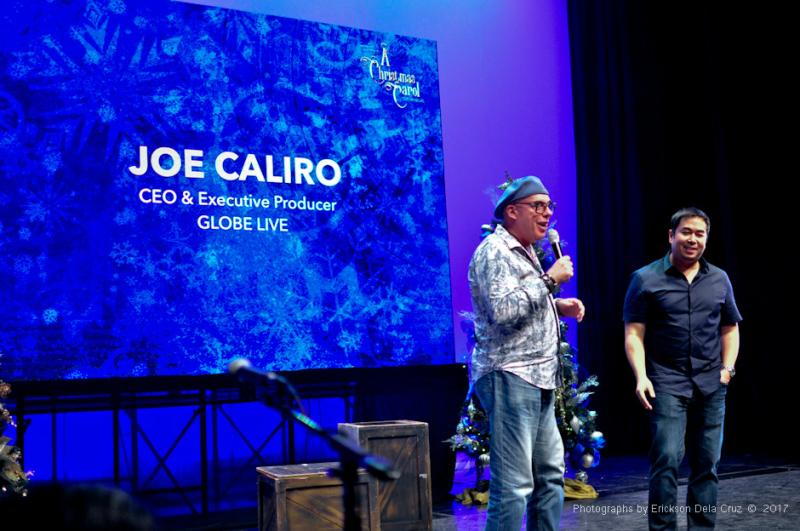 "We talked about wanting to do something that nobody is doing in the Philippines, which is to produce theater in December. All the theater that's being produced right now is in November ... [because] 'there are too many Christmas parties, there are too many things to do.' That sounds kind of 'bah humbug' to me...what happened to the Christmas spirit? So we decided that we wanted to do 'A Christmas Carol' because it's the best Christmas property musical in the world. Period."
Santi Santamaria appreciates the sentiment. He's the executive producer of 9 Works and one of the forces behind the critical acclaim of their most recent production of Disney's "Newsies." He'll convince anyone that despite its foreign premise, "A Christmas Carol" resonates with Filipinos because of its universal human appeal.
Charles Dickens would approve. And so would a vast Filipino audience that has come to expect a stellar outing from Globe LIVE and 9 Works. Credit goes to the production team, who has seen a marked improvement in the standard of its collaboration.
Artistic director Robbie Guevara acknowledges it as a good problem, the kind of pressure he'd welcome any day.
"We're coming from 'Newsies'," says Guevara. "There's no humble way of saying this--we kind of raised the bar when it came to staging it, and we have to do it again. So the numbers will be different from last year's, you can expect that. I hope we don't fail you there."
Last year, of course, was the company's first go-around in terms of mounting a show that rivaled all the non-theater festivities happening in and around Manila. The first weekend had a lukewarm attendance, causing an understandable misgiving for Caliro and company. Then by the third weekend, an over-capacity crowd of 3,000 came to see the show. A new tradition had commenced.
This year's production retains half of the cast from last year's version. But that's not what prompted Caliro to declare that "it's the same musical, but a different show." A redesigned set/scenography and a brand new lighting design prompted a new approach to staging and choreography, along with a few surprises certain to delight audiences. The company has promised "more grit, more depth, and more spirit."
Reprising his role as Ebenezer Scrooge is veteran actor/director Miguel Faustmann, joined by multi-awarded stage and television actor Franco Laurel as the Ghost of Christmas Past.
Noel Rayos juggles the enviable, bipolar task of playing Jacob Marley and Mr. Fezziwig. Arman Ferrer plays Fred; Jaime Yupangco and Ella Estrella as Tiny Tim; Laurence Mossman is Young Ebenezer, and Jon Abella and Tricia Canilao play Mr. and Mrs. Cratchit, supported by a large and talented ensemble.
Guevara directs, assisted by multifaceted artist Onyl Torres. Daniel Bartolome is the musical director, and PJ Rebullida returns from "Newsies" as the choreographer, with Yep Barlongay for additional tap choreography. Ed Lacson is responsible for the new set design, with Dong Calingacion as technical director, Myrene Santos as hair and makeup designer, and Ian Cartalaba as costume designer.
Modeling the message of Christmas giving, the production team is adopting a fundraising campaign for the HERO Foundation through the "Wall of Miracles." At every show of "A Christmas Carol," the "Wall" will be displayed, on which guests will be invited to decorate with ornaments to be sold at the venue. Along with a donation from Globe LIVE, all proceeds from the ornament sales will be turned over to the HERO Foundation. HERO stands for Help, Educate, and Rear Orphans. It's a non-stock, non-profit organization that provides educational support for military orphans.
The buzz has certainly picked up where it left off. Judging from last season's packed final weekend, there's every reason to believe ticket sales will soar. Not only will audiences witness new and spectacular stage elements, but the community can now rely on a top-notch, collaborative project that enhances an already special Filipino tradition. It also keeps the theater season alive year-round, which suits the folks at Globe LIVE and 9 Works just fine.
Caliro insists that this seasonal effort has never been about making money. We'll leave you with his sincere reflection on the project:
"We chose to stage 'A Christmas Carol' again because it resonates with the colorful holiday celebrations here in the Philippines. It also teaches us the valuable lesson of giving, which is what the season is all about."
"A Christmas Carol" plays BGC Globe Iconic Amphitheater (7th Avenue, Bonifacio Global City) from December 7 to December 27.
To buy tickets (P2,000), visit TicketWorld.com.ph.
Photos: Erickson Dela Cruz