BWW Review: OBRA NI JUAN Delivers Devastating, Moving Homage to Tragic Hero
Obra ni Juan is the latest installment in PSF's prolific oeuvre.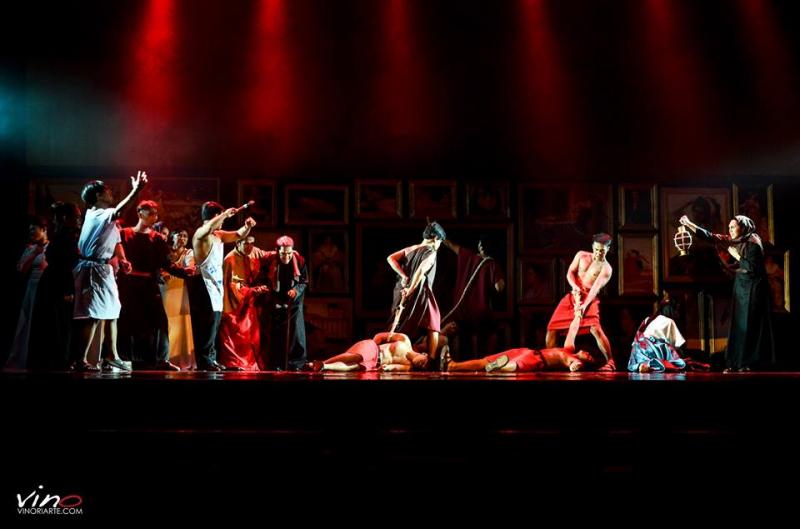 You'd be hard-pressed to find a busier man in the industry than Vince Tanada. Now in his 16th year as the president and founding artistic director of the Philippine Stagers Foundation (PSF), he also serves as the company's creative heartbeat--writing and directing productions with a history of reaching far-flung viewers.
Just when you think he's due for a well-deserved sabbatical, Tanada is back with a major theater project as though he was checking a mere deadline from his law office (yes, he's still an attorney). From the looks of it, there's no sign of the playwright letting up; in fact, "Obra ni Juan" shows all the signs of another critical renown.
"Obra ni Juan" is the latest installment in PSF's prolific oeuvre, a sweeping and timely musical crafted on short notice with longtime musical collaborator Pipo Cifra. Manila's dynamic duo has emerged from the workroom with a generous tribute to a woefully underrated champion of the Philippine revolution. Chiefly recognized as an accomplished painter with a knack for conveying his political activism through his art, Juan Luna earns a rare spotlight that reveals a complex man whose artistic genius obscured a tortured mind.
As a creative prerogative, Tanada spares no historian in stretching the common perceptions surrounding the artist's violent episodes, one of which led to the killing of Luna's own wife and mother in law (a crime from which he was acquitted based on a temporary insanity defense). According to the medical records, Luna was diagnosed with Dissociative Identity Disorder, an acute malaise that marked his erratic behavior and presumably some of his artwork. Thus, in manifesting Luna's "dual" personality, Tanada employs the approach reminiscent of Jekyll and Hyde--that is, two characters engaged in conflicting dialogue as two versions of oneself. This attempt at psychological appropriation brings a chilling theatricality that renders our flawed hero worthy of clemency (historians denied his status as a national hero in favor of distinguished men without "blemish").
Tanada's penchant for all things dramatic sets the stage for perhaps his most apt subject yet. As a visual artist, Luna was no slouch; he, too, led a dramatic life and his paintings were lucid and passionate, featuring a theatrical composition befitting a Romantic-style staging.
Ergo, PSF delivers just that--a devastating and moving homage to a tragic national figure, whose seminal contribution to the Philippine revolution inspired a rogue bunch of patriots to sacrifice personal gain for a country's liberty.
It bears stressing that a Filipino musical of this quality is moot without Cifra's score, which wraps an eloquent libretto with a masterful symphonic arrangement worthy of the period's epic demands. Displaying a gamut of dissonance and sheer harmonic epiphanies to go along with clever modulations, Cifra proves his mettle as one of the most versatile (and underrated) stars in composition and arrangement.
Think Alain Boublil and Claude-Michel Schonberg for a collaboration peg. We have in our midst a humble contemporary tandem aspiring to leave a similar legacy--a legacy deserving of rightful inclusion into a proud Filipino artistic canon. It behooves mainstream jurors in high perches of publication to give credit where credit is due: an original achievement that the great masses across this archipelago have known for a good while and have come to expect, year in and year out.
"Obra ni Juan" shows a marked distinction in performance compared to previous PSF productions. This one is shorter (we saw a two-hour version). Blocking is deliberately simpler and choreography less decadent; actors are more invested in telling a story as opposed to showcasing a range of skills. Vintage PSF elements remain in place: timely humor in most dire consequences; crisp, stylized gestures to assist a poetic phrase or two; and heart-wrenching musical solos that leave you humming all the way home. Tanada and Cifra hit a grandslam with the haunting ballad, "Ako na Lang." It's powerful enough when introduced as an ensemble piece, but when rendered as Jose Rizal's intimate reprise, given his eventual fate, you'd have to be callous to deflect the urge to shed a tear.
There's a remarkable scene that also dwells long after the curtain call: Luna "paints" Spoliarium in fits of passion while actors enact the gritty image to the swell of Cifra's onerous score. Think "Sunday in the Park with George" with blood, sweat, and tears. It's disturbing and satisfying all at once.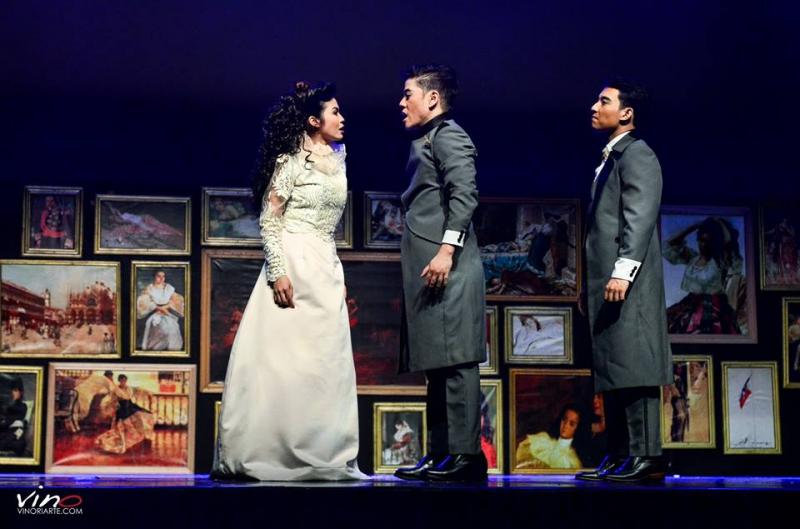 Seasoned core members are back to essay significant roles: Patrick Libao as Luna's polished public persona (with Tanada as his shadow self); Johnrey Rivas as the suave and lovetorn Jose Rizal; Jomar Bautista as the irascible younger brother, Antonio Luna; JP Lopez as a Falstaffian Marcelo Del Pilar; Kenneth Sadsad as the chummy intellectual Trinidad Pardo de Tavera. The women are strongly represented by award-winning veterans Adelle Ibarrientos-Lim (Juliana Pardo de Tavera) and Cindy Liper (Paz Pardo de Tavera), who are capably supported by outstanding PSF regulars: Rutchel Leonor, Vean Almedo, and Judyy Tolentino.
Notable cameos are amusing highlights: Chris Lim as King Alfonsus of Spain and OJ Bacor as Charles Kipping. Anchoring a strong ensemble is a cast of familiar PSF stalwarts who double as alternates in various lead roles: Chin Ortega, Rotsen Etolle, and Gerald Magallanes (who is also responsible for the fine choreography).
The best scenes of the show are set in Europe, where our group of venerable exiles are found in their most personal moments--socializing, cajoling, and bonding as brothers with a common political cause. Rizal and Luna, through their respective merits, inspire the most damage in fomenting a revolution on behalf of their homeland: the elder Luna with his politically charged artwork and Rizal with his subversive novels. Highly ironic, too, is Luna's commission as an artist for the King of Spain as he deals with his own sentiments for his beloved Philippines. While the tension is palpable, ample humor keeps these moments entertaining.
Jeffrey Ambrosio reveals another thoughtful set design, adopting a museum quality that features an impressive exhibit of Luna's repertoire across the backdrop, with Luna's flagship work, Spoliarium, as the focal point. To boot, Ambrosio's utility of large picture frames in dramatic sequences, wielded by actors in motion, adds a significant gesture where symbolism trumps literal execution. These frames and other props are minimally used--but again, staged in a way that a prop, like a suitcase, can take on a character of its own.
Also noteworthy is Art Gabrentina's application of a lighting design that creates seamless transitions between Luna's varied moods. Given Gabrentina's perennial challenge of ever-changing venues (from giant cinemas to outdoor stadiums), he has to be somewhat relieved to have the intimate and viewer-friendly space like Adamson University's Auditorium, at least for a day. While past productions showed some flash that flirted with excess, this lighting design is appropriately subdued and elegant.
Topping off these sensitive visual layers is Emy Tanada's costume design. It's easy for the untutored eye to lose sight of her incredible talent because so much is happening at once. But her sense of historical accuracy is commendable, not to mention her sheer style and craftsmanship (get this: she makes each one by hand). "Obra ni Juan" is getting a meticulous treatment not unlike Mrs. Tanada's previous award-winning designs.
Vince Tanada exhibits a seemingly boundless source of energy, so it's easy to understand his obsession with the quixotic journey of heroes. To his credit, he is quick to lay out an important disclaimer, lest we think him routinely one-sided in staging the cinematic glory of his subjects -- that in the end, his heroes have genuine shortcomings he will neither hide nor sanitize.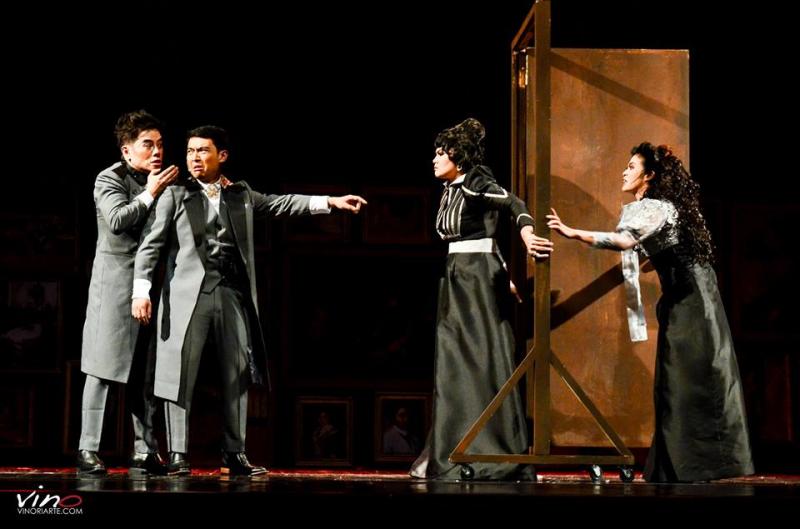 Accordingly, Luna's comprehensive obra is not just about his artwork. Part of the artist's masterpiece is the human struggle to embrace his shadow, a testament that one isn't completely restored to sanity until inner demons are slain. Most heroes struggle with a certain duality of spirit, and we believe PSF has done a fine job of presenting that paradox while celebrating the impact of those who risked their lives and paved the road before us.
Catch "Obra Ni Juan" at a school, theatre, or arena near you now until March next year. For tickets, call (63)956 6690335.
Photos: Vino Oriarte