BWW Review: Ballet Meets '70s Disco Pop
Manila, Philippines--The concept makes good fodder for late-night satire, but Ballet Philippines (BP) has something better in mind.
It takes out-of-the-box thinking to conceive a serious production where disco meets ballet. But to pull it off requires moxie, adaptability, and a bit of genius.
It's no fluke that BP's 47th season is titled "Wings." In its latest display of creativity, the company dazzles with a unique production and exhibits the intrepid capacity for flight away from convention.
Awitin Mo at Isasayaw Ko ("Sing it While I Dance") is a dance musical that summons the iconic Pinoy disco sound of VST & Co., a prominent disco group during the '70s, and deploys the versatile skills of BPs' talented ensemble.
Seeing classical ballet extend its parameters is an electrifying experience--integrating the off-beat, syncopated sound of '70s pop music (and defying some of ballet's long-established technique). It's a fitting medium for challenging a dancer's range, and not a bad place for pop music to validate its contribution to music history.
This marriage of fundamentally opposite genres creates the infrastructure on which Bibeth Orteza carves her libretto. Awitin Mo at Isasayaw Ko recounts a tale of forbidden love between Teresa and Victor--a college student and a construction worker, respectively--during the '70s Martial Law era. Fate denies their mutual desire, but karma's payoff awaits in another time and space--that is, in some mythical afterlife where sickness and old age won't curb their ability to pirouette and gyrate to the music of their younger, mortal days.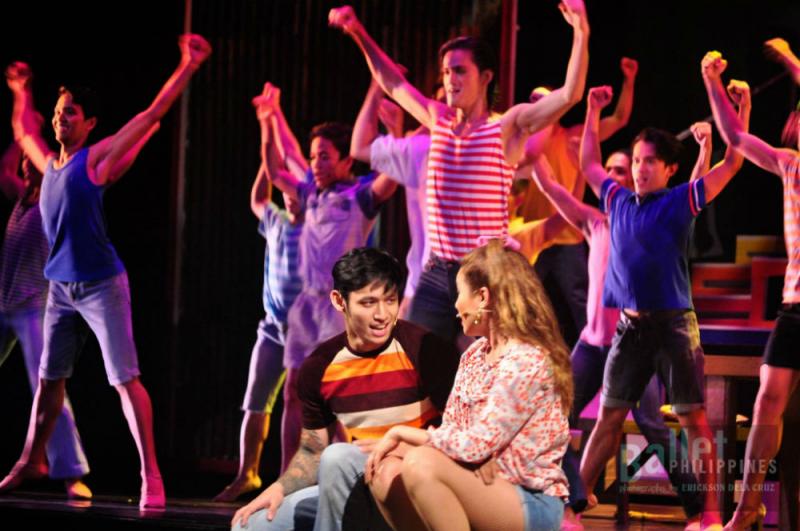 Directed by BP's artistic director Paul Alexander Morales, Awitin Mo at Isasayaw Ko is a fluid collaboration of sorts. ABS-CBN Kapamilya stars Michael Pangilinan, Karylle, and Markki Stroem bear the enviable brunt of those memorable love ballads, cleverly ascribed to the arc of Teresa and Victor's love story. Blocked appropriately upstage and/or around dance partners is the eight-member vocal ensemble, Viva Voce. Any fan of '70s music can appreciate the warm, accordant backing of a solid vocal group.
What really holds the musical production intact is the stout and steady sound of the ABS-CBN Philharmonic Orchestra, conducted by the eminently decorated Maestro Gerard Salonga. Although theirs is a performance strong enough to attend without the dance fusion, hearing the orchestra's clever disco arrangement underneath the spectacular dancing makes for a thoroughly satisfying evening. Credit goes to the musical arrangement team of Saunder Choi, JC Magsalin, Weckl Mercado, Ed Nepomuceno, JD Villanueva, and Ria Villena-Osorio.
Lest we omit the obvious, choreography is critical and could easily spell doom for an experiment of this variety--but it doesn't. Because it isn't your typical ballet performance, artistic flexibility is a required element for synthesis. After all, disco is a genre that blends funk, pop, soul, and occasional Latin mix. Fusing ballet's lyricism with disco's consistent backbeat is an interesting paradox, to say the least, and what results here is nothing short of breathtaking. It's a rare treat to watch dancers exhibit the grand jeté, for instance, as they swing, bump, and jive. Best of all, they let loose and have genuine fun doing it. Kudos to the choreographers for creating a collaborative extravaganza to remember -- James Laforteza, PJ Rullida, and Carissa Adea.
A spectacle of this enormity requires stellar principal performers to establish a strong centerpiece. Gala Night's quartet of Ednah Ledesma (Old Teresa), Butch Esperanza (Old Victor), Denise Parungao (Young Teresa), and Garry Corpuz (Young Victor) were a sterling combination of contrasting pursuit. While Ledesma and Esperanza are limited in their execution due to the demands of their aging characters, their ability to project an enduring passion in relative stillness throughout most of the show is a grand illustration of professional seasoning. By comparison, Parungao and Corpuz inhabit characters full of physical vitality and ripe with emotional ferocity. Anchored by technique, these components characterize their supreme performance. And oh, that lyric chemistry is simply a thing of beauty.
Concurrent in bringing back musical memories of the era is a set design replete with digital projections on flying panels--political graffiti, fashion images, and a disturbingly static Marcos headshot in faded black and white. It's the sort of visual feast that emerges from the technical collaboration of Ohm David (set design), John Batalla (lighting), GA Fallarme (scenic projection), and Luis Alcoran (technical direction).
With the holidays around the corner, it's a good idea to take a jaunt to CCP's Main Stage and indulge yourself in this unique, feel-good work of art courtesy of BP. It's a guaranteed keeper and a Christmas present you'd wish had arrived just a bit sooner.
BP's Awitin Mo at Isasayaw Ko runs until Sunday, December 11.
For tickets (P300 to 3,000), visit www.TicketWorld.com.ph.
Photos: Erickson Dela Cruz
Born and raised in Cebu, Philippines, Robert Encila is a professional singer, actor, and certified teacher. An alumnus of the University of Arizona, he taught (read more...)