BWW Review: A CHRISTMAS CAROL Is Big-Hearted In Many Aspects
Manila, Philippines--If it's true about Christmas being the most wonderful time of the year, Manila's theater fans may add to their list of good tidings a promising new tradition courtesy of Globe LIVE and 9 Works Theatrical.
A CHRISTMAS CAROL, THE MUSICAL is the team's latest undertaking, though not its first encounter with the same material. It debuted last season -- and after an over-capacity crowd caught the bug on the final weekend of the run -- the team decided to resume the experiment with renovated elements aimed to enhance viewer experience and to promote an alternative to conventional doings.
Considering our usual preference for Christmas parties (videoke, anyone?), the jury is out on the sustainability of keeping theater doors open all through December, including Christmas Day.
Allow me to preempt the economic forecast with a stern directive: Take the family to Globe Iconic Amphitheater and soak in the experience. This is one Christmas present you'll be glad to unwrap.
Assuming a producer's mindset, A CHRISTMAS CAROL is the safest vehicle for fostering interest among those least likely to leave home for the theater. Give it a savvy marketing nudge, employ a few acclaimed leading players, and ride the branded coattails of Alan Menken and Lynn Ahrens, and voila -- Charles Dickens' abiding tale of Ebenezer Scrooge sounds almost fresh and inviting.
It's not hard to appreciate the kind of work put out by Globe LIVE and 9 Works. The partnership is driven by a palpable intent to please at every opportunity. This musical adaptation is magnanimous in many aspects of production, suffused with theatrical magic you'd expect from a team committed to expand its base and raise its own bar.
It's a colorful package that boasts a first-rate acting ensemble, buttressed by the rich sound of a full orchestra and a technical pageantry designed for outdoor consumption.
The affluence it takes to create the illusion of dire straits is a notable irony. Countless versions of A CHRISTMAS CAROL have survived with basic means, a perceived blessing for less gifted theater groups in their effort to justify the dour images of Dickensian London.
But don't blame the folks at Globe LIVE and 9 Works for playing Santa and going all out. In a world of outrage and hurt, we appreciate the occasional reminder of the human capacity for abundance and goodwill. This production is all of that, presented with undeniable passion and generosity.
Ed Lacson's scenic design sets the tone with a geometric composition of flats --tilted, asymmetrical units suggesting no less than the sinking temperament of a depressed economy. It feels like the mock architecture of a pop-up children's book, where an oversized clock looms halfway over the buildings like a sun setting over the horizon. It's a stroke of creative discernment given the metaphor of time as the ghost that regulates our existence.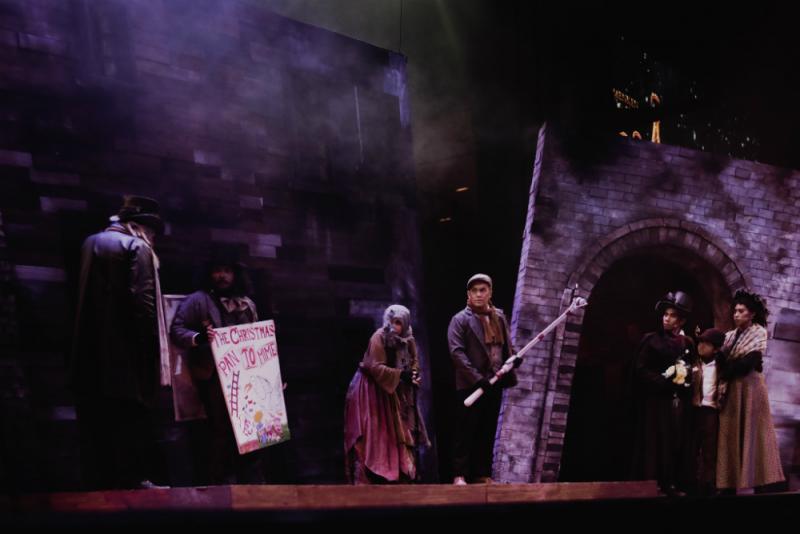 The set is a conspicuous departure from the company's last production of Disney's "Newsies" (also designed by Lacson), which necessitated height and depth to justify the magnitude of the early publishing industry. This creation makes for a cramped and cold living environment that subjects a large ensemble to the task of huddling and working together as the only strategy for survival.
The ensemble is most dynamic when gathered within the set's tight confines. It's an arresting group of dancers and singers of mixed ages, made to flourish in nimble and highly inventive staging thanks to the creative tag team of director Robbie Guevara and choreographer PJ Rebullida.
On a related theme, scenic innovators are hard-pressed to achieve maximum potential without the shrewd lighting talent of someone like Shakira Villa Symes. Drab, muted colors to signify Scrooge's dark world provide a deliberate contrast to the sunny disposition of bright ensemble numbers. Tight specials on Tiny Tim and glaring effects from the underworld are but a handful of nuances that make up the shifting moods.
The sound production is an area of comparative weakness, and easily the singular element expected to struggle in this outdoor setting. A couple of microphone snags and fitful sound levels are a source of irritation, not to mention our sudden apprehension of the competing sounds of nearby cafes and occasional passersby as a result of that distraction.
By no means does it suggest a diminished quality in the performance of 9 Works Philharmonic Orchestra, conducted by Daniel Bartolome. If we're guilty of occasional neglect in acknowledging their existence as the backbone of 9 Works musicals, it's merely a case of being spoiled by distinctive excellence. This orchestra is consistently impressive on all counts (and this reviewer gives a bold shoutout to the brass section).
Technical and orchestral points aside, the acting performances prove to be uneven but carried safely to a collective triumph by a handful of standout leads. One urgent thought occurs: if not Miguel Faustmann as Scrooge, who else? As the miserly curmudgeon, Faustmann is masterful in carrying out the sort of depravity that embarrasses a common maggot. Yet his tender moments of contrition as he surveys a lifetime of ignorance hits an authentic nerve. His Scrooge is a dark and brooding mess, yet he avoids the trap of slipping into canned, prosaic evil.
Franco Laurel is a pleasant highlight reel as the Ghost of Christmas Past. He's a refined lyric tenor who exudes the fluid elegance of a spiritual tour guide. The past is a daunting journey, after all, and what better way to revisit it than on the blithe wings of a charming archetype?
Commendable performances among the principals, but none perhaps more prominent than Noel Rayos' dual role as Jacob Marley and Mr. Fezziwig. Two roles diametrically opposed, and Rayos demonstrates why he is as indispensable to a production as any veteran of note. Not only does he rock the quick and deliberate physical change, but he punctuates with the vocal prowess required for a full character transformation.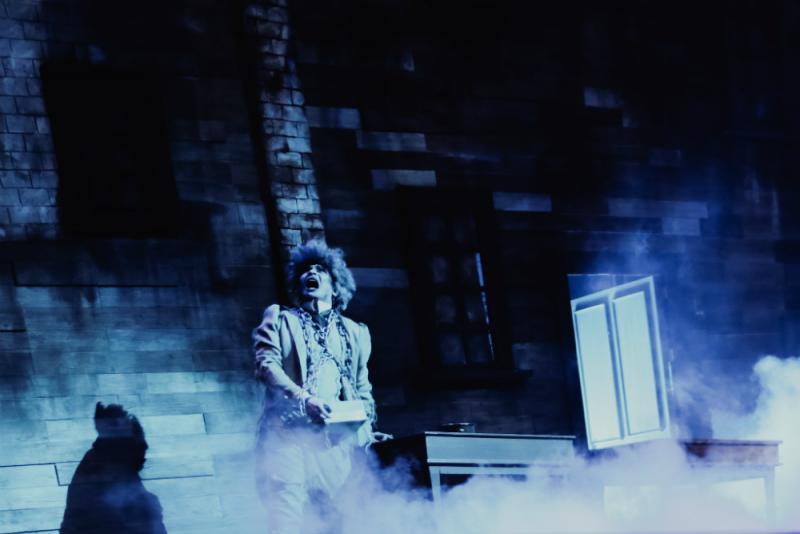 Minor peeves, unspecific to the show, shall merit dutiful mention with no informed suggestion for a quick fix. Globe Iconic Amphitheater is a quaint idea, whose full potential may never be realized on behalf of performers as well as members of the audience. The makeshift platform seating is a respectable compromise, but uneven sight lines will always present an obvious problem. Some audience members are considerably taller than others and will frustrate those straining to watch a good show. Additionally, the children's choir above the left panels are a welcome surprise for those who witnessed it from the middle and back rows, but a third of the audience up front can only ponder on the random gasping and cooing from behind.
And because Globe LIVE and 9 Works are top notch and have already earned our esteem, they can do without the hyperbolic pep talk that urges audiences to rise and cheer as a pre-show event. While it admonishes Filipino audiences to be too polite for their own good, it also condescends. It's unbecoming of a classy organization and defies the organic capacity for appropriate response. With all due respect, some of us sacrificed our weekend sporting events for a vastly different aesthetic experience.
All that considered, it's a show with a heart big enough to withstand peripheral glitches. The whole point is to recall a time before the young and handsome Ebenezer (Laurence Mossman) transmogrified into a despised, ugly creature we've come to immortalize; a time when he belonged to a sober reality that honored service and sacrifice. Out of fear, Scrooge learned to forget where he'd come from.
It's easy enough to summon our core values on the intellectual plane, but the proverbial rat race spins a world where those values can take a backseat in favor of brute survival.
The legacy of A CHRISTMAS CAROL is the ability to remind us of our inherent goodness despite toxic layers of resentment and self-importance. It's written for all ages, but alas, not many children were in plain sight, at least not on the evening I viewed it. They shouldn't be left at home when something this good awaits. The show affirms a child's developing sense of what's right in the world, and live music makes it that much more enjoyable.
And for those of us who've lived the existential gamut, Scrooge lurks in the dark crevice of the mind, contemplating a choice between altruism and self-preservation. When in doubt, it's a good idea to follow the story and trust the phantom guests from the other side.
Globe Live and 9 Works Theatrical's A CHRISTMAS CAROL plays the BGC Globe Iconic Amphitheater (7th Avenue, Bonifacio Global City-BGC) now through December 27. Buy tickets (P2,090) at TicketWorld.com.ph.
Photos: Gian Nicdao