Walnut Theatre presents IT'S A WONDERFUL LIFE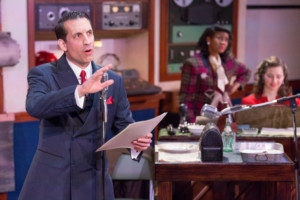 Walnut Street Theatre's 2017-2018 Independence Studio on 3 season continues with the holiday classic, IT'S A WONDERFUL LIFE: A LIVE RADIO PLAY. Directed by Jesse Bernstein, the production begins with previews on October 31st, opens November 2nd and continues through December 17th.
The art of storytelling is heavenly when you discover IT'S A WONDERFUL LIFE. The heartwarming story comes to life anew as a radio play, with five actors including an imaginative sound-effects artist! George Bailey dreams of traveling the world. His plans are postponed when the family business faces financial problems. Down on his luck, Bailey is at the end of his rope. He questions his purpose in life and considers ending it all. Just then, an angel arrives to show Bailey how the lives of those he loves would be affected if he were not around. The entire family will love this story from the heart that rings true today!
IT'S A WONDERFUL LIFE is adapted from the iconic 1946 film It's a Wonderful Life directed by Frank Capra, which was based on Philip Van Doren Stern's unpublished short story The Greatest Gift. The film's popularity led to live radio adaptations, some of which featured the motion picture stars James Stewart and Donna Reed. It remains at the top of the American Film Institute's list of the 100 most inspiring films of all time, "100 Years...100 Cheers."
Playwright Joe Landy was approached to write the play as a full length stage version of the movie for a high school ensemble. The show was then selected to have its professional debut at the Westport Country Playhouse, but was cancelled when the budget for the large production became too big. Landry then decided to write a live radio adaptation for the stage. IT'S A WONDERFUL LIFE: A LIVE RADIO PLAY premiered in 1996 at Stamford Center for the Arts in Connecticut, and has since been produced around the country to critical acclaim. Landry's additional credits include Reefer Madness, Vintage Hitchcock: A Live Radio Play and A Christmas Carol: A Live Radio Play.
Jesse Bernstein returns to the Walnut to direct IT'S A WONDERFUL LIFE. Bernstein recently directed Shipwrecked: An Entertainment in the Independence Studio on 3, and earlier this season directed Honk Jr! as part of the WST for Kids series. He has also performed at the Walnut in numerous shows including last season's Laughter on the 23rd Floor, Brighton Beach Memoirs, Biloxi Blues and Broadway Bound. Josh Totora will join Bernstein as Music and Vocal Director for IT'S A WONDERFUL LIFE, and will make his Walnut stage debut as Freddie Filmore. Totora will create sound effects live on stage, which play an instrumental role in the engaging storytelling of a radio play.
Along with Totora, the cast includes Damon Bonetti (Jake Laurents), Jessica Johnson (Lana Sherwood), Michael P. Toner (Harry 'Jazzbo' Heywood) and Tabitha Allen (Sally Applewhite). Bonetti has been seen on the Walnut's Mainstage in And Then There Were None and Arsenic and Old Lace. He's also performed in numerous Studio 3 productions including Around the World in 80 Days and The Glass Menagerie. Johnson has performed at the Walnut in their WST for Kids series productions. A former Walnut Street Acting Apprentice, she recently performed with Quintessence Theatre Group, Arden Theatre Company and New Paradise Laboratories. Walnut audiences will remember Michael P. Toner from his performance as Phil Hogan in A Moon for the Misbegotten, a show that went out on a national tour. Allen will make her Walnut debut with this production.
Setting the evening in a 1940's radio station on a crisp Christmas Eve, Scott Groh returns as Set Designer. Last season, Groh designed A Child's Christmas in Wales for Walnut's Independence Studio on 3. Shon Causer joins Groh as Lighting Designer, having designed Walnut productions including Plaid Tidings, The Glass Menagerie, Good People, Elf and Driving Miss Daisy. Costume Designer Rebecca Dwight and Sound Designer Damien Figueras will make their Walnut debuts with IT'S A WONDERFUL LIFE.
Season sponsor for the 2017-2018 Independence Studio on 3 Season is The Independence Foundation. Media season sponsors are Philly Weekly and WRTI Radio. Tickets are $35-$40 and are now available at 215-574-3550 or 800-982-2787. Tickets are also available at walnutstreettheatre.org or Ticketmaster.com.
Related Articles View More Philadelphia

Stories

Shows
More Hot Stories For You