Photos: First Look at Quintessence Theatre Group's MOURNING BECOMES ELECTRA
Quintessence Theatre Group concludes its fourth season of progressive classic theatre with its first American masterpiece, Eugene O'Neill's MOURNING BECOMES ELECTRA directed by Alexander Burns. MOURNING BECOMES ELECTRA is running now through April 27 at the Sedgwick Theater, 7137 Germantown Ave in Mt Airy, Philadelphia, 19119. Scroll down to see some photos from the production!
The Mannons are an upstanding and wealthy New England family: successful shipbuilders, civic leaders and military servicemen. Despite attempts to forget dark secrets in the proud family's past, the grand Mannon estate is built in hate, standing as a grave for all living Mannons. Incest, adultery, murder and suicide ensue as the Mannon descendants attempt to escape their curse, believing in the power of love for salvation. With the searing pain that only family can inflict, O'Neill creates a universal tragedy that takes us into the darkness of our deepest secrets. Lock the door, nail down the shutters, and prepare for the ancient to collide with the modern as Quintessence presents all three parts of O'Neill's trilogy, promising an epic and devastating theatrical experience you will never forget.
Following the success of Jean Anouilh's adaptation of Sophocles' ANTIGONE, Quintessence continues to explore the power of classical drama adapted for the contemporary world with O'Neill's masterful adaptation of Aeschylus' THE ORESTEIA.
Janis Dardaris (Lady Bracknell in The Importance of Being Earnest and Arkadina in The Seagull) returns to Quintessence to lead the ensemble as Christine Mannon. Following her celebrated performance as Jennifer in Martin Crimp's The Misanthrope, Mattie Hawkinson returns to Philadelphia as Lavinia Mannon. They are joined by Quintessence ensemble member Josh Carpenter (Hamlet and Iago in Othello) as Orin Mannon and Robert Jason Jackson (Creon in Antigone) as Erza Mannon. The company includes Andrew Breving as Captain Brant, Alan Brincks as Peter Niles, Terence Gleeson as Seth Beckwith and Erin Mulgrew as Hazel Niles.
Post-show discussions with the cast and director will take place on Thursday, April 10 and Sunday, April 20. Performances take place on Wednesdays and Thursdays at 6:30pm, Fridays and Saturdays at 7pm, and Sundays at 2pm. The production is estimated to run approximately 4 hours and 10 minutes, which includes two 15 minute intermissions. Please check the performance schedule at www.QuintessenceTheatre.org for exact performance times and dates. Tickets are $25 general admission and $15 for youth (21 and under). Discounts are available for groups of 15 or more. To purchase tickets visit www.QuintessenceTheatre.org or call 1.215.987.4450. For ticket information email BoxOffice@QuintessenceTheatre.org.
Photo Credit: Shawn May

Mattie Hawkinson (Lavinia Mannon), Josh Carpenter (Orin Mannon), and Robert Jason Jackson (Ezra Mannon)

Mattie Hawkinson (Lavinia Mannon) and Josh Carpenter (Orin Mannon)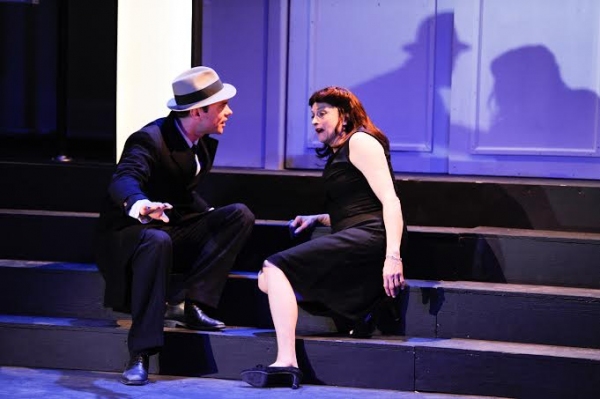 Josh Carpenter (Orin Mannon) and Janis Dardaris (Christine Mannon)

Robert Jason Jackson (Ezra Mannon) and Mattie Hawkinson (Lavinia Mannon)

Janis Dardaris (Christine Mannon) and Robert Jason Jackson (Ezra Mannon)

Andrew Breving (Captain Grant) and Janis Dardaris (Christine Mannon)

Robert Jason Jackson (Ezra Mannon)

Andrew Breving (Captain Grant) and Mattie Hawkinson (Lavinia Mannon)