Photo Flash: First Look at BRIGHTON BEACH MEMOIRS at Act II Playhouse
Act II Playhouse in Ambler presents Neil Simon's masterpiece Brighton Beach Memoirs, directed by William Roudebush, on stage now through June 18, 2017. BroadwayWorld has a first look at the cast in action below!
"This is the fourteenth Neil Simon play I have either directed, acted in, or produced," Roudebush said. "In my opinion, he is the greatest comic writer of all time and one of the best playwrights of the 20th century, and Brighton Beach Memoirs is one of his best."
Set during the depression in Brooklyn, Brighton Beach Memoirs centers around 14-year-old Eugene Morris Jerome (played by DJ Gleason), as he struggles with his neurotic family, uncomfortable crushes, and love for baseball.
"This coming-of-age story is packed with humor, pathos, and moments that drive you deep into the soul of each character," Roudebush said.
Six other actors play members of Eugene's family: his father Jack (Peter Bisgaier), mother Kate (Mary Elizabeth Scallen), brother Stanley (Jonathan Silver), aunt Blanche (Julianna Zinkel), and cousins Nora and Laurie (Katie Stahl and Eileen Cella).
The entire family lives in the same small house, producing hilarious quarrels and heartfelt disputes. Dirk Durossett designed the two-story home to fit inside Act II's intimate, one-story theatre. By necessity, the set emphasizes the close quarters in which the family is living.
Other bigger productions of the play sometimes "get lost" due to the breadth of the sets and theatres, Roudebush said. But thanks to Act II's intimacy, "we will be able to go deeper inside the lives of Simon's stunningly drawn characters," he said. "This, I believe, will enable the audience to experience the play in a new way. I want to get to the heart of each character because humor, for me, is located in that most vibrant of all organs."
The play takes place in 1937, "just as the clouds of war were gathering over Europe," Simon wrote in his autobiography, The Play Goes On. "I wanted some depth to the characters, to show their anguish and fear in the face of the hard times in America during the Depression, and their worries about their relatives in Poland, who might never get out in time."
The writer struggled with early drafts of the play. But the comedy came alive when Simon made Eugene ("no doubt my own alter ego") the center of the play, and its narrator. "The Depression didn't really affect him, and the impending war was a million miles away," Simon wrote, of Eugene. "Fourteen-year-olds have no idea that anything in the world is important except their own immediate needs."
The creative team for Brighton Beach Memoirs also includes Jenn Povish (Costume Designer), James Leitner (Lighting Designer), John Stovicek (Sound Designer), Neill Hartley (Dialect Coach), and Amanda Coffin (Properties).
Because of record presales, Act II's production has already been extended a week, until June 18. Most of the performances during the first two weeks are already sold out, and patrons are advised to purchase tickets early to avoid further sell outs.
Tickets for Brighton Beach Memoirs at Act II Playhouse are $32-$44. Discounts are available for subscribers, students, group of 10 or more, and seniors 65 and older. Tickets are available online at www.act2.org, by calling the Act II box office at (215) 654-0200, or in person at 56 E. Butler Ave. in Ambler.
Photo Credit: Bill D'Agostino

DJ Gleason (standing) plays Eugene, the narrator
Laurie (Eileen Cella), Nora (Katie Stahl), Jack (Peter Bisgaier), and Stanley (
Jonathan Silver
) get good news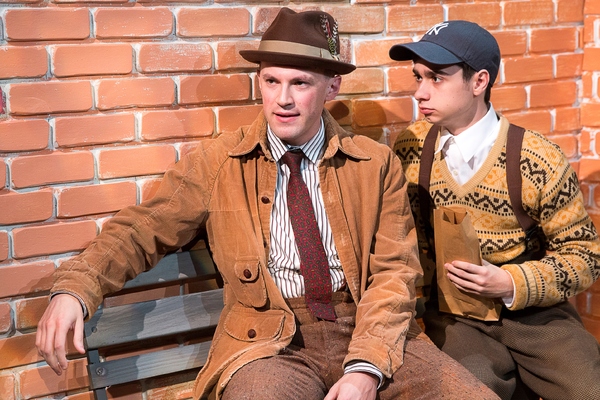 Jonathan Silver
and DJ Gleason star as brothers Stanley and Eugene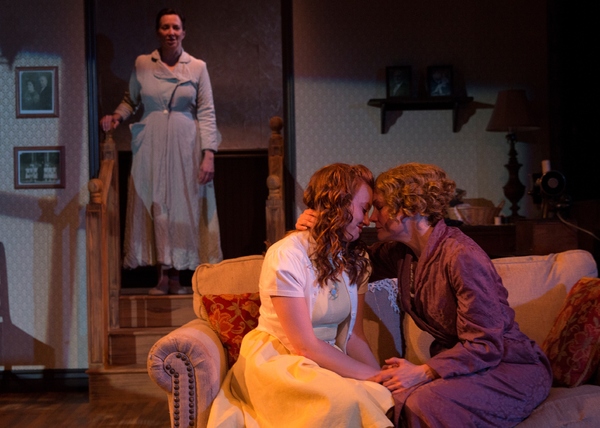 Mary Elizabeth Scallen, Katie Stahl, and
Julianna Zinkel
star as Kate, Nora, and Blanche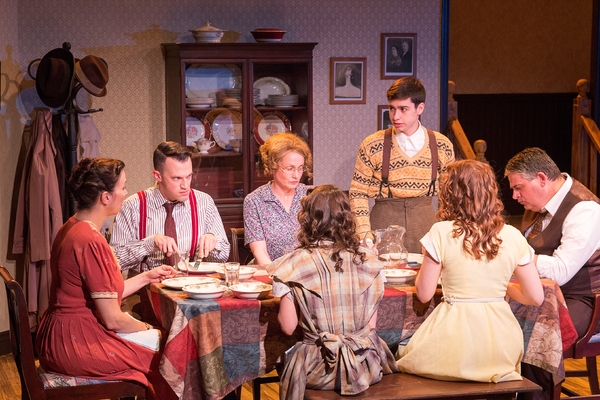 The cast of BRIGHTON BEACH MEMOIRS, onstage at Act II Playhouse in Ambler