Phila Theatre Co Presents A DREAM IS A WISH Holiday Princess Concert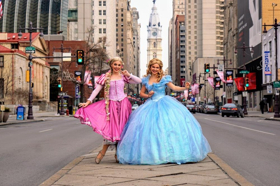 Philadelphia Theatre Company welcomes back everyone's favorite princesses for a heart-warming afternoon and evening concert for the entire family. During A Dream Is A Wish: Holiday Princess Concert audiences will sing-along with a gathering of princes and princesses from popular movie musicals and television shows in a one-day-only event on Sunday, December 16, at 3:00pm and 6:00pm. Children are encouraged to come dressed as their favorite prince or princess. After the show, the cast will host a meet-and-greet reception with holiday cookies, apple cider and photo opportunities. The Holiday Princess Concert will take place at Philadelphia Theatre Company at the Suzanne Roberts Theatre (480 S. Broad Street). Tickets are on sale for $35 at philatheatreco.org, at the box-office, or by calling 215-985-0420. Note: The 6:00pm show will feature a relaxed performance that welcomes children with autism or sensory or emotional sensitivities.

"We are so excited to bring the Princesses back, and that they'll be joined by some Princes this year. Philadelphia Theatre Company is helping create memories for children as they experience live theatre for the first time," said Paige Price, the company's Producing Artistic Director. "PTC has traditionally been the destination for work best enjoyed by teen and adult audiences, but it makes me happy to see these young audiences simply mesmerized. We know that the love of live theatre often begins with very young children who are taken to performances by a family member. By combining music, audience interaction and a family-friendly story in a relaxed environment, we hope to light that spark of interest that will last a lifetime."

In A Dream Is A Wish: Holiday Princess Concert, Cinderella is planning a holiday celebration for all the wonderful people of the kingdom and all of her princess friends. At the party the newest and youngest princess, Sofia, meets some of the princesses that she has always admired, like Rapunzel, Cinderella, Elsa, Moana, Ariel, Elena and more, along with Hans of the Southern Isle and that lovable outlaw Flynn Ryder.

In this heartwarming show, Sofia learns that each princess has obstacles to overcome and her own path to discover, but no matter what, if Sofia's true to herself, she will find her way. Audiences journey along with her as she learns what "being a princess is all about," and they'll sing along with almost two dozen favorites - A Dream Is a Wish, Let It Go, Love is An Open Door, Almost There, At Last I See The Light, Reflection, Part of Your World, Frosty the Snowman, It's The Most Wonderful Time of the Year, Rudolph the Red Nosed Reindeer, and more.

Following the show, all the little princesses and princes in attendance will be invited to meet the cast in a special post-show meet-and-greet. Holiday cookies and apple cider will add to the festive afternoon! Please bring your camera to take photos after the show with the cast. (No photos may be taken during the show).

"My hope is that families come and they make theater a new holiday tradition," added Price. "We want to see grandparents, parents and little ones sharing the magic of theatre together."

Tickets are $35 at philatheatreco..org, at the box-office, or by calling 215-985-0420. There is a ten percent discount available for four packs of tickets.

PTC's 2018-2019 season is sponsored by Comcast NBCUniversal, Independence Blue Cross, PNC Arts Alive, Center City Film & Video, and American Airlines, the official airline of Philadelphia Theatre Company.

CAST AND CREW BIOGRAPHIES:

Jessica Caldwell (Cinderella) is a current Junior at CAP21/Molloy. She is from Portland, Oregon and is very excited to be Cinderella. Previously, she has performed in shows at The Madison Theatre and on the west coast. Her favorite credits include: Cinderella (A Dream is a Wish), Luisa (The Fantasticks), and Mrs. Potiphar (Joseph and the Amazing Technicolor Dreamcoat), She is very thankful for her family for supporting her and letting her follow her dreams.

Erica Leibold (Ariel) is thrilled to be a part of this wonderful bunch of princesses! She is from Cleveland, Ohio and is currently a junior at Cap 21/ Molloy College. She was previously seen at The Madison Theatre in Hit the Deck and The Madison Theatre Christmas Special.

Nichelle Lewis (Tiana) is a sophomore at Molloy College's Cap 21. She is an accomplished performer who has studied a variety of dance and singing techniques. Nichelle has sung and danced competitively and for community events. She is very excited to be a part of the cast for Give Our Regards to Broadway. Nichelle would like to thank her many performing arts teachers especially her Cap21 teachers for imparting their knowledge.

Sharon Lita (Anna) is currently a junior in the Molloy/CAP21 program and is thrilled to be playing Princess Anna in this winter's princess concert, having most recently appeared in Give Our Regards To Broadway: A Salute to the 1940s at The Madison Theatre! Originally from San Jose, California, some of her favorite past roles include Alice Russel in Lizzie, Shelley Parker in Bat Boy: The Musical, Florinda in Into The Woods, and Extraordinary Girl in American Idiot. She would like to thank her mother and father for their unconditional support and hopes you enjoy the show!

Zevity Lopez (Elena) is from Dallas, Texas and a junior BFA Musical Theatre major with the Molloy College/CAP 21 program. She has previously been seen at the Madison Theatre in the Annual Christmas Celebration: Home for the Holidays and A Dream is a Wish: Princess Concert. She is very excited to be a part of this wonderful show. She would like to thank her mom, sister, dad and family along with the production team, and the cast. Enjoy the show!

Ella Miranda (Elsa) is a junior at Molloy/CAP21 and is studying to be a musical theatre major. This is her third show with the Madison Theatre and she is very excited to be traveling with the princesses. She would like to thank her friends and family for their amazing support. Have a magical time and enjoy the show!

Emily Morales (Moana) is excited to be performing as Moana again for The Princess Concert! She is from Long Island and has grown up with a love for theatre.

Olivia DeFilippo (Belle) couldn't be happier to be reprising her role in A Dream is a Wish and create more magical memories with her favorite princess. Originally from Shelton, Connecticut, she is currently a junior in the Molloy College/CAP21 Musical Theatre BFA program. Favorite credits include Hit the Deck and Give Our Regards to Broadway: A Salute to the 1940s with The Madison Theatre, and Carrie Pipperidge in Carousel. Much love to her friends & family!

Heather Sawyer (Mulan/Librettist) is from Dallas, Texas and a recent graduate of the Molloy College CAP21 BFA Program for Musical Theatre. She is ecstatic to be a part of this production and hopes everyone can take a bit of this magic home. Recently, Heather appeared in the Off Broadway Production of James and the Giant Peach as James and the 2018 New York Musical Festival song cycle, Breaking Ground. Her favorite roles include: MJ Clarke in Camp Eaglewood (dir. Marshall Pailet), Tweedle Dee in Lost in Wonderland (dir. Baayork Lee), and the Wolf in Into the Woods (dir. Travis Greisler). Special shout out to the amazing cast, crew and creative team, The Misfits, and her wonderful friends and family. Without all of you this wouldn't be possible. @heathersawyer14 www.theadventuresofheathersawyer.com

Cameron Scofield (Rapunzel) is a native of Georgia and is currently a junior, pursing a degreee in musical theatre at CAP21/Molloy college. She was recently seen as Millie in Throughly Modern Mille, Fiona in Shrek the Musical, A soloist in the Madison Chirstmas Concert, Rapunzel in the Madison Theatre's A Dream is a Wish Concert and coming soon she will be playing Emma in the new musical Emma. She would like to thank her friends and family, she wouldn't be here without their support! Enjoy the show!

Jake Schuster (Flynn) is a junior in the Molloy/Cap21 musical theatre program. He is ecstatic to be joining "A Dream is a Wish" as Flynn Rider - especially during this holiday season. Jake has been seen on stage as Judas (Jesus Christ Superstar), Harry Beaton (Brigadoon), Sergeant Fogarty (Chicago) and Johnny Cade (The Outsiders). Jake would like to thank his parents and friends for supporting him always and the creative team at The Madison Theatre for believing in him..

James Silverstein (Hans/Prince Charming) is a current junior in the CAP21/Molloy BFA program, thrilled to make the absolute most of his final years in training. Reprising his role(s) as Prince Charming/Hans in A Dream is a Wish, James is ecstatic to be making his debut at the Philadelphia Theatre Company. Notable credits include: Lieutenant Alan Clark (Hit The Deck), Baby John (West Side Story), Mark (A Chorus Line), Tunny (American Idiot), and Claude (Hair). James thanks the faculty of Molloy and the creative team at the Madison immensely for offering an endless supply of once-in-a-lifetime opportunities, as well as his parents for single-handedly making his dreams come true.

Becca Weinberg is a junior at Molly/CAP21 and is from Washington State. Most recently at the Madison Theatre, she performed in "Hit the Deck" and "Give Our Regards to Broadway." Becca is so excited to meet you all!

Aaron Gandy (Music Supervisor, arranger, keyboards) NYC credits include The Lion King, Urinetown, Just Jim Dale at Roundabout and London's West End, The Shaggs at Playwrights Horizons, Dora the Explorer Live! at Radio City Music Hall, and Busker Alley starring Glenn Close. Concert appearances include The New York Tenors' current international tour, My Fair Lady in concert at the Milwaukee and North Carolina Symphonies, and frequent appearances with the South Shore Symphony. Producing credits include A Band Called Honalee (currently on tour) and Frank Loesser: From Hollywood to Broadway for Chicago's Grant Park Music Festival. He has concertized frequently with the Library of Congress, most recently Life Begins at 8:40 starring Faith Prince, Brad Oscar and Kate Baldwin, which was recorded by PS Classics. Other recordings include The Shaggs (Yellow Sound Label), Through The Years, Jule Styne In Hollywood, Fine and Dandy (PS Classics), Busker Alley, The Musicality of Vincent Youmans featuring Sutton Foster and Norm Lewis on Jay Records. A specialist in restoring vintage musicals, his current projects include Vincent Youmans' Hit the Deck, Harold Arlen & Yip Harburg's Hooray for What, and Walk with Music by Hoagy Carmichael and Johnny Mercer. Other appearances include The Chamber Music Society of Lincoln Center, Carnegie Hall, The Paley Center for Media, Chicago Humanities Festival and Symphony Space. Mr. Gandy is a graduate of Florida State University's School of Music. Visit www.aarongandy.com.

Angelo Fraboni (Executive Director) is currently the Artistic Director of the Madison Theatre at Molloy College where he presented, produced, and directed dozen of shows for the Theatre Molloy featuring stars such as Bernadette Peters, Martin Short, Scott Adsit, Mario Cantone, Rachel Dratch, Tony Planna, etc. A 2009 Drama Desk Award winner for the critically acclaimed series Celebrity, he has produce, co-producer and general managed a variety of Off-Broadway productions and worked with producer Carl Moellenberg on the Broadway shows of Speed the Plow, Hair, Hamlet, Lend me a Tenor and Mary Stuart. He has directed and choreographer numerous Auto shows and events, and has performed in 5 Broadway productions including Cats, Victor/Victoria, the Full Monty, Dream, and Jerome Robbins' Broadway, National Tours, etc. Some of his movies include Across the Universe, the Mighty Aphrodite, Thomas Crown Affair, and Last Days of Disco. He has been seen multiple TV shows as well as national commercials. Angelo started his professional career as a principle ballet dancer with the Minnesota Dance Theater.

Philadelphia Theatre Company (PTC) is a leading regional theater company that produces, develops, and presents entertaining and imaginative contemporary theater focused on the American experience. PTC balances its Philadelphia roots with a national point of view that combines a taste for adventure with a dedication to new American plays and musicals.

Founded in 1974, PTC has presented 140 world and Philadelphia premieres. More than 50 percent of PTC's world premieres have moved on to New York and other major cities, helping to earn Philadelphia a national reputation as a hub for new play development. PTC has received more than 180 nominations and 53 awards from the Barrymore Awards for Excellence in Theatre. In 2007, PTC was instrumental in expanding Philadelphia's thriving cultural corridor by opening the Suzanne Roberts Theatre on the Avenue of the Arts.
---
Join Team BroadwayWorld
Are you an avid theatergoer in Philadelphia? We're looking for people like you to share your thoughts and insights with our readers. Team BroadwayWorld members get access to shows to review, conduct interviews with artists, and the opportunity to meet and network with fellow theatre lovers and arts workers.
Interested? Learn more here.
---