Latest News on Nick Laughlin
Latest News on Nick Laughlin
Nick Laughlin News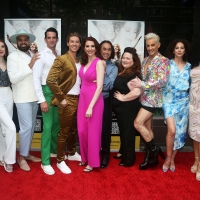 Photos: New Musical TITANIQUE Sets Sail on Opening Night!
by Bruce Glikas - Jun 24, 2022
TITANIQUE, the irresistibly funny and irreverent new musical send-up of the blockbuster film Titanic, featuring the songs of pop icon Céline Dion, celebrated its opening night at The Asylum Theatre. Go inside the celebration below with photos of the cast.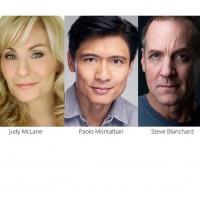 Judy McLane, Paolo Montalban & More To Star In CLICQUOT: A REVOLUTIONARY MUSICAL - In Concert
by Chloe Rabinowitz - Oct 19, 2021
The Arts Center of Coastal Carolina and 35th Parallel Productions will present Clicquot: A Revolutionary Musical - in Concert! Music and lyrics by Lisette Glodowski and Richard C. Walter.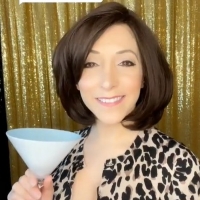 Weekly Roundup: Our Top Ten Theater TikToks of the Week - Christina Bianco, Tommy Bracco, Ciara Renée and More!
by Chloe Rabinowitz - Apr 9, 2021
Check out this week's top ten TikToks, featuring Christina Bianco, Tommy Bracco, Abigail Barlow, Ciara Renée, Adam Wylie and many more!
VIDEO: Sour Pickles Fuses Abba And Vaccine Hope With Parody 'Gimme Gimme Gimme (A Vaccine Appointment)
by A.A. Cristi - Apr 7, 2021
Viral Comedy Group Sour Pickles TV @sourpicklestv is at it again with another brilliant musical parody, this time satirizing ABBA's hit classic Gimme Gimme Gimme, replacing the much sought after "Man After Midnight" with 2021's newest obsession – a vaccine appointment. 
Comedy Group Sour Pickles Release Trump-Eviscerating Parody of 'We Didn't Start the Fire'
by Sarah Jae Leiber - Jan 20, 2021
Viral Comedy Group, Sour Pickles TV @sourpicklestv latest musical parody takes the tune of Billy Joel's iconic 'We Didn't Start the Fire' and reimagines the lyrics to seek retribution instead of absolution. 
Judy McLane, Kevin Massey and More To Star In 29 Hour Reading Of CLICQUOT: A REVOLUTIONARY MUSICAL
by Chloe Rabinowitz - Mar 3, 2020
Two presentations of the 29 hour reading for a brand new musical will be held at Open Jar Studios at 11am and 3:30pm. The reading is directed by Laurie Glodowski and produced by 35th Parallel Productions.

Linda and Laura Benanti, Carmen Cusack, and More Headline 54 Below in February
by Julie Musbach - Feb 2, 2018
This February, FEINSTEIN'S/54 BELOW, Broadway's Supper Club & Private Event Destination, presents some of the brightest stars from Broadway, cabaret, jazz, and beyond.

THE SONGS OF LEO HURLEY & CHARLES OSBORNE At Feinstein's/54 Below this February
by Rebecca Russo - Jan 19, 2018
FEINSTEIN'S/54 BELOW, Broadway's Supper Club, proudly celebrates the new works of composer Leo Hurley and lyricist Charles Osborne! A songwriting team that bridges the worlds of opera and musical theatre, Hurley & Osborne's collaborations combine myth and history to combat contemporary issues.
Broadway Method Academy to Host Second Annual Benefit Concert BROADWAY SINGS
by A.A. Cristi - Nov 4, 2016
Broadway Method Academy is hosting the second annual benefit concert 'Broadway Sings". Broadway Method Academy's Executive Director, Connor Deane says the evening will be filled with top-notch talent from both BMA and New York, including some of Broadway's top performers.  Deane says, "The fundraiser's support will be dedicated to empowering students and igniting possibilities through scholarship opportunities and so much more. Your support helps attract the best and brightest talent, in turn, enriching our community and fueling the future of the arts!"
Broadway at the Cabaret - Top 5 Cabaret Picks for March 28-April 3, Featuring Kara Lindsay, Melissa Errico, and more!
by Louisa Brady - Mar 27, 2016
Broadway's 40 theatres aren't the only places to catch performances from your favorite stars! Well after Broadway orchestras begin their overtures, ensemble members take their dance breaks, and performers belt out their eleven o'clock numbers, the party continues at various cabaret venues throughout New York City. Below, BroadwayWorld brings you some cabaret highlights for this week as picked by our theatre editors, including: Back From Tour… Remember Us?; Kara Lindsay: Bursting Your Bubble; Emma Howard and Jaidyn Young: Together at Last; Melissa Errico: Funny! I'm a Woman With Children; and Show Biz After Hours With Frank DiLella: Special Guests Orfeh, Andy Karl Mario Cantone & Telly Leung.
Nick Laughlin Videos
STAGE TUBE: Andrew Keenan-Bolger, Marla Mindelle, Matt Doyle and More Celebrate Summer 2012
by Stage Tube - Jul 10, 2012
NEWSIES star Andrew Keenan-Bolger recently took the time to put together a music video for summer 2012, featuring some of his NEWSIES castmates and even some other Broadway veterans. Keenan-Bolger writes: 'I brought my camera along whenever I was hanging out with my friends this summer. I decided to compile the footage together in an unofficial video for my favorite song of the summer, '1904' by The Tallest Man On Earth.'