Idyllwild Arts Academy & Summer Program Presents April 2019 Student Showcase And Visual Arts Reception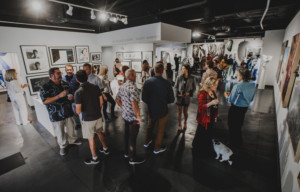 Idyllwild Arts Academy & Summer Program announces its Spring 2019 off-site student performances, catering to Idyllwild Arts family of supporters in the Desert Cities.
On April 17, the student showcase will be held at the stunning Rancho Mirage Library, a cultural oasis for the desert. This spectacular evening of dance, music, theatre, fashion and creative writing will be followed by a visual arts reception at the new Melissa Morgan Fine Art Gallery in Palm Desert on April 18.
Both events will feature the year's best work from students of Idyllwild Arts Academy, the pioneering arts high school that has been changing lives through the transformative power of art for more than 70 years. Located on a 205-acre campus in the SAN JACINTO Mountains, the school was recently voted #1 High School for Arts in America and prides itself on providing a unique experience for young artists hailing from more than 30 countries.
"Our annual Idyllwild Arts Academy & Summer Program showcases are an important opportunity for the students to present in professional venues and experience the overwhelmingly positive audience responses to their work." said Pamela Jordan, President and Head of School of Idyllwild Arts Academy & Summer Program. "For the larger community and family of Idyllwild Arts supporters, it's an opportunity to witness firsthand the often-breathtaking talent of these students. I look forward to it every year."
2019 Student Showcase at the Rancho Mirage Library on April 17
The 2019 Idyllwild Arts Academy Student Showcase will be held at the Rancho Mirage Library on April 17 from 7-8 p.m.
The event will represent the work of 25 students across all seven disciplines of the Idyllwild Arts Academy, including music, theater, dance, creative writing, film, spoken word poetry and an upcycled fashion show.
The showcase was produced and directed by Idyllwild Arts Dance Instructor Jonathan Sharp and will be made up of the best proposed works by the heads of each department. The event is free and open to the public.
Address: 71-100 Highway 111, Rancho Mirage, CA 92270
Visual Arts Reception at the Melissa Morgan Gallery on April 18
The visual arts reception will be held at Melissa Morgan Fine Art gallery, a prestigious contemporary gallery in the heart of El Paseo, on April 18 from 5-9 p.m. The exhibition will run through April 21.
One of the first shows at the new space, the exhibition was curated by Visual Arts Chair David Reid-Marrand features works selected from 32 artists in a variety of mediums, including painting, ceramics, mixed-media, sculpture, drawing, photography and printmaking. Pieces selected for this exhibition were chosen from a wide range of grade levels and disciplines. This unique opportunity will expose many of the students to the world of live contemporary art for the first time.
Live jazz will be played throughout the evening, and the students will each introduce their work, allowing them a forum to articulate both their vision and process.
"This show continues a tradition that began seven years ago, when our students first exhibited their work at MMFA. During those years I believe the work has become more nuanced," said Reid-Marr. "Every day in the studios and classrooms, we are impressed by how much these students grow formally, conceptually and emotionally. It's a great honor to be able to share that with the larger world."
Address: 73660 El Paseo, Palm Desert, CA 92260
About Idyllwild Arts Academy & Summer Program
The forested 205-acre Idyllwild Arts campus sits two hours inland from Los Angeles and an hour and one refreshing mile above Palm Springs. The campus hosts Idyllwild Arts Academy, where talented teenagers from around the world specialize in their chosen arts disciplines while studying challenging college-prep academics, and the Idyllwild Arts Summer Program, offering immersive workshops in every arts discipline to people of all ages and skill levels. Both the Academy and the Summer Program accomplish the Idyllwild Arts mission of changing lives through the transformative power of art. Idyllwildarts.org