Theatre Collingwood to Offer Drama Education Course for Seniors
The six-week course will run from April 5th through May 10th.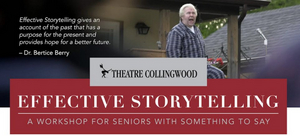 Theatre Collingwood has announced their newest drama education program- for seniors! If you have a story to tell, or simply wish to lift someone else's story off the page, this six-week workshop may be just the opportunity you need to "regain your authentic voice" and "find an audience".
Each week, with an experienced instructor, you'll explore the skills necessary to become an effective storyteller, in an environment that is relaxed, encouraging and non-judgmental. Students may bring material to class that means something to them, or they may use any of the weekly materials provided, AND MEMORIZATION IS NOT REQUIRED as it's up to each individual to set their own goals. This workshop is open to participants of all abilities.
The workshop will be held over 6 weeks, April 5th to May 10th, on Tuesday afternoons from 1pm-3pm. Location to be announced.
"When I was growing up my grandfather lived with us. He had gone blind, however he was the best bedtime story teller. As children we were gripped by his wildly imaginative stories, and it wasn't until I was an adult that I realized his stories were about him and his life. I believe we forget that seniors have great stories to tell. They just need someone to listen", said Erica Angus, executive director for Theatre Collingwood. "I spoke to my brilliant friend Scott Hurst, who seems to always understand my crazy visions, and together we have created a 6 week program based around storytelling, for seniors of all ages."
Scott Hurst will be instructing the workshops. He is an actor, acting coach and storyteller with over 40 years of professional experience. Collingwood audiences may remember him from last season's Porchside Festival where he portrayed actor/storyteller Charles Laughton in LAUGHTON COMMON. One of his favorite quotes from the show is, "To become a good storyteller, you simply read something you love to someone you love".
For more information about upcoming events, please call the Box Office at 705-445-2200 or visit www.theatrecollingwood.ca.