BWW Interview: MATILDA's Keisha T. Fraser Promises a 'Magical,' 'Spell-Binding' Experience at the Dr. Phillip's Center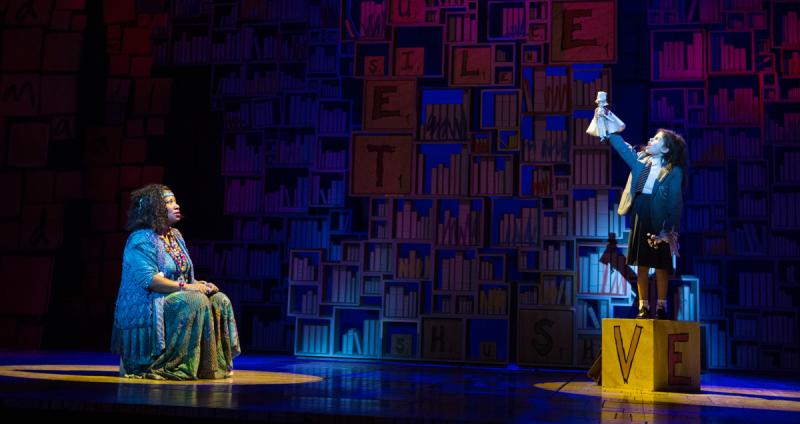 There is something magical, and just a little bit naughty, in the air at the Dr. Phillips Center for the Performing Arts this week. Starting tonight and running through Sunday, May 14th, the national tour of MATILDA THE MUSICAL sets up shop in Orlando. With a book by Dennis Kelly and music and lyrics by Tim Minchin, the Tony-winning production ran for nearly four years on Broadway, closing this past January.
Based on the 1988 novel by Roald Dahl, the show has been a hit in London, winning seven Olivier Awards, including Best Musical; on Broadway, winning four Tonys in addition to a special Tony Honors for Excellence for the four rotating leads; and now on the road and around the world.
In the book, which also spawned a beloved 1996 film, Matilda is a precocious girl virtually ignored by her selfish, neglectful parents. In addition to being unusually intelligent for a child of her age, it is also revealed that Matilda has telekinetic powers, which she uses to get herself into, and out of, trouble. Even though the book, and the subsequent film and musical, has a dark undertone, MATILDA has been an inspiring tale for young people around the world for decades.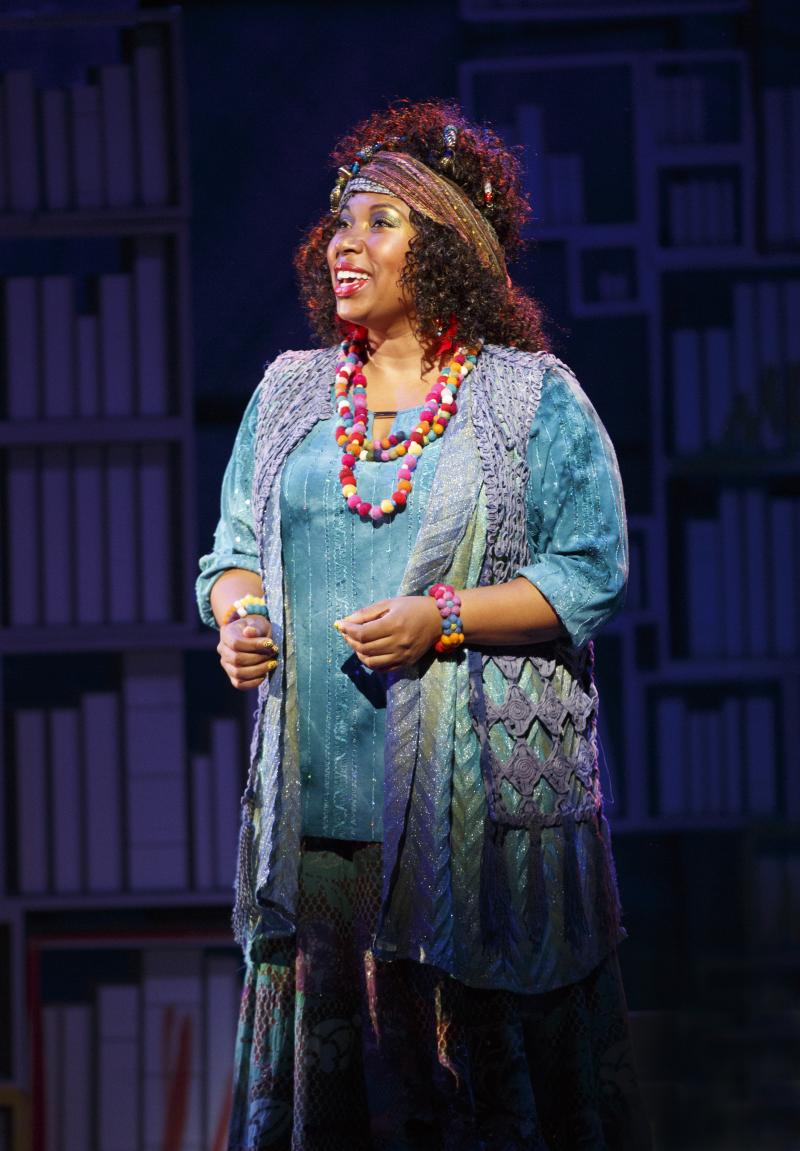 Despite her inattentive parents, and a tyrannical headmistress, Matilda finds a pair of adults at school that recognize her unique skills and brilliance and help her to achieve her potential. One of those adults in this empowering musical, the librarian Mrs. Phelps, is played by Keisha T. Fraser, who has a bit of history with Central Florida family-friendly attractions.
"I used to work for (Disney's) cruise line, for about two years," she told BroadwayWorld Orlando. "So I spent a lot of time in the parks on days off. I am hoping to spend a lot of time (there) during the day, if I'm not needed for rehearsal, because it's just my absolute favorite."
In fact, while the tour is in town, Fraser plans on checking out her former cruiseline co-worker and roommate, Christina Sivrich. The Orlando-based actress, who was fantastic as Kate Monster in Mad Cow's AVENUE Q last year, is one of many talented musical theatre performers who are a part of the FINDING NEMO musical at Animal Kingdom.
Fraser, who joined the MATILDA tour nearly a year ago, before its six-month run in her hometown of Toronto, feels that the unusual quality of the children in the show is what has made the musical so infectiously popular around the world.
"I think that having the presence of the children in the show really elevates it," she said. "It's not just that there are kids in the show, because there are kids in a lot of shows, but in MATILDA, the children are performing at such a high level that I think it really shocks people."
Fraser said that the show's children are just as impressive off-stage as on. Between classes, rehearsals, shows, and other touring obligations, the commitment and talent that all of MATILDA's child actors bring to the show forces the adult members of the company to take on a slightly different set of responsibilities.
"What's very important for the rest of us in the show is to know that we are there to support everything that they're doing," she said, "because they have to be so high-functioning off-stage as well, that there's no way that they can't bring that on stage."
That feeling of supporting her young co-stars carries over to her character as well, as Mrs. Phelps becomes an important figure in helping Matilda discover what it is that makes her special.
"Mrs. Phelps doesn't really treat Matilda like a child," Fraser said of her character's unusual relationship with the title character. "They treat each other as equals, they are more seen as on the same plane, a little bit more than teacher and student, and not quite mother and child, but more like two equal girlfriends who are getting something from each other."
Since in MATILDA, the feeling of discovery applies equally to both the children and adults, Fraser said that while it would be easy to assume that the show is only appealing to kids, that wouldn't be necessarily true.
"Oddly enough," she said, "even though the main character is a child, and we feature a lot of children, it's not a show that is just for children... It's often the adults making the most noise during the show."
Fraser believes that much of the fervent support that the show has seen across generations is due in large part to the fact the rich, emotional story actively delves into a number of powerful topics that can resonate with theatregoers both young and old.
"We explore a lot of themes;" she said, "we explore friendship, we explore injustice and setting things right, and even though the book was written back in the 80s, it's really relevant to quite a lot of the things that are happening in our political world at the moment."
Those palpable, powerful messages are found in Minchin's incredibly clever and intelligent score; the Australian composer is currently Tony-nominated for his score of GROUNDHOG DAY on Broadway. In both of his Broadway shows, Minchin has received rave reviews for putting his own unique twist on the traditional showtune.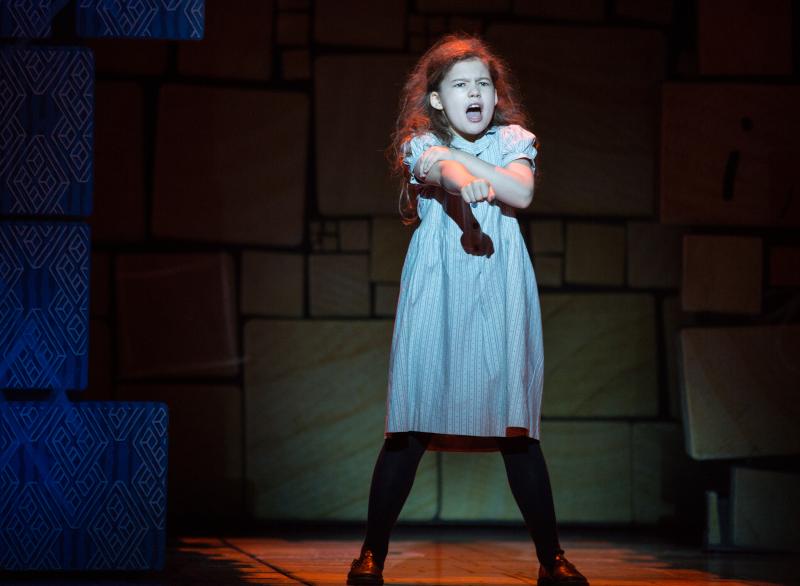 "The lyrics and the music, they are a bit different from the things that we have seen on Broadway," Fraser said. "(The songs are) all so different unto themselves, and once you... start breaking down the lyrics, you start realizing how deep they are, but (that) they are being told in the simplest of ways."
Since the show's West End debut in 2010, MATILDA's lyrics have been called dense and complicated, sometimes as a compliment, and sometimes not. However, Fraser is confident that the attention that the lyrics require is more than worth the effort.
"(The score is) going to go right to the core of them, and it's gonna touch their heart," she said of audience members experiencing the show for the first time. "It makes them feel things that they haven't felt before, and maybe think about things that they haven't thought about before, and if they have, they haven't accessed them for a long while."
While MATILDA THE MUSICAL touches on the issues of abuse, neglect, oppression, and more, Fraser says that the true power of the show is found in its main character's creativity and optimism.
"The main word that I always use (to describe the show) is magical," Fraser said. "There's so many moments that are spellbinding and completely breathtaking, and some moments that just fill you with so much joy you can't help but smile."
To purchase tickets to see MATILDA, visit the Dr. Phillip's website or call 844-513-2014.
---
Are you excited to get a little bit naughty with MATILDA? Let me know on Twitter @BWWMatt. You can listen to me on BroadwayRadio or on BroadwayWorld's pop culture podcast Some Like it Pop.
Banner Image: Keisha T. Fraser and Jenna Weir. Photo Credit: Cylla von Tiedemann