BWW Review: ROCK OF AGES: TENTH ANNIVERSARY TOUR at Orpheum Theater Will Rock You Like a Hurricane
Omaha Performing Arts has brought a rock and roll favorite to the Orpheum for two nights only. I was able to see ROCK OF AGES, TENTH ANNIVERSARY TOUR last night and spent 2 1/2 happy hours reminiscing with hits of the 80's in this juke box music.
Chris D'Arienzo wrote the book around a collection of music by such iconic bands as Foreigner, Journey, Styx, and Night Ranger. Arrangements and orchestrations by Ethan Popp carefully clip the best parts of these memorable songs, and in places, combine the work of more than one artist to present a perfect mashup to fit the scene. The band of five incredible musicians is tour-worthy alone.
Nominated for five Tony Awards®, including Best Musical, ROCK OF AGES weaves a story about life in Hollywood during the big hair rock and roll era. German real estate developers, Hertz (Andrew Tebo) and his son Franz (Chris Renalds), are about to knock down the Sunset Strip with a smiley face wrecking ball. That means that Dennis Dupree (Ryan M. Hunt) is about to lose his club, The Bourbon Room. How can he save it? By bringing back the once successful rock and roll band Arsenal, fronted by the strangely sensitive Stacee Jaxx (Sam Harvey). The band needs an opening act, so busboy Drew (Anthony Nuccio), makes a play for the gig and the girl, Sherrie Christian (Katie LaMark), who has just moved to LA to make her name in lights.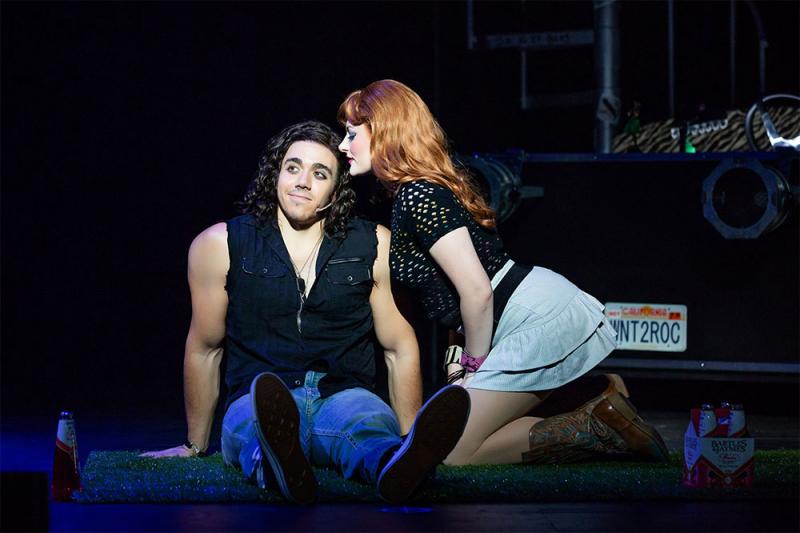 Meanwhile, activist Regina coalesces the community to fight against the destruction of the Strip. The whole crazy tale is threaded together by Lonny, Dennis' pal and--conveniently--narrator.
The story is loose (in more meanings than one). It is often hilarious, especially in such ridiculous scenes as the bathroom encounter between Stacee and Sherrie. Sam Harvey, who yells out that he is from Nebraska (a 2011 graduate of Scottsbluff High School), nails difficult rocker songs that demand grit and range. He is also very funny as an emo rocker with issues.
My other favorites are Katie LaMark (Sherrie), Kristina Walz (Regina), Anthony Nuccio (Drew), and Ryan M. Hunt (Dennis). They have killer chops. The entire cast was well chosen not only for their vocal ability, but for their ability to dance. Choregraphy by Janet Rothermel is engaging with dance moves I remember from that era. Costumes by Cynthia Nordstrom also trigger many of my fashion nightmares. Let's face it: hair and clothing were not as winning as the music during the 1980's.
There is only one more chance to catch this show. I found myself smiling the entire time. What better way to revisit the 'best' rock and roll ever created? Even those too young to have lived back then will know most of these songs. You're gonna wanna rock.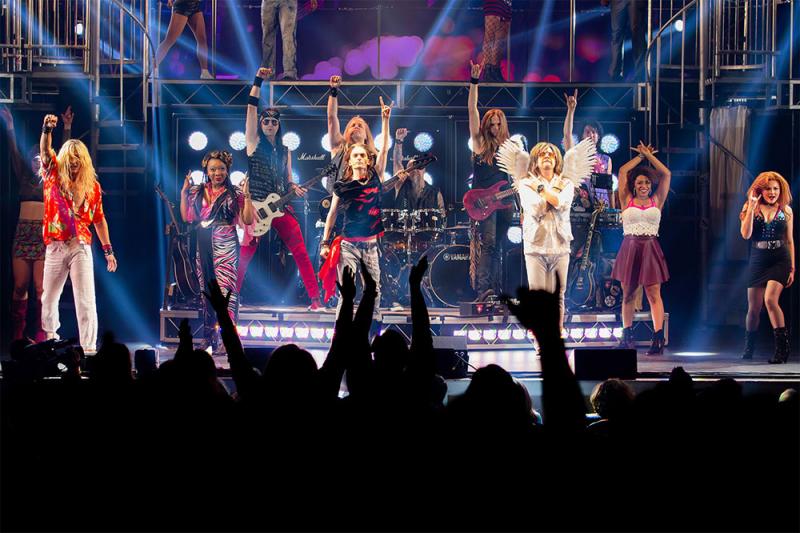 Photo Credit: Jeremy Daniel