BWW Review: BEAUTY AND THE BEAST at Ralston Community Theatre Enthralls the Young and Entertains the Not-So-Young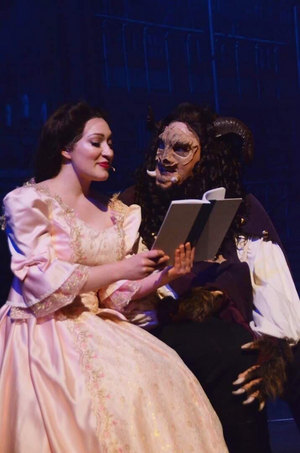 By the time you read this, you may have missed your chance to see Disney's BEAUTY AND THE BEAST at the Ralston Community Theatre. You may have thought that it's a "tale as old as time," that you've seen several times, both on film and on stage. But this one may be different. This one felt more like home than a quiet village. The performers were familiar, the theater was in a local high school, and the audience...your friends and neighbors...were loving every minute. I especially enjoyed watching the face of a little girl dressed in her Belle costume completely entranced. Sometimes seeing something through the eyes of a child makes it new again.
Disney's BEAUTY AND THE BEAST was developed for stage in 1991 by Alan Menken (music), Howard Ashman and Tim Rice (lyrics), and Linda Woolverton (book). It received mixed critical reviews and while nominated for several awards only won the Tony Award for Best Costumes. It was a huge commercial success nevertheless. Who doesn't enjoy a love story between a beautiful woman and a horrid beast? This musical is considered to be instrumental in bringing an entirely new audience to Broadway: kids. And judging from the kids in the audience, it won't be gone from the community theatre circuit any time soon.
Directing his 200th show, Todd Uhrmacher kept his finger on the pulse of the action. The transition of the actors from French village to an enchanted castle, from dark woods to a rowdy tavern maintained a steady flow of movement. There was never a dull moment.
Aubri Devashrayee couldn't be more lovely as the book-loving Belle. Her starlet appearance and crystal clear voice were both ideal for her character; not too sweet and not too (dare I say it?) pushy. She was sure without arrogance. Her voice was pure without affectation. I loved her songs, although "A Change in Me" was added when Toni Braxton joined the cast in 1998 and it felt a bit like filler in an already lengthy musical.
Jesse Black's baritone carried the powerfully evocative "If I Can't Love Her" well. He played a somewhat softer Beast and his voice lost some of its gruffness toward the end, but perhaps that is appropriate as the Beast became less beast and more prince. Jason DeLong was smooth on his feet, making a dandy prince.
There is a whole family of Ebkes in the show. As Mrs. Potts, Sarah Ebke's genteel accent was spot on and she delivered the title song, "Beauty and the Beast" with sensitive beauty. Her husband, Chris Ebke, a seasoned music director, led a fine 11 piece orchestra. Choral numbers were solid with pleasing harmony. David Ebke, Chris' brother, was a particularly roguish Lumiere'. High stepping and strutting in gold lame', Ebke was a crowd favorite with his steady stream of puns. Steve Ebke, father to Chris and David, played an affable Maurice and his wife, Debi, took the stage as bookseller and ensemble.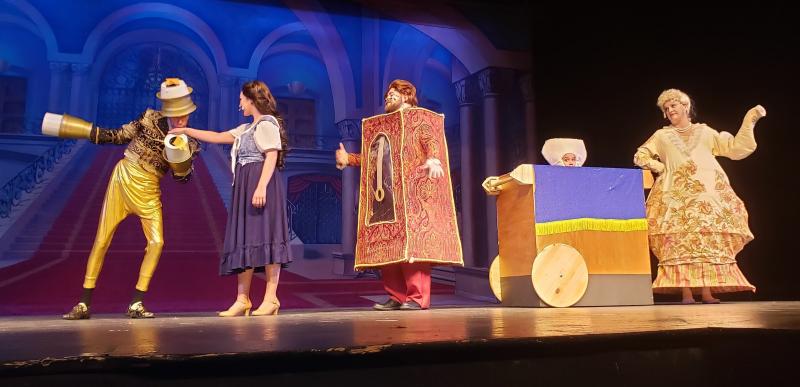 Jonathan Berger (Gaston) and Eric Micks (LeFou) played off each other well. Berger was a cheesy buffoon with a ridiculous pompadour. Micks was a caricature of obsequiousness. Both were great entertainment. Their antics easily drew laughs from the audience. The song "Gaston" was a huge hit, and the trio of silly girls (Mary Bruegman, Kara Penniston, and Chloe Rosman) were perfect fangirls to their hero.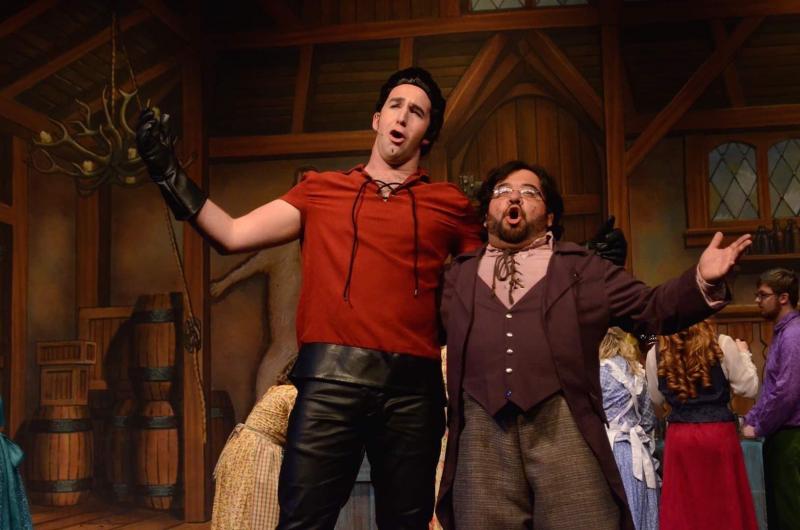 Others who caught my eye were Beth King as a humorous Madame de la Grande Bouche, Brynn Fitzgerald as innocent Chip, and Shawn Cannon as the satisfyingly bizarre D'Arque. Amanda Murtaugh as the coquettish Babette and Sean Graves as the uptight Cogsworth rounded out a noteworthy cast.
The tavern scene was an unexpected delight. The dance with the clanking of pewter tankards (kudos to choreographer Debbie Massey-Schneweis) was clever and so much fun! I also appreciated the wolves with their sinewy gyrations as they surrounded Maurice in the woods. The cartwheeling carpet added an element of fun to "Be Our Guest."
Leah Skorupa-Mezger did a commendable job with her designs. Babette's feathery finery and Lumiere's slick shiny opulence were my favorites.
The set design consisted primarily of colorful backdrops accented with few set pieces, such as a marvelous contraption designed and built by Jerry Murtaugh.
So...We all knew how this story would end. We are familiar with the songs. The characters. The famous yellow ball gown. Yet there are surprises when a group of actors pour their hearts into a show. It becomes something different from all the other productions you've seen before. There's just something there that wasn't there before.