Everyday Inferno Theatre Company Presents The World Premiere Of A SHORT LIFE OF TROUBLE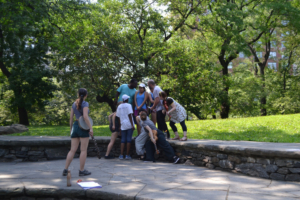 Everyday Inferno Theatre Company is proud to announce the
world-premiere production of A Short Life of Trouble: A Play with
Appalachian Folk Music, which will play in a limited run from August 8th
through August 18th, 2019. Following our successful 2016 FringeAL FRESCO
production and six-year partnership with the NYC Parks Department, A
Short Life of Trouble marks Everyday Inferno's seventh annual free show
in Central Park. The production, written by Brandy N. Carie (2019 SPACE
on Ryder Farm institutional resident, Edward Albee Foundation residency,
Princess Grace Award finalist) and directed by Katie Pedro (Hunger &
Thirst Theatre, Exquisite Corpse Company), presents an unexpectedly
feminist spin on a traditional (fairy)tale, full of live music,
theatrical magic, and communal experience.
"If you aim to gift me your heart, little human, I'd gladly take it with
salt and honey, and leave the rest of you." One night, on the edge of an uncertain future, Susan stumbles across a
world unlike any she's known and finds a strangely familiar face. Is she
what her mother has always said she is: a changeling? Infused with
traditional folk music performed live by a multitalented cast of
actor-musicians and set in the isolated hills of 1890s Appalachia, A
Short Life of Trouble follows the diverging paths of three young women,
each seeking an identity, a future, and a home to call their own.
A Short Life of Trouble is directed by Katie Pedro, with Music Direction
by Hilarie Rose Spangler, Dramaturgy and Music Arrangement by Joshua
Brown, and Costume Design by Jolene Richardson. The production features
Laurel Andersen
(The Flea), Helena Anderson, Elizabeth Berkman (Hudson
Shakespeare Co.), Rachael Chau, Ben DeLamerens, Amelia Dudley, Chelsea
Feltman (National Yiddish Folksbiene), Malloree Hill (Utah Shakespeare
Festival),
Emily Johnson
-Erday (Triad Stage), Jasmine Louis, Sarah
Murdoch, and Jeffrey Buck Wright Jr. A Short Life of Trouble is
produced by Katherine Sommer. Tickets for A Short Life of Trouble are free (a $10 donation is
suggested) and seating is general admission and does not require
reservations. Seating at Summit Rock includes a limited number of bench
seats with backs, as well as ample space for picnic blankets and lawn
chairs. Performances run August 8th through August 18h on Thursdays
through Sundays at 6:30pm. Summit Rock (Central Park's highest point!)
can be reached via B or C train to the 81st St/Central Park West
entrance of the park, then up the first path on the left. For more
information on the production, visit
www.everydayinferno.com/AShortLifeofTrouble
.