Critically Acclaimed TEVYE SERVED RAW Extends Off-Broadway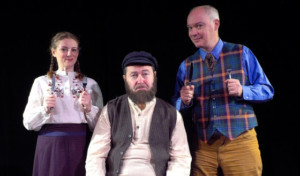 Sholem Aleichem's TEVYE SERVED RAW, directed by Allen Lewis Rickman, will extend its run at The Playroom Theater in the Heart of the Theatre District, 151 West 46 Street (just east of Seventh Ave.) into early October, following a brief hiatus after its originally-scheduled closing on 8/14.
TEVYE SERVED RAW (subtitled "Garnished With Jews") is an evening of stories by Sholem Aleichem, widely considered the greatest Jewish writer. It balances more serious material (the 'Tevye' scenes) with some of his best comic stories ("Strange Jews On A Train", "The Yiddish Sisyphus", and "A Stepmother's Trash-Talk"), and is performed in Yiddish with simultaneous translation: via supertitles in the dramatic scenes, and rapid-fire interpolated English dialogue in the comedic ones.
The success of the show, which has played to rapturous critical response and sold-out houses, has surprised even its producer, Ben Feldman. "It's incredible, really -- it's a tiny little show, but people are just knocked over by it. Every single review -- really, every one -- has been a 'rave', and audiences are really moved by the dramatic scenes. And the comedy stuff is spectacular. The Forward just wrote that we're one of the hottest tickets in town. Who knew?"
The cast is comprised of the husband-and-wife team of Yelena Shmulenson and Allen Lewis Rickman (TV and stage veterans perhaps best known for their work in the Coen brothers' Oscar-nominated A Serious Man), and Shane Baker (translator of Waiting for Godot into Yiddish, and "the best-loved Episcopalian on the Yiddish stage today"). Unusual for recent Yiddish productions, the entire cast of TEVYE SERVED RAW are fluent in the language.
"We have tremendous fun doing the comic stuff, but the 'Tevye' material is something else entirely," said Rickman, who is also the show's director. "It's a revelation to people who only know Fiddler on the Roof. Fiddler is a superb musical -- one of the best ever -- but they had to dilute the material to make it acceptable to a mainstream audience in 1964. And, look, Bock and Harnick and Stein are brilliant musical theater guys, but they grew up in America, which is a very different place from Tsarist Russia.
What we did is go back to the source: what's in our show is what Sholem Aleichem, who was there in the shtetl and saw it all himself, actually wrote. It's his words, his observations, unfiltered, 'raw'. We're doing adaptations of his original stories plus scenes from his own stage version of 'Tevye'. A few of the plot points are also in Fiddler, but we do them as Sholem Aleichem wrote them, without the compromises they had to make for Broadway.
It's a question of authenticity. If people want to get a sense of where most American Jews actually came from, this is the real deal. The characters in our show are the people that were there, not exaggerations from musical comedy."
TEVYE SERVED RAW, which features an original score by Alex Ryaboy, will play until early October ("we're tiptoeing between the Jewish holidays," said Feldman). The show is then being brought to Romania, where it will be presented with Romanian supertitles in the State Jewish Theater in Bucharest.
"This whole New York thing is really just our out-of-town tryout," said Baker. "The real action is in Romania."
Tickets are $38 and are now available online at
BrownPaperTickets.com
or by calling 1.800.838.3006. Tickets may also be purchased in-person at the theater's box office ½ hour prior to performance.