Caps Lock Theatre to Bring THE SEX WITH ROBOTS FESTIVAL to the Secret Theatre, 11/5-10
CAPS LOCK THEATRE presents THE SEX WITH ROBOTS FESTIVAL, a series of short plays about sex with robots, written by a formidable group of playwrights: Micheline Auger, Danny Bowes, J. Julian Christopher, Richard Lovejoy & Eric Meyer, Mariah MacCarthy, Mac Rogers, Leah Nanako Winkler and Natalie Zutter, with a robot sex song cycle by Nat Cassidy. The festival is set for November 5-10 at the Secret Theatre in Long Island City.
In this festival by NYIT Award-nominated Caps Lock Theatre, enjoy an evening of eight short plays, all about sex with robots. Nine playwrights offer a window into our humanity as their characters project their messy desires onto their mechanical lovers.
The project, presented by Caps Lock Theatre, will play at The Secret Theater located at 4402 23rd street, Long Island City. Performances are Tuesday, November 5 through Sunday, November 10. All performances are at 8pm. Tickets ($18) may be purchased online at sexwithrobots.brownpapertickets.com or by calling 1-800-838-3006.
Micheline Auger (Playwright) Recent productions include the Untitled Degradation Play (Rising Phoenix Rep's Cino Nights Series) andAmerican River (Lesser America at TNC). Her other work has been developed or produced by Dixon Place, Primary Stages, Westside Theatre, Miranda Theatre, Amoralab, NY International Fringe Festival, New York Madness, OMPF, Horsetrade Theatre Co, Riot Act, Caps Lock Theatre Company, Sugarspace and Highways Performance Complex, among others. She is the recipient of the 2012 National Theater Conference Paul Green Award, creator of the theater blog Theaterspeak and the creator/producer of Write Out Front: A Playwright Happening which put 76 up-and-coming and professional playwrights in the Drama Bookshop Storefront Window writing plays for three weeks in August 2012. WOF 2014 is in the works.
Danny Bowes (Playwright) A critic, filmmaker, and occasional playwright who once shook Vaclav Havel's hand and on another occasion staged a gender-flipped version of the Madison scene from Jean-Luc Godard's Bande à part, in the nude. He writes for Indiewire, RogerEbert.com, and Movies By Bowes; his work as a playwright has been seen in Nosedive's Blood Brothers and the Brick's Game Play Theater Festival, among others.
Nat Cassidy (Musician) As frontman to Nat Cassidy & the Nines, he has written and recorded two albums (Pet Symmetry and Everybody Here Says Hi! both available for purchase and download from GFS Productions). He has performed with and without the Nines at venues such as the Knitting Factory, Pete's Candy Store, Arlene's Grocery, Mo Pitkin's, Galapagos, Googie's Lounge, Cafe Vivaldi, and others. In 2012, he was commissioned by The Kennedy Center/Washington National Opera, as part of the first-ever American Opera Initiative, to write the libretto for a new short opera with composer Scott Perkins. Nat was named one of NYTHEATRE.COM's People of the Year in 2011.
J. JULIAN CHISTOPHER (Playwright) MFA recipient from New School University. Playwriting credits: Beast: A Parable (FringeNYC 2008). Nico was a Fashion Model (LAByrinth Theater Company's 2010 Summer Intensive). At The Public Theater, he received the 2009 Emerging Writers Group Fellowship where he developed Man Boobs (Fresh Fruit Festival NYC 2010). Man Boobs premiered in Montréal at The Rialto Theatre, Melbourne at The Midsumma Festival 2012, and Chicago for Pride Films and Plays. His latest play, Locusts Have No King, will have its World Premiere at INTAR this Spring. He is one of the creators and executive producers of Bulk-The Series. www.bulktheseries.com
Richard Lovejoy (Playwright) has written multiple film, theatre, and radio scripts, including the 2013 Charred Oak Films feature The Widowers (www.the-widowers.com). He was the head writer for Sneaky Snake's BrainExplode!, and penned the 2009 indie theater hitAdventure Quest, which helped kick off a movement of video game inspired theater. As an actor he has appeared in The Widowers, All My Children, The Scientists, Rising Up: The Story of the Zombie Rights Movement as well as numerous shorts and web series. His theatre credits include Piper Mackenzie's Willy Nilly, Sneaky Snake's A Brief History of Murder, Rock Paper Scissors, and Eric Meyer's The Scavengers. Richard also performs burlesque under the name Dick E. Lovejoy, and hosted the burlesque show Nerdlesque along with Maiken Whoopie. He is the creative director for Charred Oak Films.
MARIAH MACCARTHY (Playwright) Work has been presented and developed at Rattlestick, Primary Stages, Culture Project, New Dramatists, La MaMa, HERE Arts Center, Theater for the New City, Jimmy's No. 43, Players Theatre, site-specifically around New York, and in Austin, Chicago, Fort Lauderdale, San Diego, Baltimore, New Jersey, and Fringe NYC. Plays include Mrs. Mayfield's Fifth-Grade Class of '93 20-Year Reunion, Magic Trick, The Foreplay Play (two NY Innovative Theatre Award nominations), Lysistrata Rape Play (dev. The Theatre Project and Filling the Well), Ampersand: A Romeo & Juliet Story (20 Looking Glass Forum Awards, Fringe "Outstanding Performance"), and The All-American Genderf*ck Cabaret. Doric Wilson Independent Playwright Award winner, Lotos Foundation Prize winner, 2012 nytheatre.com "Person of the Year," Executive Artistic Director and founder of Caps Lock Theatre, Filling the Well resident artist, and a member of Youngblood, The Propulsion Lab, and Lather, Rinse, Repeat.
ERIC John Meyer (Playwright) Plays have received productions at the Fourth Street Theater, IRT, The Flea Theater, The Brick Theater, and The Bowery Poetry Club. His work has also been seen at the New Orleans Fringe Festival, the Motherlodge Festival in Louisville, KY, and with the Nabokov Theater Company in the UK. He is a co-creator/performer with The Truck Project, which he established with his wife, Jean Ann Douglass. He holds an MFA in Theater from Sarah Lawrence College.
Mac Rogers (Playwright) Plays include Sovereign (New York Times and Backstage Critic's Pick), Blast Radius (New York TimesCritic's Pick), Advance Man (winner of the New York Innovative Theatre Award for Best Premiere Production and Backstage Critic's Pick),Frankenstein Upstairs (selected for New York Magazine's Approval Matrix), Asymmetric (New City Stage Company), Viral (winner of Outstanding Play at FringeNYC 2009 and Best Off-Off Broadway Play from the New York Independent Theater Bloggers), Universal Robots(nominated for four New York Innovative Theatre awards and winner of Best Off-Off Broadway Play from the New York Independent Theater Bloggers), Hail Satan (Outstanding Playwriting Winner at FringeNYC 2007), and Fleet Week: The Musical (co-written with Sean and JorDana Williams; winner of Outstanding Musical at FringeNYC 2005).
LEAH NANAKO WINKLER (Playwright) A half Japanese playwright who grew up in Kamakura and Lexington, Kentucky. Her plays includeThe Internet (Incubator Arts Project), Death For Sydney Black (Upcoming in Dec. 2013 with Terra Nova Dir. Kip Fagan), Happy Dance Dance Princess Show!!!!! (The Brick), Diversity Awareness Picnic, Cope, as well as a collection of short plays called NAGORIYUKI & Other Short Plays (available at Amazon.com). With playwright Teddy Nicholas, she co-wrote Flying Snakes In 3-D!!! (Ars Nova Ant Fest, The Brick, New Ohio). Her work has been seen at 3LD, Dixon Place, EST, Culture Project, Acorn Theatre, and the 2012 Prelude, and her work has been developed at Playwrights Horizons, Clubbed Thumb, Cherry Lane, New Georges, Bushwick Starr, The Flea, New York Theatre Workshop, the Ontological Hysteric Theater (08-09 short form resident) and more. She is a current member of Youngblood, an alumna of Terra Nova's Groundbreakers Playwright Group, founding member of Everywhere Theatre Group, an affiliated artist at New Georges and was a 2013 Playwright in Residence with The New Group/Urban Arts Initiative. She is a recipient of two A/P/A commissions for writing about hapa identity; one of her essays was recently a part of the exhibition "Visible & Invisible" at the Japanese American National Museum. www.leahwinkler.org
NATALIE ZUTTER (Playwright) A graduate of NYU's Gallatin School of Individualized Study, with a concentration in Serialized Storytelling and Internet Culture. Her plays include Drinks/The Sincerest Form, Twits, Taking Inventory, and Osawatomie, Kansas. Her work has been developed/performed at NYU, True False Theatre, and Tip My Cup's 24-Hour Theater Festival. Her play Drinks/The Sincerest Form was further developed during True False Theatre's inaugural The Polygraph Tests residency. She also writes comics and is a pop culture blogger whose work has appeared on Tor.com, Bookish, Crushable, io9, BlackBook, and elsewhere. You can find her online @nataliezutter and nataliezutter.tumblr.com.
CAPS LOCK THEATRE does funny, ugly, human plays. We like plays where people are at both their worst and their best; where people screw each other-or themselves-over, and have to find a way to deal with it; where people's hearts hurt, or open, or blossom. We also believe in fun. Our plays will probably make you laugh. Probably more than once. And, we believe in creating art by whatever means necessary. If we are fortunate enough to piece together enough resources for lavish sets and fabulous special effects, awesome. If (more likely) we have to make work on a shoestring budget, on-the-fly, in an unconventional location, then we'll do that and still knock your socks off. capslocktheatre.com
Photo Credit: Tilly May
| | |
| --- | --- |
| Vote Now for the 2022 BroadwayWorld Off-Broadway Awards | |
| voting ends in | |
More Hot Stories For You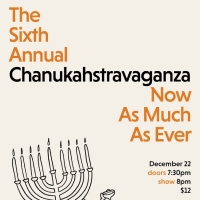 The Sixth Annual Chanukahstravaganza Comes to Littlefield This Month

December 8, 2022

Lana Schwartz and Ilana Michelle Rubin are two Jewish (you might have guessed), native New Yorkers who always get pretty lonely around the holiday season. For the sixth year in a row, they've invited some of the funniest Jewish comedians in New York City (where else?) to help them celebrate the Miracle of Lights: Chanukah. Hannukah. Hanukah. However you choose to spell it. There will be songs, there will be laughter, there will be surprises, and you know there will be gelt. Lots of gelt. Tons of it.
---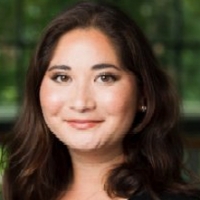 Einhorn Prize Reading Announced At Triad Theater, December 11

December 7, 2022

On Sunday December 11 at 2pm, there will be a presentation of the winners of the first David A. Einhorn Playwriting Prize The event will be held at the Triad Theater, 158 W. 72nd Street. The event will run 90 minutes and include readings of the 1st and 2nd prize winners, some words about David Einhorn, and a talkback on the topics addressed by the plays.
---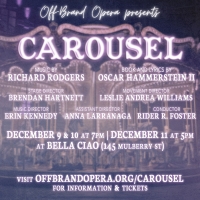 Off-Brand Opera Presents CAROUSEL, December 10 & 11

December 7, 2022

Off-Brand Opera returns this fall with a fresh take on Carousel, the beloved Rodgers & Hammerstein classic. Carousel will be presented with a fresh take on the classic work, featuring performers from a variety of artistic backgrounds in restaurant Bella Ciao's intimate basement cabaret space.
---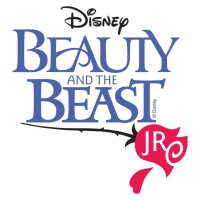 BEAUTY AND THE BEAST JR. to be Presented at AMT Theater in January

December 7, 2022

​January 18th through the 22nd is BEAUTY AND THE BEAST at AMT Theater. Wednesday through Saturday at 7pm, Saturday at 2 and Sunday at 3pm.
---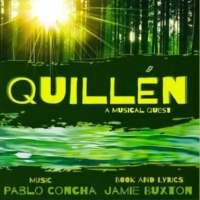 QUILLÉN A New Musical To Premiere At Winterfest, December 13-17

December 6, 2022

Latiné Musical Theatre Lab and Teatro Latea unite to present the new Chilean musical Quillén at New York Theater Festival's Winterfest, December 13-17, 2022.
---