Austin Pendleton WARS OF THE ROSES Begins Tonight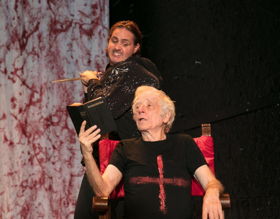 Theater for the New City will present Tony nominated theatre luminary Austin Pendleton's adaptation of Richard III, Shakespeare's greatest villain, WARS OF THE ROSES: HENRY VI & RICHARD III beginning tonight (Monday, December 3rd) for three nights only, including December 4th and 5th. The play, which Pendleton co-directs with Peter Bloch, combines texts from William Shakespeare's Henry VI Part 3 and Richard III, in a version which played a sold-out and critically acclaimed run last summer. The production stars Pendleton as Henry VI and Matt de Rogatis as Richard III, while giving a fascinating take on one of history's most notorious villains. There will be a talkback following each performance with Austin Pendleton and the cast. WARS OF THE ROSES: HENRY VI & RICHARD III will be performed at Theater for the New City (155 First Avenue at 10th Street). Tickets are $18. For tickets and further information visit www.proveavillain.com
With the two texts combined, Austin Pendleton's WARS OF THE ROSES: HENRY VI & RICHARD III explains how Richard III evolved into the events that shaped his tyranny. In the text of Henry VI, Part 3, Richard performs the role of a subjugated good brother while secretly behaving with bloodthirsty abandon. Killing Henry, Richard then declares himself severed from his family and brotherhood and stands alone in his quest for the crown. In the text of Richard III he is now the central character of the play stopping at nothing to become king, while keeping his subjects and rivals under his thumb.
"What's always fascinated me about Richard III is how he became to be the way that Shakespeare so brilliantly portrays him in the play named after him" says Mr. Pendleton. "I believe the answer to all of this is clearly dramatized by Shakespeare in Henry VI, Part 3, the play that leads up to Richard III. So when Matt de Rogatis, whose exciting Hamlet I'd seen a couple years ago, came to me with the idea of Richard III, my first thought was to align the two plays. I am very excited about bringing back WARS OF THE ROSES: HENRY VI & RICHARD III. With a great deal of judicious cutting we to managed to get a swift and compact script and thus we can track the development of this troubled and terrifying Richard from a young man searching for love and acknowledgement to the monster that became King Richard III." he continued.
Joining Austin Pendleton and Matt de Rogatis in the cast are: Jim Broaddus, John Constantine, Adam Dodway, Milton Elliott, Carolyn Groves, Debra Lass, Johanna Leister, Rachel Marcus, Pete McElligott, Brian Patrick Murphy, John L. Payne, and Michael Villastrigo.
Lighting is designed by Steven Wolf and "Project Runway's" Maya Luz is the costume consultant.
Photo by Chris Loupos