World Premiere by Nilo Cruz to Headline Repertorio Espanol's 50th Season
Repertorio Español - one of Off-Broadway's longest-running, continuous theaters, and the ONLY company that presents Spanish-language/English-translated plays in true repertory in NYC - will mark its 50th anniversary during the 2017-18 season with a roster of plays that demonstrate the company's ongoing commitment to presenting works that represent the diversity of its own 50-year canon, and the diversity of playwriting voices among contemporary and oft-forgotten writers of Spanish drama and literature worldwide.
Located in its longstanding home theater at 138 E. 27 St., where Repertorio Español presents 15 different plays, musicals and dance concert in repertory, totaling 300 performances annually, to more than 40,000 patrons and 16,000 students each season - the company's 50th anniversary season is announced by Robert Federico, Executive Producer.
All dramatic performances at Repertorio Español are translated into English as individual simultext (at the patron's seat).
About REPERTORIO's 50th season, Robert Federico notes, "We will highlight the foremost writers representing Latin America and the U.S.: Nobel Prize winner Gabriel García Márquez and Pulitzer Prize winner Nilo Cruz. Our company has already presented three productions by each writer, so it felt like a natural fit for the occasion. And as REPERTORIO's very first play in 1968 was Calderón's LA DAMA DUENDE (The Phantom Lady), it feels appropriate to bring back to the stage the virtually unknown women playwrights of the 17th century, "phantom playwrights," if you will. Through these various works, we honor past traditions and add to the rich tapestry of New York Theater."
---
FALL 2017
Repertorio Español's 50th season begins in October with the U.S. premiere of 17th century Spanish playwright Ana Caro's comedy VALOR, AGRAVIO Y MUJER (Courage, Betrayal and a Woman) with preview performances October 27 prior to a press opening on November 1, then joining the company's rotating repertory until May 10.
A comedy of honor, Caro's play criticizes the social customs of her era, notably the position of women, in a parody of the erotic myth of Don Juan. The play is considered especially remarkable in its uncommon depiction of its heroine Leonor in a storyline whose happy ending finds a woman having solved her own misfortune without the help of a man.
VALOR, AGRAVIO Y MUJER is directed by Leyma López and designed by Leni Méndez. Cuban born, Ms. López has directed REPERTORIO's EL LOCO PER FUERZA, AIRE FRÍO and HIERBA MALA NUNCA MUERE.
Throughout November, Repertorio Español will present a series of readings of five plays written by female Spanish playwrights in the 17th century, in what is considered Spain's Golden Age of Drama.
WINTER 2018
The novel EL CORONEL NO TIENE QUIEN LE ESCRIBA (No One Writes to the Colonel) by legendary Colombian novelist Gabriel García Márquez ("100 Years of Solitude," "Love in the Time of Cholera"), has been adapted for this world-premiere production, with preview performances beginning February 23 prior to press opening February 27, continuing on to join Repertorio Español's rotating rep thereafter. The play has been adapted and will be directed for Repertorio by Jorge Alí Triana, who has previously directed the company's Popular Productions of DOÑA FLOR AND HER TWO HUSBANDS, Mario Vargas Llosa's THE FEAST OF THE GOAT and Gabriel García Márquez's CHRONICLE OF A DEATH FORETOLD.
Written in 1956-57 while Garcia Márquez was living in Paris, EL CORONEL is the story of an impoverished retired colonel, a veteran of Colombia's Thousand Days' War, who still hopes to receive the pension he was promised 15 years earlier. The action is set during the years of martial law, rampant corruption and censorship, known as "La Violencia" in Colombia.
SPRING 2018
Pulitzer Prize-winning playwright Nilo Cruz (ANNA IN THE TROPICS) will debut his newest work EXQUISITA AGONÍA (Exquisite Agony) in this world premiere production at Repertorio Español with previews beginning April 21 prior to its press opening on April 23, joining the company's rotating rep thereafter.
Described by the playwright as a love story that explores a middle-aged woman's obsessive quest to find love with a young man who is transformed by the gift of life when he receives a new heart.
Repertorio Español will observe its golden year on June 5th with a Gala featuring a performance of the contemporary Spanish writer Jordi Galcerán's comedy IL CREDITO, followed by a dinner at I Trulli restaurant.
---
Visit www.repertorio.nyc for performance and ticket information. The box office line for reservations is 212 225 9999.
Founded in 1968 by stage director René Buch and the late producer Gilberto Zaldívar, and joined by Robert Weber Federico in 1971, who now serves as Executive Producer, REPERTORIO has presented an unparalleled body of theater that promotes and divulges the rich heritage of Hispanic theater. Spanish masters like Calderón, Lope De Vega and García Lorca, renowned playwrights from Latin America and the growing body of American writers who capture the Latino experience in the U.S.-from Portland, LA, NYC, Washington DC, Texas, Washington Heights, Denver and Chicago-- are all at home in REPERTORIO's programming. As well, the company has presented acclaimed translations of plays by Edward Albee, Shakespeare, Tennessee Williams, Gioncarlo Menotti and Noel Coward.
Mr. Federico notes that many of the company's most popular plays have been written by women: Gloria González (CAFÉ CON LECHE), Dolores Prida's BOTÁNICA, Carmen Rivera's LA GRINGA (now in repertory for 22 years), along with plays by Caridad Svich, He also notes that the first staged reading of Lin-Manuel Miranda's first Tony-winning musical IN THE HEIGHTS was held at Repertorio Español.
With more than 250 original productions since the company's inception 50 years ago (averaging 5 new shows per season), the company has toured extensively in the U.S. and overseas, earning a host of awards including the Obie, Drama Desk, ACE, HOLA and ENCORE Awards.
Education is instrumental in Repertorio's mission, embodied in its education arm, ¡DIGNIDAD! (dignity and self-esteem) that presents 100 school day performances each year, along with in-school residencies, family workshops and teacher training. Dedicated to the next generation of Latino artists, the company's annual MetLife Nuestras Voces National Playwriting Competition has helped generate new Latino theater since 2000.
The Rockefeller Brothers Fund is Repertorio Español's lead sponsor.
More Hot Stories For You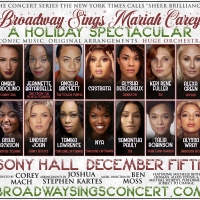 Exclusive: BROADWAY SINGS MARIAH Featuring Jeannette Bayardelle, Amber Ardolino & More to be Livestreamed

November 25, 2022

Broadway Sings's December 5 holiday concert, A Mariah Carey Holiday Spectacular, its first holiday show for the series, will live-stream from Sony Hall. The stream will be available for viewing until Christmas Day.
---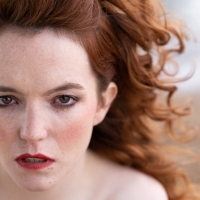 BETSY: WISDOM OF A BRIGHTON WHORE Comes to SoHo Playhouse Next Month

November 25, 2022

'Betsy: Wisdom of a Brighton Whore" is the winner of the prestigious International Fringe Encore Series Award at the Brighton (UK) Fringe 2022.  Launching off-Broadway on 14th December at the SoHo Playhouse in New York, it combines a gripping plot from UK award-winning writer and director Jonathan Brown and a passionate performance from award-winning British actor Isabella McCarthy Sommerville.  
---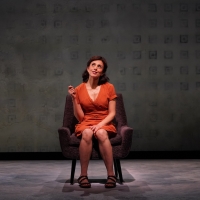 SANDRA Extended for One Week at Vineyard Theatre

November 23, 2022

Vineyard Theatre has announced a one week extension of  Sandra, a one-woman thriller written by David Cale (Harry Clarke), starring Marjan Neshat (English and Selling Kabul) and directed by Leigh Silverman (Harry Clarke).   
---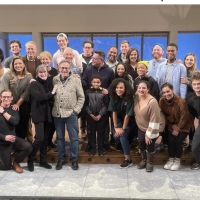 Photos: Original MERRILY WE ROLL ALONG Cast Members Stop By The Off-Broadway Revival

November 22, 2022

Hey old friend! Members of the original Broadway company of Stephen Sondheim and James Lapine's Merrily We Roll Along, stopped by the show's starry Off-Broadway production at New York Theatre Workshop! See photos from their visit!
---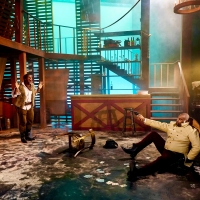 COWBOY, the Story of Bass Reeves, to be Presented Off-Broadway in December

November 22, 2022

Cowboy, the story of Bass Reeves, will debut Off-Broadway this December. Reeves made history by being the first black U.S. Deputy Marshall in America.   This is the first full on western to hit a Broadway or Off-Broadway stage in over 80 years.
---