Urban Stages To Honor Tony And Grammy Award Winner Jim Dale At 2018 Gala Benefit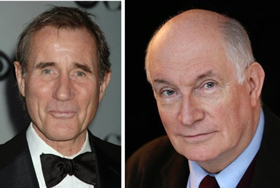 Urban Stages' Board of Directors and founding artistic director Frances Hill will celebrate "The Magic of Theater by presenting the 2017 Lifetime Achievement Award to legendary actor Jim Date at their Gala Benefit. The event will be held at the Boathouse in Central Park at 6:30PM on May 14, 2018. The award will be presented by stage and screen star Simon Jones (Farinelli and the King, The Hitchiker's Guide to the Galaxy).
Mr. Dale is one of the world's great stage entertainers: actor, singer, dancer, author, lyricist, comedian, narrator, raconteur. At the age of seventeen he became the youngest professional comedian on the British Music Hall stage. He joined the British National Theatre at the request of Sir Laurence Olivier. He starred in 28 films including 11 of the British "Carry On" series. His Broadway and Off Broadway triumphs include,
"Scapino", "Barnum" (Tony Award), "Comedians", "Address Unknown", "Me and My Girl", "Joe Egg", "Road to Mecca", "Privates on Parade", "Candide", "The Music Man", "Three Penny Opera", "Travels With My Aunt" and his most recent one man show, "Just Jim Dale" (Drama Desk and Outer Critics Circle Awards). He recorded all seven Harry Potter audio books for the US and Canadian market, creating over two hundred different character voices. For his outstanding narration work he was inducted into the "Audible Hall of Fame" and the "American Publishers Hall of Fame".
The evening will consist of cocktails, gondola rides in scenic Central Park and entertainment by award-winning pianist Matthew Martin Ward and the theater's acclaimed teaching artists. This year, Robbie Gordy from Christies Auction House will serve as auctioneer for Urban Stages' exclusive live-auction, which includes luxury vacations, golf adventures and hard-to-get theatre tickets.
The gala fundraiser will also celebrate the success of the theatre's 2017-2018 season which included the world premiere of celebrated Chinese playwright Zhu Yi's A Deal, the New York premiere of Dogs of Rwanda by Sean Christopher Lewis, and the ninth edition of its award-winning musical theatre/cabaret benefit series, Winter Rhythms. As always, the annual event will benefit Urban Stages' upcoming season of developing and producing new plays and musicals as well as Urban Stages' celebrated Outreach Program, which brings over 25 different programs to libraries and schools in all five boroughs of NYC. The theatre serves thousands of New Yorkers from pre-school to senior adults with its touring programs, along with theater residencies in community centers and schools.
TICKET INFORMATION: General tickets are $425, Patron's tickets are $800, Angel Tickets are $1200. For tickets go online to urbamstages.org or call Urban Stages Office at 212 421-1380
URBAN STAGES (Producer) is an award-winning, not-for-profit, Off-Broadway Theatre Company founded in 1984 by current Artistic Director Frances Hill. For over 30 years, Urban Stages has produced dozens of world, American and NYC premieres including Pulitzer Prize Finalist Bulrusher (2007) by Eisa Davis. We have been honored with awards, nominations and recognition from the Drama Desk, Obie Awards, Audelco, Outer Critics Circle and much more. Our world premiere of the musical Langston In Harlem by Walter Marks (music and book) and Kent Gash (book and direction) garnered a Drama Desk Nomination, a Joe A. Calloway award and 4 Audelco awards including Best Musical Production of 2010. More recently, we've hand critically acclaimed hits with Mabel Madness by Tony-winner Trezana Beverley (2016), Communion by Daniel MacIvor (2016), Angry Young Man by Ben Woolf (2017) which transferred to the John Drew Theatre at Guild Hall in East Hampton and Dogs of Rwanda by Sean Christopher Lewis (2018). Unseamly by Oren Safdie (2015) was a NY Times Critics Pick. Jim Brochu Character Man (2014) was nominated for a Drama Desk and an Outer Critics Circle award for Best Solo performance and Honky (2013) by Greg Kalleres saw a regional run at San Diego Rep and was televised nationally on PBS in late 2015. After production, most plays move on to larger venues. Men on The Verge Of A Hispanic Breakdown by Guillermo Reyes and Minor Demons by Bruce Graham both moved to commercial theatres. Chili Queen, a play by newscaster Jim Lehrer, transferred to the Kennedy Center in Washington, D.C. (1989). My Occasion of Sin (2012) by Monica Bauer won critical acclaim when it moved to Detroit Rep. Bill Bowers has toured the United States and the world with his two Urban Stages premieres blending mime and theatre - Beyond Words (2012) and Under A Montana Moon (2002)! Some Urban Stages premieres have even been developed into film and television projects such as Scar by Murray Mednick, Conversations with The Goddesses by Agapi Stassinopoulos, and Cotton Mary by Alexandra Viets. In addition to plays and musicals, annually we hold a music festival - Winter Rhythms - that features famous and up-and-coming Cabaret, musicians, lyricists and other music artists. In 2016, Winter Rhythms was honored with the Bistro Award for Outstanding Series, and in 2015, it received the Ruth Kurtzman Benefit Series MAC Award from the Manhattan Association of Cabarets and Clubs.