HE BROUGHT HER HEART BACK IN A BOX Premiere and More Set for Theatre For A New Audience's 2017-18 Season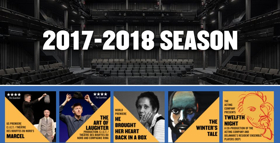 On the heels of winning its second Ross Wetzsteon Award for Sustained Excellence at the 2017 OBIE Awards, Theatre for a New Audience (TFANA; Jeffrey Horowitz, Founding Artistic Director) have just announced its 2017-18 season:
Marcel + The Art of Laughter, a double bill of comic one-acts, featuring Jos Houben and Marcello Magni, two of the theatre's most brilliant clowns, October 27 - November 19, 2017
He Brought Her Heart Back in a Box, a World Premiere by Adrienne Kennedy, one of America's greatest living playwrights, directed by Evan Yionoulis, January 18 - February 11, 2018
The Winter's Tale, Shakespeare's late romance, directed by Arin Arbus, March 11 - April 15, 2018
Twelfth Night, Shakespeare's comedy, a co-production of The Acting Company and Delaware's Resident Ensemble Players (REP), directed by Maria Aitken, May 10-27, 2018.
---
2017-18 Season Productions
Double Bill: A Pair of Comic One-Acts
October 27 - November 19, 2017
C.I.C.T. / Théâtre des Bouffes du Nord
Marcel (U.S. Premiere)
Created by and Featuring Marcello Magni and Jos Houben
The Art of Laughter
Created by and Featuring Jos Houben
Production: C.I.C.T. / Théâtre des Bouffes du Nord and Compagnie Rima
Marcel is a poignant two-hander about the collision of clowning and mortality. Jos Houben and Marcello Magni, who starred in Samuel Beckett's Fragments at TFANA, are comic masters and original members of the famed Theatre de Complicité. In Marcel they play an aging physical comedian and an inscrutable, clipboard-wielding nemesis mysteriously enjoined to test him with a battery of absurd tasks. Slapstick meets the limits of age. Reviewing Marcel in 2016, London's The Guardian gave the production four stars and wrote, "All ages laugh and recognize their own absurdity in the comic antics."
The Art of Laughter is a comedy about comedy-part performance and part masterclass-about what makes audiences laugh. Performing in English, Jos Houben dissects everyday life-a baby's first steps, a man falling in a restaurant, the essence of various cheeses-revealing why laughter is at the core of our humanity. In a four-star review in 2008, The Guardian called The Art of Laughter a show about "how a body can make people laugh."
Marcel, which premiered in 2015 at Théâtre des Bouffes du Nord,and The Art of Laughter, first created by Jos Houben in 2008, have been acclaimed separately. This Theatre for a New Audience presentation is the first time the works are being paired in a double bill.
Jos Houben is a native Belgian. He studied at Jacques Lecoq School and with Philippe Gaulier, Monika Pagneux and Pierre Byland. An original member of Complicité, he co-created and performed in A Minute Too Late and collaborated on many other projects with Annabel Arden, Simon McBurney and Liso Bauer. Houben was a director and co-writer of the cult comedy troupe The Right Size. He has directed for Theater YBY in Salzburg, BPZoom in Paris and Les Flamiches Noires in Belgium. In 2006 he performed with Marcello Magni in Fragments, directed by Peter Brook at Théâtre des Bouffes du Nord and on a world tour, including performances in New York as part of Theatre for a New Audience's 2011-2012 and 2012-2013 seasons. In 2013 he co-created Répertoire by Mauricio Kagel for the Théâtre d'Arras and the Bouffes du Nord. He is a teacher, director, devisor and consultant with comedy troupes, opera companies, circus schools, workshop festivals, dance schools, universities and magicians worldwide. Since 2000 he has been a teacher at Jacques Lecoq School.
Marcello Magni, a native of Bergamo, Italy, is an actor, director and movement director. He studied at DAMS of Bologna University, Jacques Lecoq School, and with Pierre Byland, Philippe Gaulier and Monica Pagneux. A co-founder of Complicité in London he has worked with the company for twenty-four years. He also created a solo show, Arlecchino, with Jos Houben and Kathryn Hunter. Furthermore, Magni performed in The Merchant of Venice, Comedy of Errors, and Pericles at Shakespeare's Globe. In 2006 he performed with Jos Houben in Fragments, directed by Peter Brook at Théâtre des Bouffes du Nord and on a world tour, including performances in New York as part of Theatre for a New Audience's 2011-2012 and 2012-2013 seasons. Magni also performed in The Valley of Astonishment, by Peter Brook and Marie-Hélène Estienne, created at Théâtre des Bouffes du Nord in April 2014 and presented in New York by Theatre for a New Audience that same year. His film credits include Nine, The Adventures of Pinocchio, Doctor Who and Mr. Turner.
He Brought Her Heart Back in a Box (World Premiere)
By Adrienne Kennedy
Directed by Evan Yionoulis
January 18 - February 11, 2018
TFANA presents the world premiere of Adrienne Kennedy's first new play in nine years, He Brought Her Heart Back in a Box, January 18 - February 11, 2018. This heartbreaking new work follows TFANA's 2007 Off-Broadway premiere of Kennedy's Ohio State Murders, starring LisaGay Hamilton and directed by Evan Yionoulis. The New York Times acclaimed it as one of the "top ten productions of 2007," saying Ms. Kennedy is "one of the finest living American Playwrights, and perhaps the most underappreciated." For her performance, LisaGay Hamilton won an Obie Award and received a Lucille Lortel Awardnomination forOutstanding Lead Actress. The production won the Lucille Lortel Award for Outstanding Revival of a Play. He Brought Her Heart Back in a Boxreunites Ms. Kennedy and Ms. Yionoulis.
Set in Montezuma, Georgia, and New York City in 1941, this new work by one of America's greatest living dramatists is a heartbreaking and nail-biting memory tale of segregation, theatrical yearning, and doomed love. The action, driven by lyrical parallel monologues and a chilling tour through a storeroom of charged images, braids together the indignities of Jim Crow, rising Nazism, sexual hypocrisy, Christopher Marlowe, and the lingering shadow of a terrible crime.
Adrienne Kennedy is the doyenne of African-American drama and one of America's most celebrated dramatic innovators. She has been a force in American theatre since the early 1960s. Kennedy is a three-time OBIE Award-winner, including honors for Funnyhouse of a Negro in 1964, June and Jean in Concert in 1996 and Sleep Deprivation Chamber, which she co-authored with her son Adam Kennedy. Among her honors are the American Academy of Arts and Letters award, a Guggenheim Fellowship, an Anisfield-Wolf Lifetime Achievement Award in 2003 and a Modern Language Association Honorary Fellowship in 2005. She has been a visiting professor at the University of California at Berkeley and at Harvard University, among others, and has been commissioned by The Public, the Royal Court, Juilliard and by Jerome Robbins. Signature Theatre devoted its entire 1995-96 Season to her work. Her memoir People Who Led to My Plays was recently reissued by Theatre Communications Group.
Evan Yionoulis has directed new plays and classics in New York, across the country, and internationally, including Richard Greenberg's The Violet Hour (Broadway), Three Days of Rain (OBIE Award for Direction, Manhattan Theatre Club), and Everett Beekin (Lincoln Center Theater), as well as Adrienne Kennedy's Ohio State Murders (Lortel Award for Best Revival, Theatre for a New Audience). Regionally, she has directed at South Coast Repertory, Mark Taper Forum, Dallas Theater Center, the Huntington, Williamstown, and many others. She is a resident director at Yale Repertory Theatre, where her credits include Cymbeline, Richard II, The Master Builder, Galileo, Caryl Churchill's Owners,and The King Stag. She is a Princess Grace Foundation Awards recipient.
The Winter's Tale
By William Shakespeare
Directed by Arin Arbus
March 11 - April 15, 2018
Since its founding in 1979, Theatre for a New Audience has previously produced 30 of Shakespeare's 37 plays. This production of The Winter's Tale is the first time TFANA will be producing the play and the first time Ms. Arbus will be directing it.
Last season for TFANA, Arin Arbus "triumphantly reestablished The Skin of Our Teeth as one of the finest American plays of the 20th century," (The Wall Street Journal) and won a 2017 OBIE for her direction.
In her productions for TFANA of Othello, King Lear, Ibsen's A Doll's House and Strindberg's The Father, Ms. Arbus brilliantly explored marriage, jealousy, and family. Shakespeare's The Winter's Tale, a haunting late romance, half-tragedy and half-comedy, explores some of these same themes. A tyrant's accusations of infidelity, a shattered family and marriage, miraculous rescue of children, a thief so clever we take his side, Time personified, a statue magically sprung to life, and, not to forget, a ferocious bear: only Shakespearecould make a story as fantastically eventful and improbable into cohesive, soul-stirring drama.
Arin Arbus, Resident Director at Theatre for a New Audience, directed the 2017 production of The Skin of Our Teeth (OBIE Award, Directing),and, in previous seasons, repertory productions of A Doll's House and The Father, King Lear, Much Ado About Nothing, The Taming of the Shrew, Macbeth, Measure for Measure,and Othello. She staged La Traviata for The Canadian Opera Company and The Lyric Opera of Chicago as well as Britten's The Rape of Lucretia at Houston Grand Opera. She was a Drama League Directing Fellow, a Princess Grace Award recipient and spent several years making theatre with prisoners at Woodbourne Correctional Facility in association with Rehabilitation Through the Arts. For her staging of Othello (2009), which was also her Off Broadway debut, The New York Times named Ms. Arbus "the most gifted new director to emerge [that] year."
The Acting Company Presents
Twelfth Night
By William Shakespeare
Directed by Maria Aitken
A Co-Production of The Acting Company and Delaware's Resident Ensemble Players (REP)
May 10-27, 2018
"If music be the food of love, play on!" This beloved comedy is an engaging mixture of mischief, unrequited love and gender confusion-all interwoven with music and some of Shakespeare's most beautiful language. Shipwrecked in the alluring country of Illyria, twins Viola and Sebastian each believe the other dead and embark on parallel adventures of mistaken identity and self-discovery.
The Acting Company, 2003 Tony Award for Excellence in Theater, comes to Polonsky Shakespeare Center for the first time, along with Delaware's acclaimed Resident Ensemble Players, to present a new production of Shakespeare's Twelfth Night. Maria Aitken, perhaps best known for The 39 Steps-which received six Tony nominations, including one for her as director, and won an Olivier Award for Best Comedy in 2007-helms this production.
Maria Aitken directed the Olivier and Tony Award-winning production of Alfred Hitchcock's The 39 Steps and the Tony Award-nominated Man and Boy (West End and Broadway). Other directing credits include Lady Bracknell's Confinement (Vineyard Theatre); As You Like It (Shakespeare Theatre); Bedroom Farce, The Seagull, The Cocktail Hour, Betrayal, Private Lives, and Educating Rita at the Huntington; Heartbreak House (The Resident Ensemble Players); The Cocktail Hour (Guthrie); The Gift (Geffen Playhouse/Melbourne Theatre, Australia) and Quartermaine's Terms (Williamstown Theatre Festival). As an actress at the Royal Shakespeare Company, National Theatre, and in the West End, work included roles in Hay Fever, Blithe Spirit, Bedroom Farce, Travesties, Waste, Private Lives, and The Vortex, among others. Film credits include A Fish Called Wanda (BAFTA nomination). Ms. Aitken is a visiting teacher at the British American Drama Academy, The Juilliard School, Yale School of Drama, New York University, The Actors Center in New York and the Academy for Classical Acting. Books: A Girdle Round the Earth and Style: Acting in High Comedy. Trustee, Noël Coward Foundation.
Founded in 1972 by John Houseman and Margot Harley, the Tony-honored Acting Company (Ian Belknap, Artistic Director; Elisa Spencer-Kaplan, Executive Director) is "the major touring classical theater in the United States" (The New York Times) and the only professional repertory company dedicated to the development of classical actors. The Company has reached four million people in 48 states with its productions and education programs, and has helped to launch the careers of some 400 actors, including Kevin Kline, Patti LuPone, Rainn Wilson, Jesse L. Martin, Frances Conroy, David Ogden Stiers, Harriet Harris, David Schramm, Jeffrey Wright, and Hamish Linklater. Over a dozen commissioned works include plays by Lynn Nottage, Tony Kushner, John Guare, David Mamet, Beth Henley, Marcus Gardley, and Rebecca Gilman. www.theactingcompany.org
The Resident Ensemble Players (REP) is a professional theatre company located on the campus of the University of Delaware. REP productions celebrate and demonstrate the range and breadth of a full-time resident ensemble of nationally respected actors. REP productions are directed by Artistic Director Sanford Robbins and nationally known guests like Mark Lamos, Maria Aitken, Ethan McSweeney, Adrian Hall, Gregory Boyd, John Langs, Ed Stern, Joe Hanreddy, Jade King Carroll, Kate Buckley, and J.R. Sullivan. REP designers include nationally known artists Eugene Lee, Neil Patel, Alexander Dodge, Fabio Toblini, Candace Donnelly, Philip Rosenberg, and Lindsay Jones. www.rep.udel.edu
---
Season subscriptions-with benefits including priority booking, free exchange privileges, discounted guest tickets, discounts at Food & Drink and the Book Kiosk in the Polonsky Shakespeare Center lobby, and more-are available online at tfana.org/season; by phone at 212.229.2819 x10; and in person at the box office.
There are three subscription options:
Three Plays ($174): one ticket each to The Winter's Tale and two other 2017-2018 season productions of the purchaser's choosing. $58 per play; savings of up to 39%, plus exclusive benefits.
Four Plays ($220): one ticket to each of the four productions in TFANA's 2017-2018 season. $55 per play; savings of up to 42%, plus exclusive benefits.
Flex Pass ($240): a four-ticket package for just $60 per ticket. These tickets may be used in any combination, for any of the plays in the 2017-2018 season. Savings of up to 37%, plus exclusive benefits.
Single tickets for Marcel + The Art of Laughter will go on sale to the general public in September.
All sales are final. No refunds. All packages subject to a $10 handling and facilities fee. All productions, artists and dates are subject to change.
Polonsky Shakespeare Center is located at 262 Ashland Place, Brooklyn, NY 11217.
Founded in 1979 by Jeffrey Horowitz, Theatre for a New Audience (TFANA) is a modern classic theatre. It produces Shakespeare alongside other major authors from the world repertoire, such as Harley Granville Barker, Edward Bond, Adrienne Kennedy, Richard Nelson, Wallace Shawn and Branden Jacobs-Jenkins. TFANA has played Off- and on Broadway and toured nationally and internationally.
In 2001, Theatre for a New Audience became the first American theatre invited to bring a production of Shakespeare to the Royal Shakespeare Company (RSC), Stratford-upon-Avon. Cymbeline, directed by Bartlett Sher, premiered at the RSC; in 2007, TFANA was invited to return to the RSC with The Merchant of Venice, directed by Darko Tresnjak and starring F. Murray Abraham. In 2011, Mr. Abraham reprised his role as Shylock for a national tour.
After 34 years of being itinerant and playing mostly in Manhattan, Theatre for a New Audience moved to Brooklyn and opened its first permanent home, Polonsky Shakespeare Center, in October 2013. Built by The City of New York in partnership with Theatre for a New Audience, and located in the Brooklyn Cultural District, Polonsky Shakespeare Center was designed by Hugh Hardy and H3 Hardy Collaboration Architecture with theatre consultants Akustiks, Milton Glaser, Jean-Guy Lecat, and Theatre Projects. Housed inside the building are the Samuel H. Scripps Mainstage (299 seats)-the first stage built for Shakespeare and classical drama in New York City since Lincoln Center's 1965 Vivian Beaumont-and the Theodore C. Rogers Studio (50 seats).
TFANA's productions have been honored with Tony, Obie, Drama Desk, Drama League, Callaway, Lortel and Audelco awards and nominations and reach an audience diverse in age, economics and cultural background.
Theatre for a New Audience created and runs the largest in-depth program in The New York City Public Schools to introduce students to Shakespeare, and has served nearly 129,000 students since the program began in 1984. TFANA's New Deal ticket program is one of the lowest reserved ticket prices for youth in the city: $20 for any show, any time for those 30 years old and under or for full-time students of any age.