The SoHo Playhouse Presents INESCAPABLE In Fringe Encore Series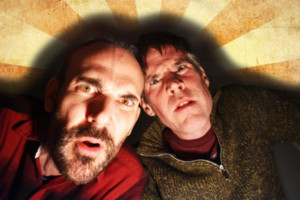 After seeing it at the Toronto Fringe, the SoHo Playhouse has invited the two-man play Inescapable to make its Off-Broadway debut as part of The Fringe Encore Series. This series presents the "best-of" productions from fringe festivals across the globe.
Like an episode of The Twilight Zone as written by Samuel Beckett and played by life-long buddies confronting middle age, Inescapable delights and mystifies as its Escher-like story comes into startling focus. With rapid-fire comedic dialogue and a uniquely mind-bending plot, this fast-moving play toys with our sense of time and identity. On its surface, the plot seems simple: two old friends find themselves trapped at an annual holiday party. But it soon becomes apparent that everything is not as it seems, as secrets and betrayals are exposed just as quickly as the duo's inability to remember them. To reveal anything more would ruin the fun.
Winner:
Best Script: Orlando Fringe
Best-of-Fest: Minnesota Fringe
Outstanding New Play: Now Magazine, Toronto Fringe
Best-of-Fest: Orlando Sentinel and Orlando Weekly, Orlando Fringe
Martin Dockery (writer & performer, and Brooklyn native) and Jon Paterson (performer, and native to Nova Scotia) have been touring the fringe circuit full-time for ten and twenty years respectively. Well-known at festivals for their solo work, this has been their first collaboration. Directed by Vanessa Quesnelle, she and Dockery also recently collaborated in an entirely different way with the birth of a baby girl. Quesnelle and Dockery met at a fringe festival in London, ON, in 2010, and have been touring together ever since. Inescapable is the fifth play they've created together via their theater company Concrete Drops Theatre.
For more info: MartinDockery.com.
Inescapable
Written by: Martin Dockery
Directed by: Vanessa Quesnelle
Starring: Jon Paterson & Martin Dockery
Where:
The SoHo Playhouse, 15 Vandam St., New York, NY
Dates:
Tue, Nov 20 @ 7:00
Sat, Nov 24 @ 7:00
Sun, Nov 25 @ 7:00
Tue, Nov 27 @ 7:00
Wed, Nov 28 @ 7:00
Thu, Nov 29 @ 7:00
Fri, Nov 30 @ 7:00
Tickets: $39 at door or online: www.sohoplayhouse.com
Phone: (212) 691-1555