THE OFFICE! A MUSICAL PARODY Celebrates 100 Performances And Shatters All Box Office Records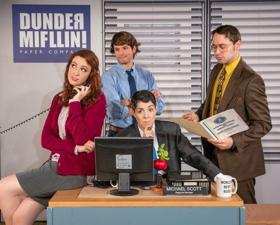 Produced by Right Angle Entertainment, The Office! A Musical Parody has made its claim as one of the most successful shows currently running Off-Broadway. The new musical reached 130% gross potential Christmas week and shattered all Theater Center box office records in a single week by taking in nearly double that of any previous show, including the 11-year run of The Fantasticks.
The Office! A Musical Parody celebrated its 100th Performance on Saturday, December 29, 2018.
The Office! A Musical Parody, which Mashable calls a boisterous, rejuvenating escape from reality that'll fill the void in your heart, is a hilariously loving lampoon of the beloved television series and features a book and lyrics by Bob and Tobly McSmith and music by Assaf Gleizner. Tegan Miller serves as Music Director.
The Office! A Musical Parody highlights a typical day at Scranton's third largest paper company, Dunder Mifflin. For no logical reason, a documentary crew begins filming the lives of the employees in an immersive parody experience where audiences "work" with all their favorite officemates.
Directed and choreographed by Donald Garverick, the cast of The Office! A Musical Parody features Sarah Mackenzie Baron as Michael Scott, Michael Santora as Dwight Schrute, Tom McGovern as Jim & Andy, Taylor Coriell as Pam & Erin, Katie Johantgen as Angela & Others, Megan Carver as Phyllis, Meredith, and Others, Brittneyann Accetta as Kelly & Others, and Kevin Bruce Harris as Stanley & Others.
Tickets for The Office! are $35 - $77 and are available in person at The Jerry Orbach Theatre box office, via TicketMaster.com, or TheOfficeMusicalParody.com. The 2019 performance schedule will be as follows, Mondays at 7 PM, Fridays at 7:30 PM, Saturdays at 2 PM and 8 PM and Sundays at 3 PM.
The design team of The Office! A Musical Parody includes scenic designer Josh Iacovelli, lighting designer Alex Stevens, sound designer Matthew Fischer, and costume designer Dustin Cross.
For more information, please visit: www.theofficemusicalparody.com