Photos: The Big Voice Vday Commitment Ceremony
An interfaith commitment ceremony hosted by the Actors Temple, The Actors Temple Theatre, and the hit off-Broadway musical, The Big Voice: God or Merman? took place place on February 14th at 8pm at The Actors Temple Theater (339 W. 47th Street) in honor of  V-day and in honor of love.
 
"Dozens of same sex couples will proudly celebrate their commitment to each other in a public demonstration of their devotion, loyalty and love after the 8pm performance of The Big Voice onstage at the theater. February 11th through 17th is Freedom to Marry Week in the United States," stated press materials.
 
Written by and starring Jim Brochu and Steve Schalchlin, (The Last Session), The Big Voice  "hilariously proves that showbiz is as much a calling as the priesthood. This high energy, razzle-dazzle show chronicles the lives of a Baptist from Arkansas and a Catholic from Brooklyn who find eternal salvation in the temple of musical theatre.  The Big Voice traces Jim and Steve's meeting aboard a ship in the Atlantic Ocean, Steve's struggle with AIDS, the production of their hit off-Broadway musical The Last Session, their separation and their reconciliation. It's a comedy about a 'gay marriage' between two men created by the couple themselves."
 
For tickets more information, please visit: www.TheBigVoice.com.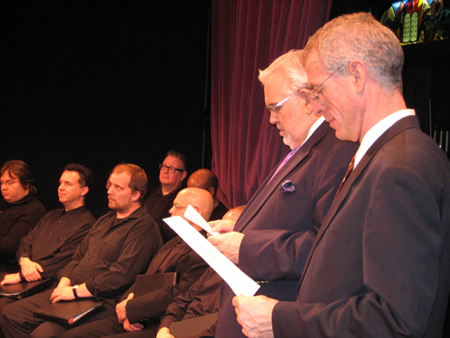 Jim Brochu and Steve Schalchlin with NYC Gay Men's Chorus

NYC Gay Men's Chorus led by Casey J. Hayes

Steve Schalchlin and Jim Brochu

Jim Brochu and Steve Schalchlin (center) with members of the NYC Gay Men's Chorus