Click Here for More Articles on SHAKESPEARE SPOTLIGHT
Photo Flash: Kathryn Hunter, Julie Taymor, Jonathan Cake and More Attend Theatre for a New Audience's Shakespeare Gala
Acclaimed classical actor Kathryn Hunter received the Samuel H. Scripps Award for Extraordinary Commitment to Promoting the Power of Language in Classical and Contemporary Theatre at Theatre for a New Audience's Spring Gala Celebrating Shakespeare's 452nd Birthday, last night at Capitale on the Lower East Side. Scroll down for photos from the event!
The Samuel H. Scripps Award was presented by Tony and Oscar Award-winning director Julie Taymor to internationally renowned, award-winning actor Kathryn Hunter.
Arts patrons Elayne P. Bernstein (1924-2011) and Sol Schwartz (1931-2015) were posthumously awarded the Theatre's Life in Art Award, which honors an individual, foundation or corporation for their impact on the arts as a philanthropic leader. Acclaimed classical actor
John Douglas
Thompson, who begins previews April 30 of two Theatre for a New Audience plays presented in rotating repertory, A Doll's House and The Father, presented the award. Notable guests included actors
Christian Camargo
,
Maggie Lacey
,
Michael Shannon
,
Sigourney Weaver
,
Raphael Nash Thompson
, Zach Infante,
Tina Benko
, and
Jeremy Shamos
and director
Arin Arbus
.
The evening's Master of Ceremonies was Jonathan Cake, an award-winning actor, most recently seen at Theatre for a New Audience in the role of Benedick in the 2013 production of Shakespeare's Much Ado About Nothing, directed by Arin Arbus and featuring Maggie Siff, for which he received the 2013 Joe A. Callaway Award for Best Performance in a Classical Play by an Actor from Actors' Equity.
Established in 2005, the Samuel H. Scripps Award is a sculpture of Shakespeare designed by world-renowned artist and graphic designer
Milton Glaser
. Prior recipients include
John Douglas
Thompson, F.
Murray Abraham
,
John Turturro
,
Julie Taymor
and
Elliot Goldenthal
,
Mark Rylance
,
Cicely Berry
, C.B.E.,
Michael Boyd
,
Tony Kushner
,
Wallace Shawn
,
Robert Woodruff
and
Robert Neff
Williams.
Jeffrey Horowitz
, Founding Artistic Director of Theatre for a New Audience, explained, "Samuel H. Scripps, a member of our Board, enabled this Theatre to bring Shakespeare to hundreds of thousands of New Yorkers. It is an honor to present this award to
Kathryn Hunter
, one of the finest theatre artists I've ever known." Theatre for a New Audience's Life in Art Award honors an individual, company or foundation whose support for theatre has set the standard for leadership and generosity, and whose example has inspired others to ensure that theatre remains a vibrant part of our cultural life. The award, a signed giclée print by
Milton Glaser
, is named after the autobiography of the great theatre artist, Constantin Stanislavski. "Elayne and Sol's shared love of theatre and their passionate belief in our productions, as well as in their support of the Theatre's education programs that make Shakespeare accessible to people of all backgrounds, has been an example at all of the institutions from Florida to the Berkshires that they have so generously supported," said Mr. Horowitz. "We couldn't be more honored that after Elayne's passing, Sol and her family endowed an education fund at the Theatre in her memory." The Gala Chairs for the evening were Theatre for a New Audience Board Members Kathleen Walsh and Philip Rotner and his wife, Janet Rotner. The Gala corporate Lead Sponsor was Deloitte LLP. The Hearst Corporation and Kramer Levin Naftalis & Frankel LLP were Co-Sponsors.
The evening began at 6:30 pm with a cocktail reception and silent auction and continued at 7:30 pm with a seated dinner and the presentations of the Samuel H. Scripps Award and the Life in Art Award.
The evening included a live auction of unique donated items conducted by Nicholas D. Lowry, President and Principal Auctioneer, Swann Auction Galleries. As one of the world's foremost authorities on vintage posters, Nicholas has spent nearly 20 years serving as poster appraiser on the PBS television show "Antiques Roadshow," and regularly appears on the program. Live music was provided by the National Jazz Museum in Harlem All-Stars, led by
Bryan Carter
, a graduate of The Juilliard School who has played and recorded with many notable artists including
Clark Terry
, McCoy Tyner,
Wynton Marsalis
,
Branford Marsalis
, Mulgrew Miller, Jon Faddis,
Ted Nash
, Terell Stafford,
Bobby Watson
,
Lew Tabackin
, Kenny Barron,
Cyrus Chestnut
,
Michael Feinstein
and
Kurt Elling
.
Photo Credit: Gerry Goodstein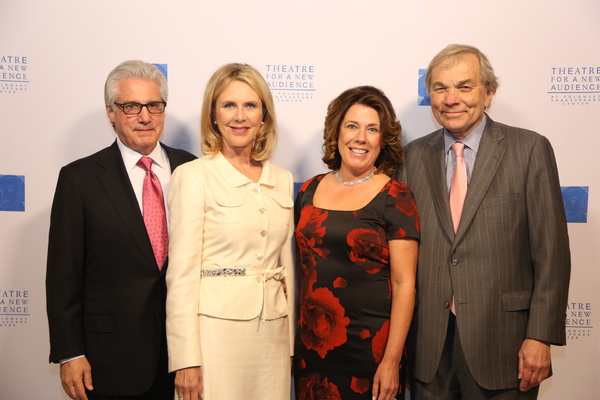 Gala Co-Chairs Philip and Janet Rotner, Gala Co-Chair Kathleen Walsh, Board Chairman Henry Christensen III

Gene Bernstein and Gala Co-Chair Kathleen Walsh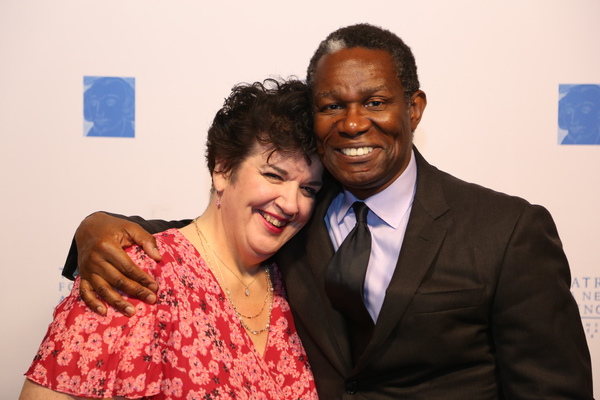 Managing Director Dorothy Ryan and John Douglas Thompson

David Schwartz, Risa Schwartz, and John Douglas Thompson

Julie Taymor and Scripps Award honoree Kathryn Hunter

Gala Emcee Jonathan Cake, Julie Taymor, Scripps Award honoree Kathryn Hunter and John Douglas Thompson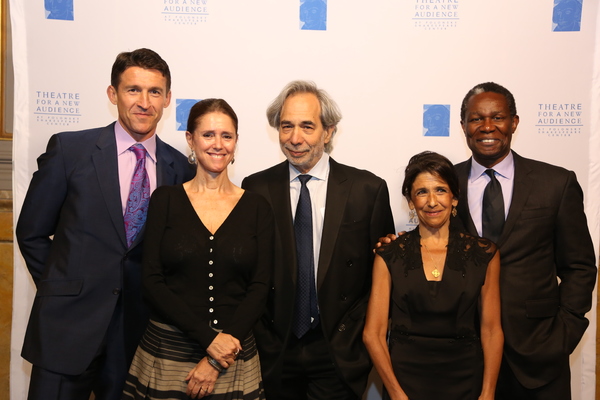 Gala Emcee Jonathan Cake, Julie Taymor, Founding Artistic Director Jeffrey Horowitz, Scripps Award honoree Kathryn Hunter and John Douglas Thompson

Founding Artistic Director Jeffrey Horowitz, Gala Co-Chairs Philip and Janet Rotner, and Board Chairman Henry Christensen III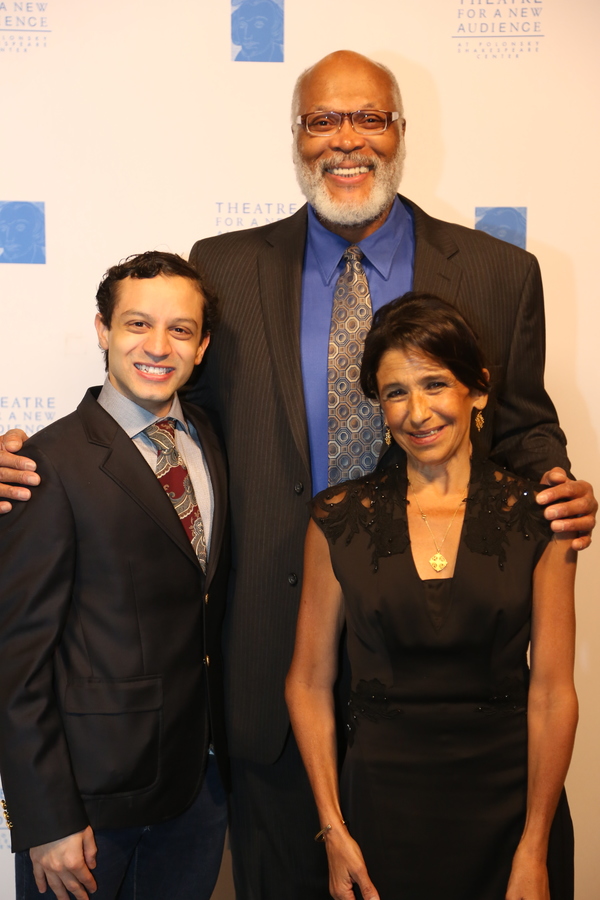 Zachary Infante, Raphael Nash Thompson and Scripps Award honoree Kathryn Hunter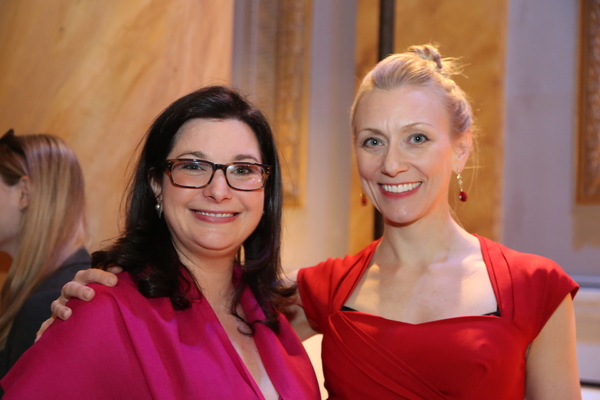 Director of Development Whitney Estrin and Tina Benko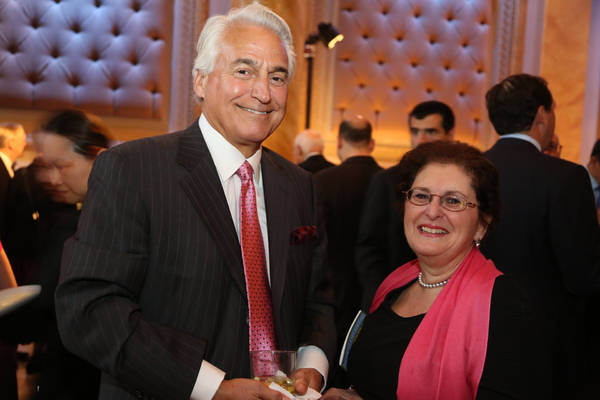 Gene Bernstein and Sallie Kraus

Monica Gerard-Sharp Wambold, William Lloyd, Sigourney Weaver, Greg and Paula Powell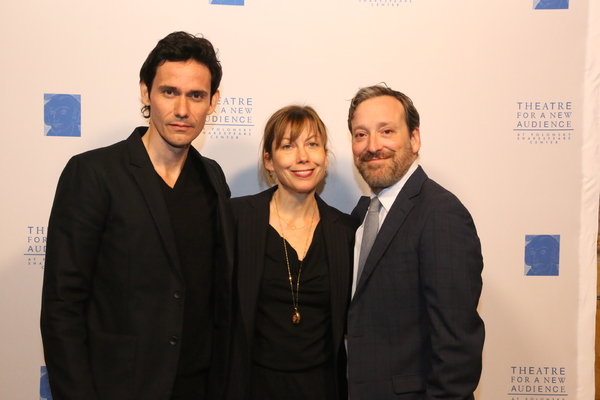 Christian Camargo, Nina Hellman and Jeremy Shamos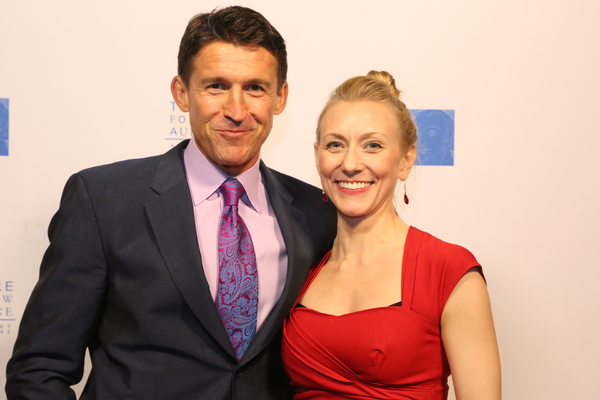 Emcee Jonathan Cake and Tina Benko

Zachary Infante and Danielle Davenport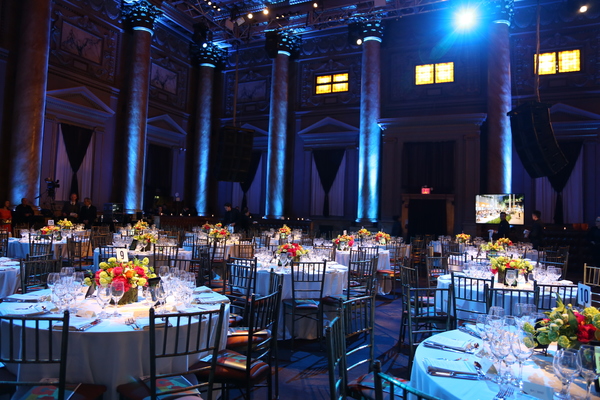 Capitale set up for the April 25th Theatre for a New Audience Annual Spring Gala Celebrating Shakespeare's Birthday

Principal Karen Feuer of PS 110 in Manhattan

Emcee Jonathan Cake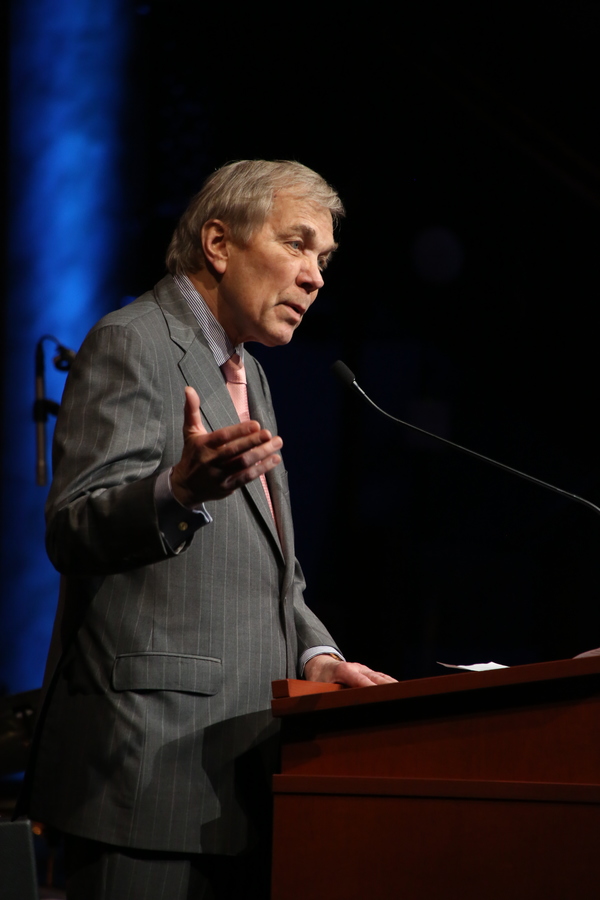 Chairman of the Board Henry Christensen III welcome the guests to TFANA's Annual Spring Gala Celebrating Shakespeare's Birthday

Gala Co-Chairs Janet and Philip Rotner and Gala Co-Chair Kathleen Walsh welcome the guests to TFANA's Annual Spring Gala Celebrating Shakespeare's Birthday

Emcee Jonathan Cake

Samuel H. Scripps Honoree Kathryn Hunter

Scripps Award honoree Kathryn Hunter and Julie Taymor

Scripps Award honoree Kathryn Hunter and Julie Taymor

Founding Artistic Director Jeffrey Horowitz, Scripps Award honoree Kathryn Hunter, Julie Taymor, and emcee Jonathan Cake lead the toast to Shakespeare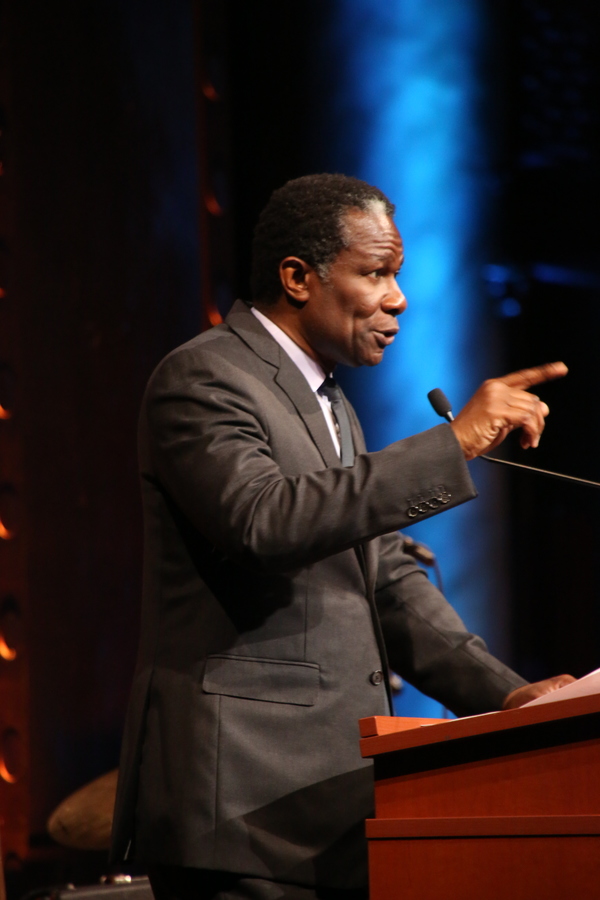 John Douglas Thompson presenting the Life in Art Award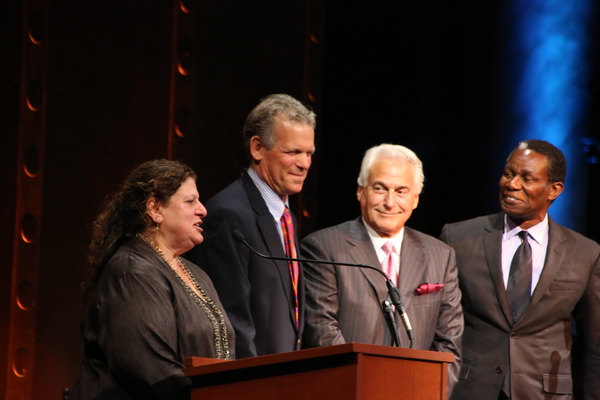 Risa Schwartz, David Schwartz and Gene Bernstein accepting the Life in Art Award on behalf of their late parents, Elayne Bernstein and Sol Schwartz, presented by John Douglas Thompson

Founding Artistic Director Jeffrey Horowitz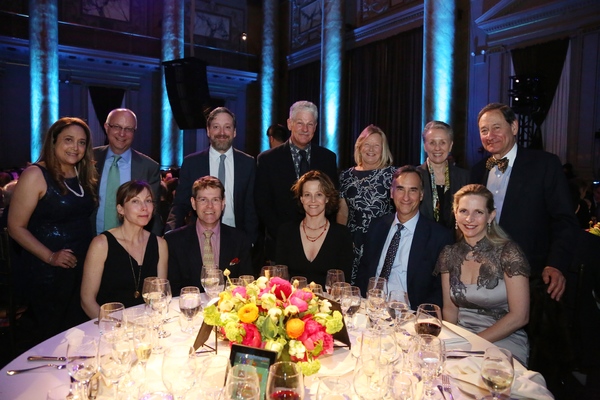 (standing) Paula and Greg Powell, Jeremy Shamos, Jim Simpson, Monica Gerard-Sharp Wambold, Mary Voce and Stephen Gardiner; (seated) Nina Hellman, Jonathan Barton, Sigourney Weaver, Ali E. Wambold, Amanda Foreman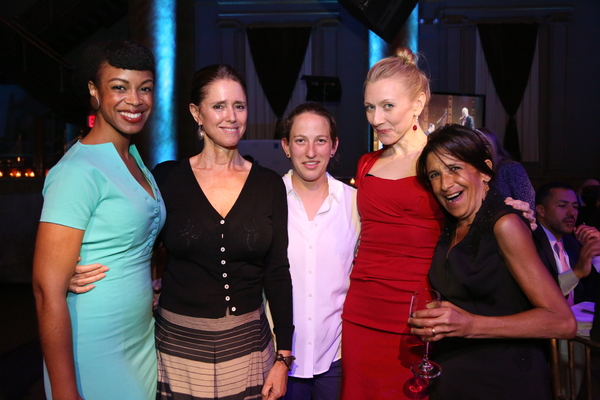 Mandi Masden, Julie Taymor, Sarah Shaw, Tina Benko and Scipps Honoree Kathryn Hunter

Connie Christensen, Ahrin Mishan, Mary Kelberg, John Douglas Thompson and Barbara More; (standing) Ligaya Mishan, Howard Kelberg, Richard Moore, Maggie Lacey and Board Chairman Henry Christensen III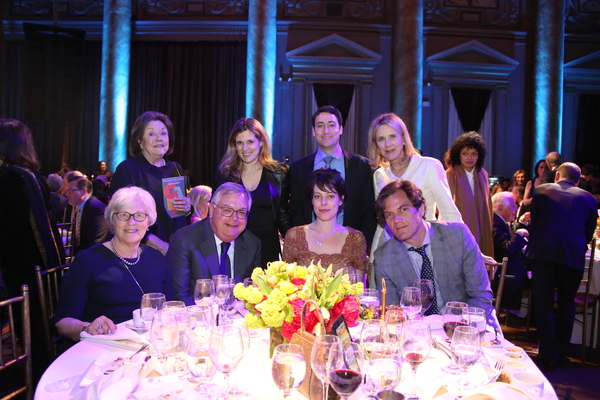 (seated) Diane and Bill Lloyd, Associate Artistic Director Arin Arbus, Michael Shannon; (standing) Ann Kolb, Leslie Saliba and Assaad Nasr and Gala Co-Chair Janet Rotner