Photo Flash: First Look at Soho Rep's BORN BAD
Soho Rep announces staged readings of four new plays by contemporary Black-British Playwrights to run in conjunction with the U.S. Première of debbie tucker green's BORN BAD, set to open at Soho Rep on April 7, 2011.
Soho Rep's Literary and Humanities program: FEED and the Martin E. Segal Theatre Center at CUNY co-present a festival of Contemporary Black-British Play Readings - curated and produced by Soho Rep Literary and Humanities Manager Raphael Martin - with works by British playwrights Bola Agbaje, Roy Williams, Winsome Pinnock and Kwame Kwei-Mrmah and directed by American directors Kamilah Forbes, Christian Parker, Seret Scott and Oskar Eustis. The festival of contemporary Black-British plays is set to run in conjunction with Soho Rep's U.S. premiere of debbie tucker green's BORN BAD, which begins previews on March 31 and opens on April 7 at Soho Rep (46 Walker Street) in Manhattan.
On Wednesday, April 6 at the CUNY Graduate Center (365 Fifth Avenue @ 34th Street), with a free-open-to-the-pubic reading of Bola Agbaje's GONE TOO FAR! directed by Kamilah Forbes (Artistic Director of Hip-Hop Theatre Junction) from 4:00pm to 6:00pm, followed by a Q&A session with Ms. Agbaje and The Royal Court Theatre's Head of Diversity - Ola Animashawun. Also on Wednesday, April 6 again at the CUNY Graduate Center from 6:30pm to 8:30pm will be a free and open reading of Roy Williams' FALLOUT directed by Christian Parker (Associate Artistic Director of the Atlantic Theater Company), followed by a reception for the audience.
On Saturday, April 9 at Soho Rep (46 Walker Street) will be a free and open reading of Winsome Pinnock's MULES directed by Seret Scott from 1:30pm to 3:30pm. Also on Saturday, April 9 at Soho Rep with a free and open reading, will be Kwame Kwei-Armah's ELMINA'S KITCHEN directed by Oskar Eustis (Artistic Director of The Public Theater) from 4:00pm to 6:00pm, followed by a Q&A with Mr. Kwei-Armah and The Royal Court Theatre Head of Diversity Ola Animashawun.
Bola Agbaje is an award winning playwright and screenwriter. His works have been presented at The Royal Court Theatre, Tricycle Theatre and Albany Theatre to name a few. Ms. Agbaje was awarded the 2008 Outstanding achievement in an Affiliated Theatre Laurence Olivier Award for her first play GONE TOO FAR! Other awards include the Women of the Future Award in the Arts and Culture category at Women of the Future Award in association with Shell; Best Playwright at the African Film Awards and the Red Magazine Red's Hot Women to watch in the Red's Hot Women Awards.
When it debuted at The Hampstead Theatre in London in 2003, The Telegraph called BORN BAD "a dynamite-blast," The Guardian called BORN BAD "exquisitely torturous," and that "[BORN BAD] displays Green's ability to bend language," and The Independent said that "Tucker Green's work is already making its mark."
The stellar cast of BORN BAD features Crystal A. Dickinson (RUINED, CLYBOURNE PARK), Heather Alicia Simms (GEM OF THE OCEAN, A RASIN IN THE SUN), LeRoy McClain (CYMBELINE, THE HISTORY BOYS), Obie Award-winner Quincy Tyler Bernstine (RUINED, IN THE NEXT ROOM), Michael Rogers (JOE TURNER'S COME AND GONE, BREAKFAST WITH MUGABE), and Elaine R. Graham (Julie Taymor's "Across the Universe," PLAYBOY OF THE WEST INDIES).
Design team for BORN BAD is Michael Chybowski (Lighting Designer), Mimi Lien (Set Designer), Paul Tazewell (Costume Designer) and Matt Sherwin (Sound Designer/Original Music).
Now in its 34th year, Soho Rep's 2010-11 season is the fourth under the leadership of Artistic Director, Sarah Benson, and the third for Executive Director, Tania Camargo. Soho Rep is dedicated to cultivating and producing visionary, uncompromising, and exuberant new plays. They perform to one of the youngest adult audiences in New York City, with over three-quarters of its audience aged 18-40.
Critics continue to herald Soho Rep as the go-to theatre destination for new and original works. New York Magazine states, "this indispensable theater offers more excitement per chair than any space in town," Time Out New York says, "Soho Rep is the best theater in NYC (official)," Variety exclaims "[Soho Rep] has claimed an increasingly vital spot...the venue has suddenly become one to watch for Manhattan theatergoers starved for new work," and the New York Times declares Soho Rep to be "one of the most daring companies."
Dan Le Franc was recently awarded the New York Times Outstanding Playwright Award for the Soho Rep production of his play SIXTY MILES TO SILVER LAKE in 2009. Over the last decade, Soho Rep productions have garnered eleven OBIE Awards -- most recently for Sarah Benson (director) and Louisa Thompson (set designer) for the critically acclaimed New York premiere of Sarah Kane's BLASTED; six Drama Desk nominations, two for BLASTED (Outstanding Director of a Play - Sarah Benson and Outstanding Actor in a Play - Reed Birney) and four for their critically acclaimed production of FRANKENSTEIN, the Oppenheimer Award for EVERYTHING WILL BE DIFFERENT, and two Kesselring Awards for Melissa James Gibson and Mark Schultz. In recent years, Soho Rep has presented plays by established and emerging theatre artists such as Richard Maxwell, Mac Wellman, Dan LeFranc, Nature Theater of Oklahoma, Young Jean Lee and The Flying Machine.
For additional information about Soho Rep events, call 212-941-8632 or visit www.sohorep.org
Photo Credit: Carol Rosegg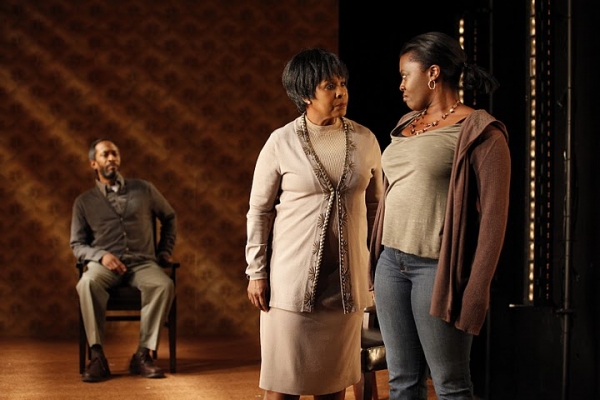 Michael Rogers, Elaine R. Graham and Heather Alicia Simms

Heather Alicia Simms, Michael Rogers, Crystal A. Dickinson and Quincy Tyler Bernstine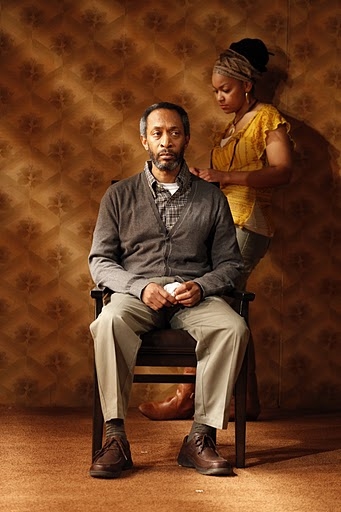 Michael Rogers and Crystal A. Dickinson

Elaine R. Graham, Michael Rogers, Heather Alicia Simms (seated on floor), and Crystal A. Dickinson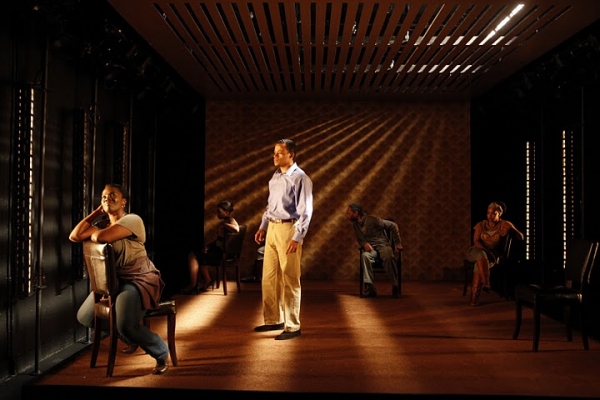 Heather Alicia Simms, Quincy Tyler Bernstine (background), LeRoy McClain, Michael Rogers (background), and Crystal A. Dickinson

LeRoy McClain, Elaine R. Graham, Michael Rogers, Heather Alicia Simms (seated on floor), and Crystal A. Dickinson