Photo Flash: First Look - RE-GIFT OF THE MAGI, Now Playing at the Chain Theatre
RE-GIFT OF THE MAGI, a new play by Janet Hopf, is set to officially open this Thursday, December 12th at The Chain Theatre. Under the direction of Greg Cicchino, the cast of RE-GIFT OF THE MAGI features Steven Bidwell("Fatal Encounters," Urinetown), Kirk Gostkowski (Leave Me Behind, The Shape of Things), Nicholas Alexiy Moran(The Nanny Diaries; Almost, Maine), Patrick Pizzolorusso ("A World of Her PWN," The Last Cyclist), and Megan Sass (Surrender, "Stop the Bleeding!") Check out a first look below!
On December 24, 0000, three wise men followed a star to Bethlehem to lay pricey gifts before a baby in a manger. Six years later, said baby was preaching to his elders in the temple, well on his way to becoming an obnoxious slacker know-it-all. 25 years after that, baby Joshua was baptized by his cousin John, and the heavens opened up and the Big Guy Upstairs pronounced himself well-pleased. But how did that obnoxious kid get from point BC to point AD? RE-GIFT OF THE MAGI reveals for the first time why those wise men made their perilous journey and how they helped Joshua, son of Joseph and Mary, take that last step into Son-of-Manhood. Balthazar, the wealthy trader; Melchior, the freedom fighter (and hater of garlic-breath Romans everywhere); and mysterious Gaspar, give Josh an education in the shul of real life. By the time he stumbles into the River Jordan, he'll have met some familiar characters-a Prodigal Son, a young girl in Cana who would like to be a Bride, and a Pretty Good Shepherd. RE-GIFT OF THE MAGI is appropriate for all ages, offensive only to garlic-breath Romans.
Playwright Janet Hopf was also the author of the critically acclaimed Off-Broadway comedy, God Bless You, Mr. Scrooge! She is the current chair of the Manhattan Libertarian Party. Director Greg Cicchino is the Managing Director for Variations Theatre Group, where he recently staged productions of Neil LaBute's Some Girls and Timothy Nolan's award-winning What's in a Name.
RE-GIFT OF THE MAGI will play a limited engagement through December 21st. The remaining performances are 12/10, 12/11, 12/12, 12/13, 12/14, 12/19, 12/20, 12/21 at 8pm; with matinees 12/14, 12/21 at 2pm and 12/15 at 4pm. Tickets are $10 in advance ($18 at the door) and are available through www.brownpapertickets.com or by calling 1-800-838-3006. The Chain Theatre is located at 21-28 45 th Road in Long Island City, only 10 minutes from Times Square via the 7, E, G and M trains to Court Square Station.
For more information, visit www.Chain-Theatre.org.
Photos: Paul Dorfman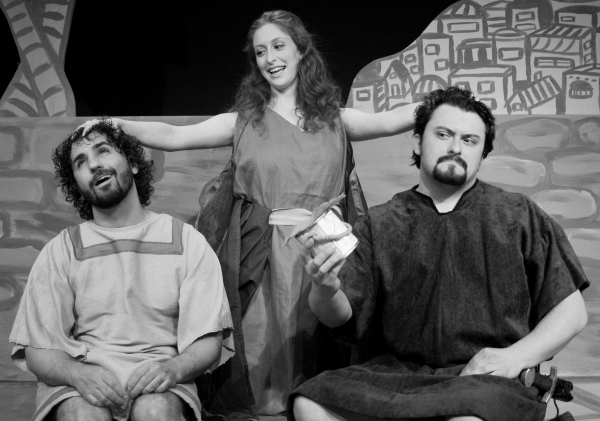 Patrick Pizzolorusso, MEGAN SASS and KIRK GOSTKOWSKI

KIRK GOSTKOWSKI, Patrick Pizzolorusso, Steven Bidwell, and NICHOLAS ALEXIY MORAN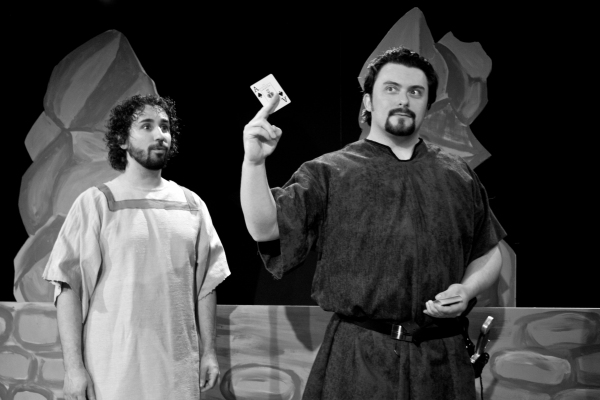 ATRICK PIZZOLORUSSO and KIRK GOSTKOWSKI

MEGAN SASS

Related Articles View More Off-Broadway

Stories

Shows
More Hot Stories For You